What We Know—and What We Don't—About When Mueller's Report Will Be Released, the Length and Its Content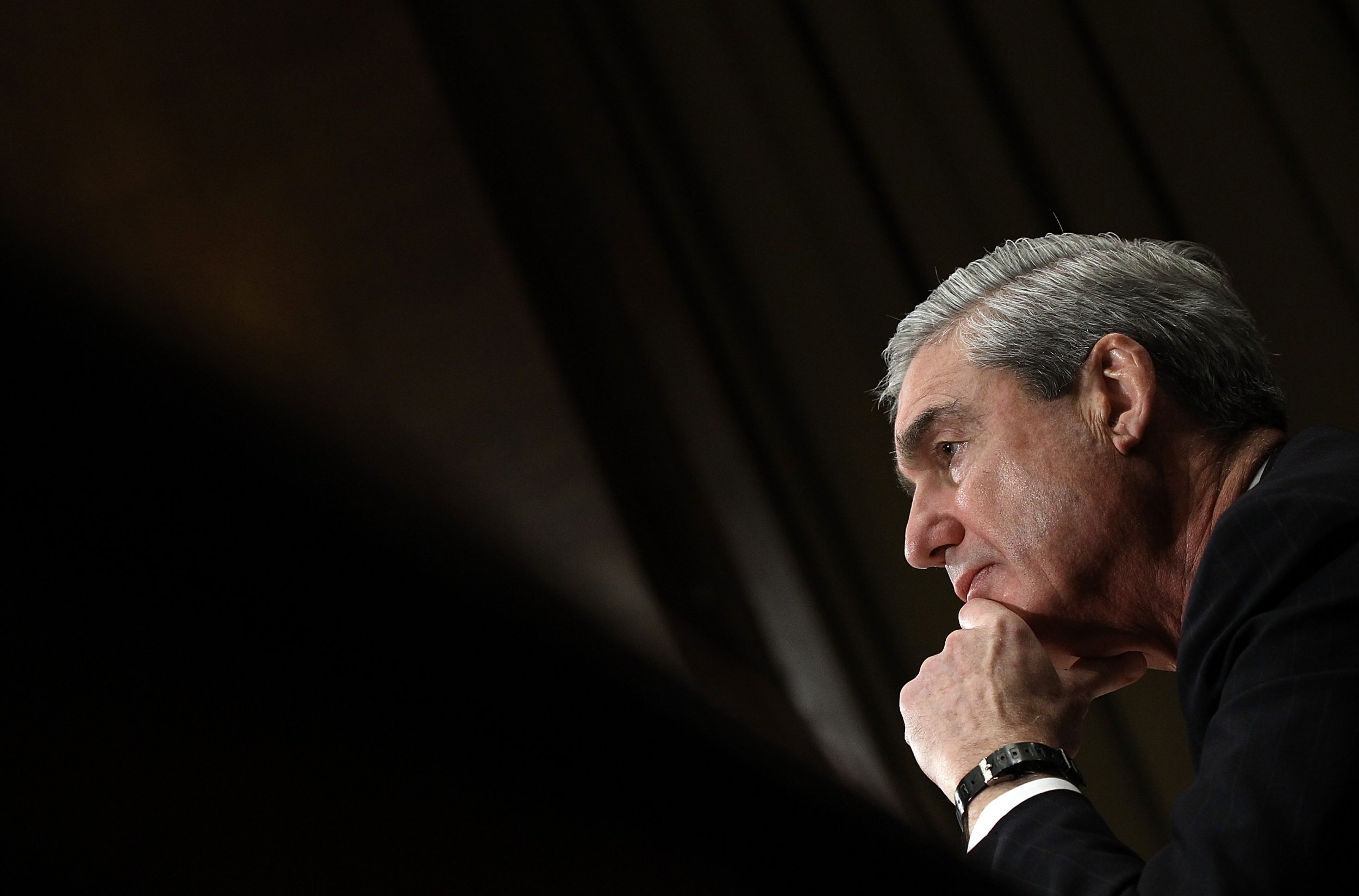 The completion of special counsel Robert Mueller's report on his investigation into Russian interference of the 2016 U.S. election and possible collusion with the Trump campaign was announced one week ago.
Since then, Attorney General William Barr released his own four-page summary of the principal conclusions, bipartisan demands for the full report to be made public had ratcheted up, Republicans demanded a top Democrat step aside from his powerful committee position and the president continued to take a victory lap.
Trump has touted—falsely at times—the result of Mueller's report. According to Barr, the special counsel "did not find that the Trump campaign or anyone associated with it conspired or coordinated with Russia in its efforts to influence the 2016 U.S. presidential election." However, Barr added that "while this report does not conclude that the president committed a crime, it also does not exonerate him" on the obstruction of justice issue. The president erroneously claimed—and has continued to do so—that Barr's release "was a complete and total exoneration."
When Will the Full Mueller Report Be Released?
House Democrats have demanded the report without any redactions by Tuesday. But in a letter to Democratic Representative Jerry Nadler, chairman of the House Judiciary Committee, and Republican Senator Lindsey Graham, chairman of the Senate Judiciary Committee, Barr said Friday that he anticipates to have the report ready for release by "mid-April, if not sooner."
Barr said that, with the assistance of the special counsel, they are "making the redactions that are required," which includes taking out classified information, "material that could affect other ongoing matters" and "information that would unduly infringe on personal privacy and reputational interests of peripheral third parties."
House Democrats have threatened subpoenas and a court battle with the administration, should Barr not release the full report after making the appropriate redactions. Following Barr's letter, Nadler did not back down in a statement, standing firm by his previous demand that the full report without redactions be made available to Congress by Tuesday.
Due to Trump saying he supports its full release, the attorney general said "there are no plans to submit the report to the White House for a privileged review."
"Everyone will soon be able to read it on their own," Barr said. "I do not believe that it would be in the public's interest for me to attempt to summarize the full report or to release it in serial or piecemeal fashion."
How Long Will the Report Be?
In Barr's letter to Graham and Nadler, he said the full report is nearly 400 pages long, excluding tables and appendices. Previous reports of it exceeding 300 pages led to Democrats questioning the accuracy of Barr's four-page summary and how he could have reached them in less than 48 hours. But Barr said his letter was simply a notification of Mueller's "principal conclusions," not a summary of Mueller's full report.
What Will the Rest of the Report Say?
Democrats say they cannot know for certain the conclusion of Mueller's investigation until they see the full report and the underlying evidence as to why the special counsel did not conclude there was collusion and why he was undecided on the obstruction of justice issue.
Trump has proceeded to take victory laps, and at a rally in Grand Rapids, Michigan, on Thursday night he said, "The Democrats have to now decide whether they will continue defrauding the public with ridiculous bullshit, partisan investigations, or whether they will apologize to the American people."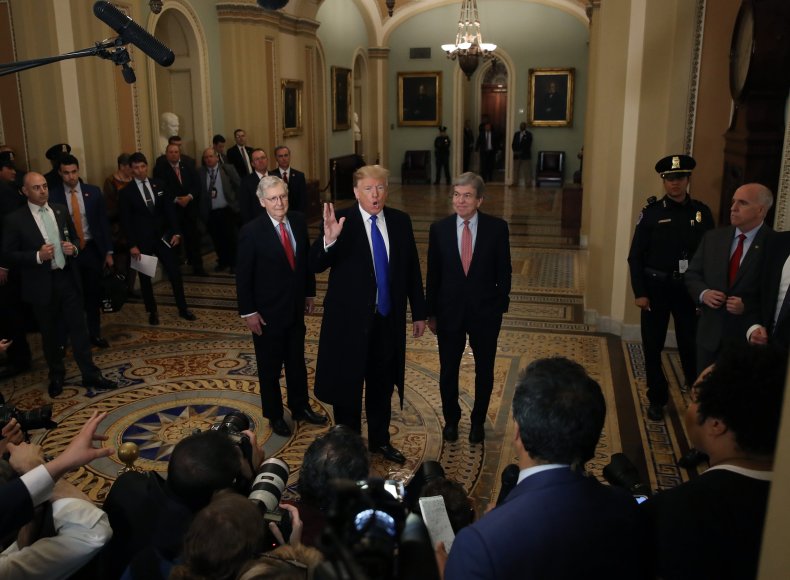 Republicans, including Trump, have now taken aim at House intelligence committee chairman Adam Schiff, one of the most powerful Democrats in Congress, for alleging throughout the course of the investigation that there was evidence of collusion and for continuing to imply there was improper conduct.
During a tense committee hearing Thursday, Schiff rattled off a list of actions taken by the Trump campaign—including a meeting with a Russian lawyer at Trump Tower to obtain dirt on Hillary Clinton, Trump helping his son create a false narrative about that meeting, publicly asking Russia to find Clinton's missing emails and former national security adviser Michael Flynn lying to the FBI about conversations with the Russian ambassador—that he said amounted to collusion.
"You might think that's OK. I don't," Schiff told Republicans. "I think it's unethical. I think it's unpatriotic. I think it's corrupt and evidence of collusion."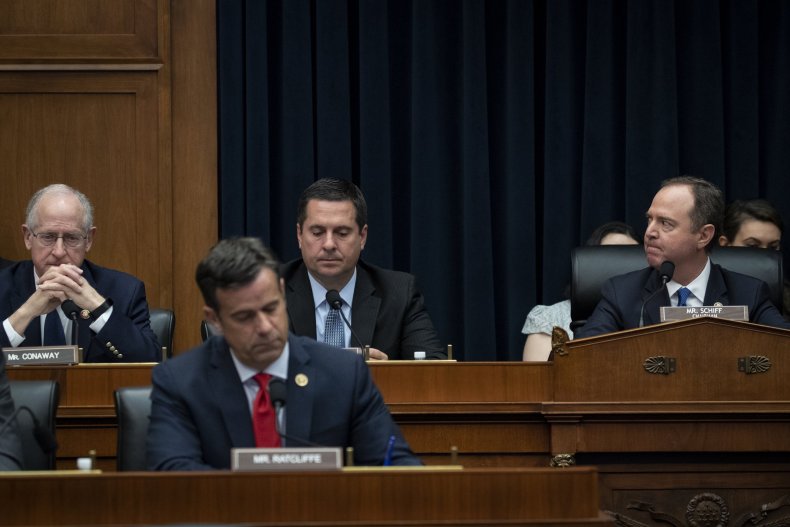 All nine Republicans on the committee have demanded Schiff's resignation, saying he has abused his position to "knowingly promote false information, having damaged the integrity of this Committee, and undermined faith in U.S. government institutions."
"We have no faith in your ability to discharge your duties in a manner consistent with your constitutional responsibility and urge your immediate resignation as Chairman of this Committee," they said in a letter to the chairman.
Trump has gone one step further, mocking him and saying he should resign from Congress altogether.
"Little pencil-neck Adam Schiff. He's got the smallest, thinnest neck I've ever seen," the president said at his rally Thursday night. "He is not a long-ball hitter, but I saw him today, 'Well we don't really know, there still could have been some Russia collusion.'"
Schiff, prior to the president's latest personal attacks, told reporters Trump's remarks about him were "nothing new from this president."
Update: This story has been updated to include information from a letter from Barr to Nadler and Graham.