What Ketanji Brown Jackson Said About Roe v. Wade as She Joins SCOTUS
Ketanji Brown Jackson will be sworn in as the Supreme Court's 116th justice on Thursday.
The Senate voted 53-47 to confirm Jackson to the court in April, making her the first Black woman appointed to the bench in its 233-year history.
She will take the seat being vacated by Justice Stephen Breyer, who is retiring on Thursday at the end of momentous term that has seen the court overturn Roe v. Wade, ending a constitutional right to abortion.
Jackson's presence on the court would not have changed Friday's decision in Dobbs v. Jackson Women's Health Organization as Breyer voted against overturning Roe with the court's liberal wing.
But what has Jackson said about Roe?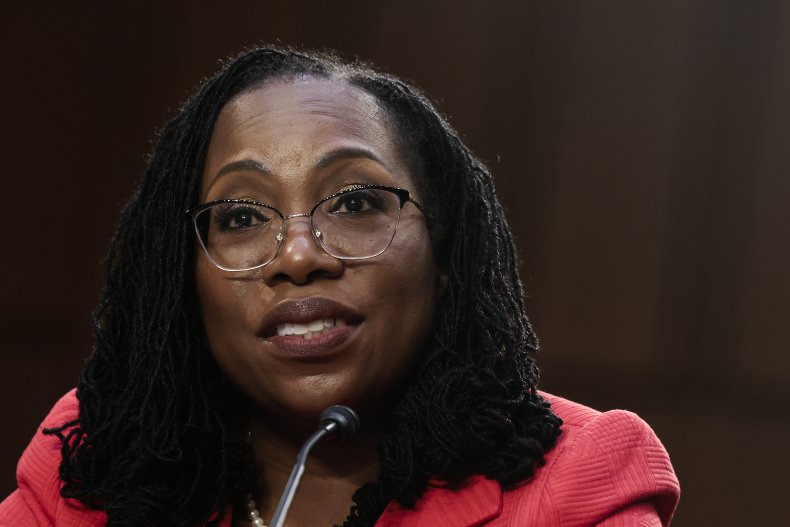 Jackson was asked about the landmark 1973 decision, and the 1992 decision in Planned Parenthood v. Casey that reaffirmed it, during her confirmation hearings by Sen. Dianne Feinstein.
During that exchange, Feinstein recalled comments made by the three justices appointed by former president Donald Trump—Neil Gorsuch, Brett Kavanaugh and Amy Coney Barrett—about Roe during their confirmation hearings.
"Do you agree with Justice Kavanaugh that Roe v Wade is settled as a precedent?" Feinstein asked. "And will you like Justice Barrett commit to obey all the rules of stare decisis in cases related to the issue of abortion?"
Jackson replied: "I do agree with both Justice Kavanaugh and Justice Barrett on this issue. Roe and Casey are the settled law of the Supreme Court concerning the right to terminate a woman's pregnancy.
"They have established a framework that the court has reaffirmed and in order to revisit, as Justice Barrett said, the Supreme Court looks at various factors because stare decisis is a very important principle. It provides and establishes predictability, stability."
Stare decisis is the doctrine that courts will adhere to precedent in their decisions.
Jackson added that stare decisis "also serves as a restraint in this way on the exercise of judicial authority, because the court looks at whether or not precedents are relied upon, whether they're workable, in addition to whether or not they're wrong, and other factors as well. So I agree with both of those statements that you read."
Feinstein went on to question if Jackson thought Roe has the status of being a case that is a "super-precedent."
"Well, Senator, all Supreme Court cases are precedential," Jackson replied.
"They're binding and their principles and their rulings have to be followed. Roe and Casey, as you say, have been reaffirmed by the court and have been relied upon and reliance is one of the factors that the court considers when it seeks to revisit or when it's asked to revisit a precedent.
"And in all cases, those precedents of the Supreme Court would have to be reviewed pursuant to those factors because stare decisis is very important."
Gorsuch, Kavanaugh and Barrett ultimately voted to overturn Roe, prompting calls for their impeachment and accusations that they lied under oath about their views on Roe in order to secure lifetime appointments on the Supreme Court.