Biggest 'Wheel of Fortune' Fails in the Game Show's History
Wheel of Fortune has given us many memorable moments in its 48-year history, but some have stuck with us more than others, especially the more awkward ones.
First hitting our TV screens in 1975, the show has sometimes featured innumerable blunders, strange answers and online mocking from heavily invested fans.
One of the most recent viral moments happened on Monday during Teen Week, when 10th grader Khushi tried to work out a puzzle in the Food & Drink category. Khushi worked her way through the puzzle and had two letters remaining, which read "FRE_ _ TROPICAL FRUIT."
Still unsure of the solution, Khushi opted to choose another letter and correctly guessed "h."
That meant she was left with a puzzle that read "FRE_H TROPICAL FRUIT," but the high school sophomore was still stuck and appeared to be getting more confused.
"Solve it or spin it...but do something quickly," host Pat Sajak told her as Khushi opted for another spin and incorrectly picked the letter "g."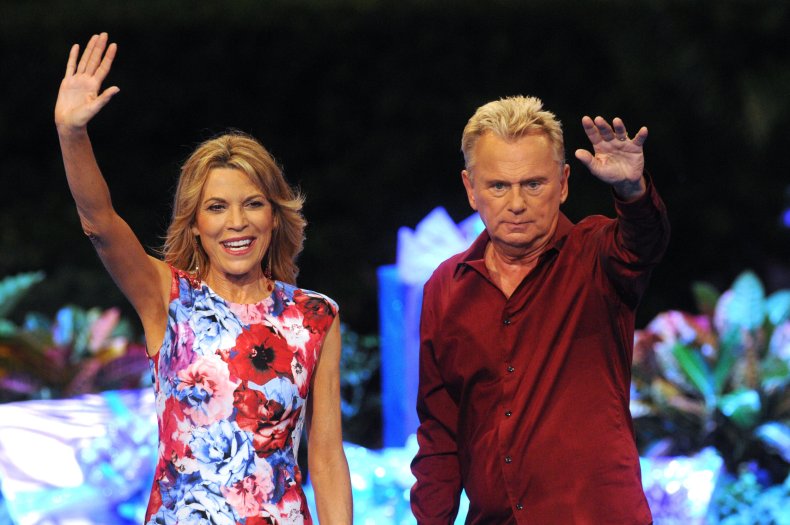 But as she picked that letter, an audience member audibly yelled out in frustration as Khushi turned to look at her. Others in the audience could be heard groaning at the interruption.
Khushi lost her turn, and it went to fellow contestant Juliana, who correctly guessed "FRESH TROPICAL FRUIT," winning a cash prize and a Caribbean vacation.
Sajak has tried to explain how contestants can sometimes be stuck for an answer, even when it appears obvious to viewers.
"You know when that happens and you're sitting at home, you're saying, 'How in the world can that [not be solved]?'" he said on Monday's episode. "But, you know, sometimes it's a word that just doesn't want to come into focus for you."
Over the years, several Wheel of Fortune clips have gone viral for contestant blunders or when the show's stringent rules deny a player a bonus prize win.
In 2017, a man named Kevin made a giant fumble on one of the greatest American plays.
He was just one letter away from victory and had the clue "A STREETCAR NA-ED DESIRE" in front of him. After spinning again, Kevin had the choice of a consonant, and when he chose "k" a loud gasp could be heard from the audience.
The answer, of course, was Tennessee Williams' play, A Streetcar Named Desire, and then-host David Greene shot out a very long "noooo" as Kevin realized the grave error he had made.
Kevin is probably now known as "that guy who guessed A Streetcar Naked Desire on Wheel of Fortune."
But Kevin is not the only contestant to get an American icon wrong. On an episode during Armed Forces Week, not one but two players made an embarrassing blunder.
Three men were playing to win with a "proper nouns" puzzle and were left with the clue of Regis Philbin and Kelly Ripa, two longtime co-hosts of TV's Live With Regis and Kelly. While it seemed all three men had a fair idea of whose names were on the board, they all struggled to nail the answer.
With puzzle board spelling "REG _ S _ _ _ L _ _ N & _ ELL _ R _ _ _," Shane spun and guessed the letter "p." Confident in his abilities to solve it, he told Sajak it was "Regis Philburn and Kelly Ripa."
"No, I'm sorry," Sajak told him. "We can't accept that."
The next player to guess was George, who said, "I'd like to solve the puzzle, Pat. Regis Philbin and Kelly Ripa," but botched the pronunciation of Ripa's name.
Sajak had to consult with a producer to see if they could accept that answer, but George was not in luck. Shane then had another crack at the answer, and with $3,850 on the board, he managed to get Philbin's name wrong again, calling him "Philman."
Finally, it came back around to Lee, who had spun a Bankrupt earlier in the game. But he mangled the pronunciation as well before George finally got it right.
"Well, we had a Philbrin. We had a Philman. We had a Ripea, and you guys think you are so hot in the morning. Why do I have a feeling this is going to be played a lot?" Sajak said at the end of the round.
Another awkward moment on Wheel of Fortune generated a new slang word and even landed the player an interview with The New York Times.
Lolita McAuley from Sacramento, California, appeared on the show in 2009 and was playing in a speed round against her fellow contestants. Instead of spinning to guess letters, they appeared randomly on the board. The first person to buzz in with the correct answer would win.
The category was "thing," and the answer was "self-portrait." When the board got to "S_LF-PO_T_ _ _T," McAuley pressed her buzzer.
She shouted out "self-potato" as her competitors looked on with bemusement. McAuley's blunder has since gone on to become a new expression that refers to a mistake one has made.
In 2004, a woman named Jolene shocked Sajak with her "guts" when she risked everything on the off chance she could win a car.
Jolene had landed on the "mystery panel" during the round and had to decide whether to just guess a letter to win the $500 that was on the panel or lift the panel to see if she had also won a car.
Even though she was miles ahead of her competitors, with a national landmark almost entirely spelled out and an easy win ahead of her, Jolene decided to risk it all to see if she won the car.
Luckily for her, the panel showed she had won a Kia Rio worth more than $13,000, bringing her total prizes to more than $21,000.
She also guessed the landmark—the Kennedy Center in Washington, D.C.—and jumped in excitement as Sajak declared, "That was kinda goofy, but it worked."
"I wouldn't want you handling my IRA account, but you did well.... Whoever is marrying this woman, watch out," he said.
Fast-forward 10 years to 2014, when University of Indian student Julian had a string of luck with his spins but managed to botch three easy answers and a chance at $1 million.
He appeared on a college special edition of Wheel of Fortune and had "mythological hero Achilles" spelled out for him but pronounced it "AY-chill-es" rather than "AH-kil-ies."
He also chose the letter "c" for the person puzzle "World's Fastest _ A _," when the answer was "man." Finally, in the "thing" section he guessed "On-the-spot dicespin" when it should've been "on-the-spot decision."
Despite his fumbles, Julian still managed to make it to the final round.
In another college week episode, Daniel played in a bonus round where he had to guess a phrase. The letters he chose spelled "EN_O_ THE SHOW."
But the University of California, San Diego, student could not guess the answer and looked embarrassed when it was revealed to be "enjoy the show."
"I feel like I need to give you some words of consolation. It happens to the best of us," Sajak told him.
Daniel did not walk away empty-handed, though. He managed to win $11,300 and later ran a failed campaign for governor of California.
In 2016, married couple David and Keri showed off their terrible geography knowledge when they won an exciting prize: a gondola ride in Venice.
But when they were asked what country they would be going to for the gondola ride, David quickly replied, "Paris." He realized his gaffe, put his hand over his mouth in shock and tried to correct the answer, saying, "France?"
His wife, Keri, couldn't believe what she was hearing and asked, "Do we still get it?"
Sajak replied: "Apparently you know your husband well. But yes, we're sending you to Italy!"
Despite the awkward moment, the couple not only won a trip to Italy but also got a whopping $60,400 in prize money.