'Wheel of Fortune' Fans Crack Up Over Snoop Dogg's Answer in Old Clip
Footage of Snoop Dogg making a series of hilarious errors while attempting to solve puzzles on Celebrity Wheel of Fortune has resurfaced and gone viral on Twitter.
The veteran rapper, whose real name is Calvin Cordozar Broadus Jr., appeared on the celebrity version of the popular game show in an episode that aired last September alongside comedian Amanda Seales and filmmaker Mark Duplass.
Snoop's stint on the show raised laughs among the audience and even left host Pat Sajak in stitches, as he made multiple unsuccessful attempts at solving word puzzles—instead giving answers that left viewers scratching their heads.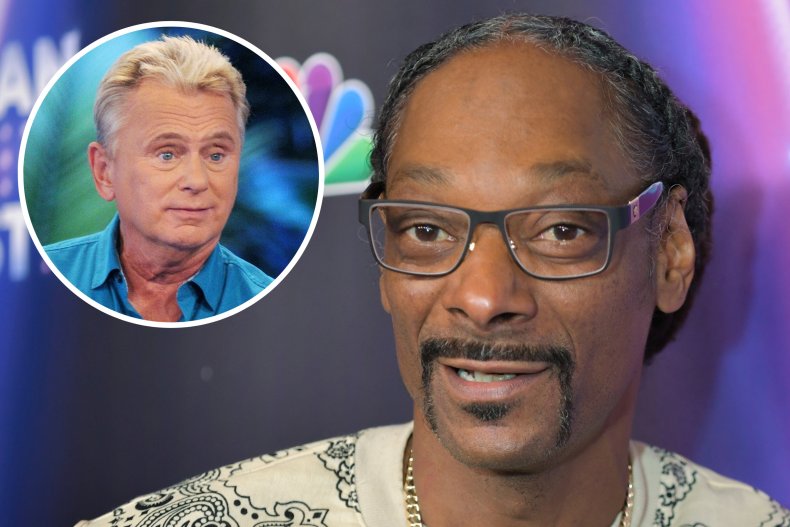 In what was styled as a highlights reels of his numerous erroneous guesses, Snoop attempted to solve a puzzle during a quickfire round when he saw the arrangement "BA_ _NG _ _O_N _ _," under the title: "What are you doing?"
"Baking onions?" Snoop guessed, instead of "baking brownies."
"Martha's gonna be disappointed," said Duplass in reference to Snoop's close friendship with Martha Stewart. "Martha's gonna be upset."
Things didn't get much better for the "Gin and Juice" hitmaker, who guessed that another word puzzle should read "swallowing the knot" instead of "sweetening the pot," as well as "airport teacher" instead of "acting teacher."
At the time, Sajak was seen laughing after Snoop guessed in the "Person" category with "toilet atlas" instead of the correct answer of "talented artist."
Footage of Snoop's time on the show was this week revived on the popular Twitter account @historyinmemes and quickly had the platform's users united in sharing their amusement at the star's less-than-stellar performance.
"I love how he reacts like he just missed it every time lmao he's not even saying real phrases," one viewer tweeted.
"This the funniest s*** I den seen all day.... my man's said 'Airport teacher,'" another person wrote, as dozens of viewers expressed amusement at the answer.
"Snoop had to be high before hopping on Wheel Of Fortune," one Twitter user said of the noted marijuana enthusiast.
"Man SNOOP funny as hell," commented another, echoing similar sentiments shared by a number of the rapper's fans.
"Lol Snoop beat the game of life a long time ago, my dawg just be doing side missions," said singer-songwriter ELHAE in reaction to the footage.
While Snoop, 51, struggled with a number of the puzzles, he did succeed with one, when a "Rhyme Time" clue saw him correctly guess: "Sun's out, buns out."
Over the years, several Wheel of Fortune clips have gone viral over contestant blunders or the show's stringent rules denying a player a bonus prize win.
In March 2022, Sajak defended other contestants who were mocked on social media for struggling to solve a puzzle.
Sajak wrote on Twitter: "It always pains me when nice people come on our show to play a game and win some money and maybe fulfill a lifelong dream, and are then subject to online ridicule when they make a mistake or something goes awry."
Urging those commenting on the viral moment to "have a little heart," Sajak said that finding humor in the moment is different from mocking the players relentlessly.
"Good-natured laughter is one thing," he wrote in his lengthy Twitter thread. "Heck, they laughed at themselves. But, hey, cut them some slack. Unless you're there, you have no idea how different it is in the studio.
"I have fun with players and I tease them occasionally, but when things go wrong, I feel for them, and I try to salve the wounds on camera and off. So, yeah, it was an oddly entertaining puzzle and it's okay to laugh at the situation. But have a little heart.
"After all, you may be there one day. And no one wants to be trending on Twitter," he said.