When Will Biden's $1,400 Stimulus Checks Arrive? What We Know So Far
President-elect Joe Biden announced a hefty new $1.9 trillion coronavirus relief package Thursday, which includes increased stimulus check payments worth $1,400.
The proposed package, called the American Rescue Plan, is expected to be introduced as soon as Biden takes office on January 20. In an address to the nation Thursday, the president-elect said the plan would provide "immediate relief to Americans hardest hit and most in need."
"During this pandemic, millions of Americans, through no fault of their own, have lost the dignity and respect that comes with a job and a paycheck," Biden said Thursday.
"We can not afford inaction. Our rescue plan also includes immediate relief to Americans hardest hit and most in need. We will finish the job of getting a total of $2,000 in cash relief to people who need it the most. The $600 already appropriated is simply not enough," he added.
Biden has long said the second round of stimulus passed in December was just a "down payment" before he could step in to offer more.
Now in combination with the $600 stimulus checks that Congress approved last month, the new $1,400 checks will bring the total up to $2,000 – an amount that Democrats and President Donald Trump had pushed for in the previous relief package.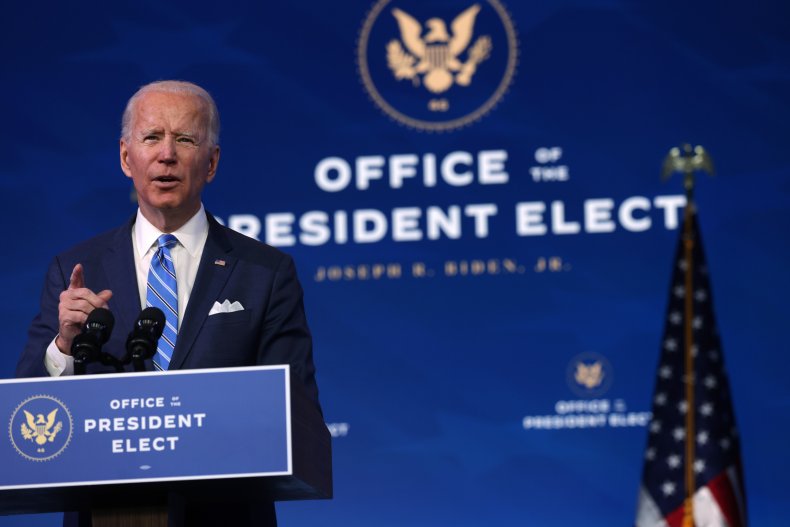 Biden's plan will expand the payments to non-child dependents—including many college students and those with disabilities—who were ineligible under the last two relief measures. It would also provide relief to mixed-status families in which one parent is an immigrant.
But how quickly the stimulus checks will be sent to eligible Americans will depend on whether or not the legislation is passed in Congress.
Biden should have no problem passing the bill in the Democratic-controlled House, but it may face issues once it lands in the Senate.
The Democratic Party will have a slim majority lead in Congress' upper chamber after two Democratic senators are expected to be certified as the winners following the January 5 Georgia runoff elections. However, that might not be enough to simply dismiss Republicans.
With Senator Chuck Schumer as majority leader, Democrats will be in a position to bring the stimulus bill to the floor for a vote. The bill may require at least 10 Republicans to sign on to the measure to avoid a filibuster, since the chamber is split 50-50.
In December, a number of Republicans opposed efforts to increase direct payments to Americans, stalling the process of getting relief into the hands those who needed it most.
On Thursday, several GOP lawmakers attacked Biden's plan—which also includes measures such as increasing unemployment benefits, and raising the minimum wage to $15 an hour—signifying that the stimulus package could face an uphill battle in the weeks to come.
In a letter sent to members of Congress Tuesday, Schumer said that Democrats will fight to pass a higher round of relief.
"The job of COVID emergency relief is far from complete," Schumer said.
"Democrats wanted to do much more in the last bill and promised to do more, if given the opportunity, to increase direct payments to a total of $2,000. We will get that done," he added.
If the bill receives the support it needs, the Treasury Department would likely begin sending out the checks as soon as possible.
"[Biden] will ensure that the Treasury Department has the flexibility and resources it needs to deliver stimulus checks to the families that need them most, including the millions of families that still haven't received the $1,200 checks they are entitled to under the CARES Act," the plan read.
After the second round of stimulus was signed into law by Trump in December, checks started rolling out to Americans within just two days.
Newsweek reached out to the Biden-Harris transition team for additional comment, but did not hear back in time for publication.