White House Attempts to Calm Nuclear War Fears: U.S. Is Not Fighting Russia
The White House reiterated that the U.S. would not become involved in a proxy nuclear war with Russia amid warnings from Russian officials who caution that further support for Ukraine could catalyze another world war.
On Monday, White House press secretary Jen Psaki attempted to calm fears and urge the media to move away from the Russian sentiment suggesting that Western allies could become embroiled in the battle. Last week, Russian Foreign Minister Sergey Lavrov told state media: "NATO is essentially going to war with Russia through a proxy and arming that proxy."
"It is not a proxy war. This is a war between Russia and Ukraine. NATO is not involved. The United States is not fighting this war. So I think it's important and vital for all of us to not repeat the Kremlin talking points on this front," Psaki told reporters.
She noted that Russia itself has made several comments that a nuclear war could not be won and emphasized that the U.S. agreed with Russia on those remarks.
"That is important for every country to restate and every elected official to restate around the country here as well," Psaki said. "I would note the president's view and his position continues to be that we are not putting U.S. troops on the ground to fight this war, and that's something we will continue to reiterate for Americans."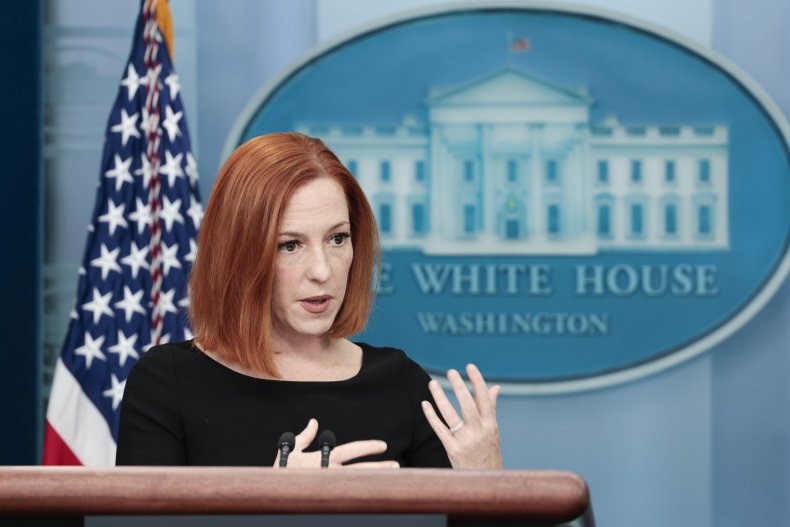 Ukrainian officials have also called a bluff on Russian President Vladimir Putin's previous pointed comments about nuclear weapons.
Just a day after Lavrov suggested last week that the danger of nuclear conflict was "serious," Ukrainian President Volodymyr Zelensky said Putin was trying to "blackmail the world with nuclear weapons."
Andriy Yermak, one of Zelensky's top aides, also said he doesn't believe the threat from Russia to be legitimate.
"The people who make these decisions want to live—and if they start to use nuclear weapons it will be the end, not just for some soldier....It will be a new nuclear war and nobody knows who would be alive after this," Yermak told Sky News.
Putin has said he would justify the use of those weapons as "retaliatory strikes" against other countries who intervene in the war in Ukraine.
President Joe Biden has called the threats a sign of the "desperation that Russia is feeling about their abject failure."
"No one should be making idle comments about the use of nuclear weapons or the possibility that they'd use that. It's irresponsible," Biden said in an address last week.