Who Is Dr. Spiegel? Amber Heard Expert Witness Criticized Online
Johnny Depp and Amber Heard's defamation trial has dominated the headlines in recent weeks due to a series of explosive testimonies and viral moments—and a psychiatrist has become the court showdown's latest talking point.
The erstwhile couple has entered the final week of the high profile $50 million trial, brought forth by Depp, 58, over a 2018 op-ed for The Washington Post, in which Heard, 36, stated that she's a domestic abuse survivor.
While Heard did not name her ex-husband Depp in the article, his lawyer's have argued that it's obvious she was referring to the actor. Heard is countersuing for $100 million in damages.
During proceedings at Virginia's Fairfax County Circuit Courthouse, each star has denied the other's allegations of domestic violence during their ill-fated relationship.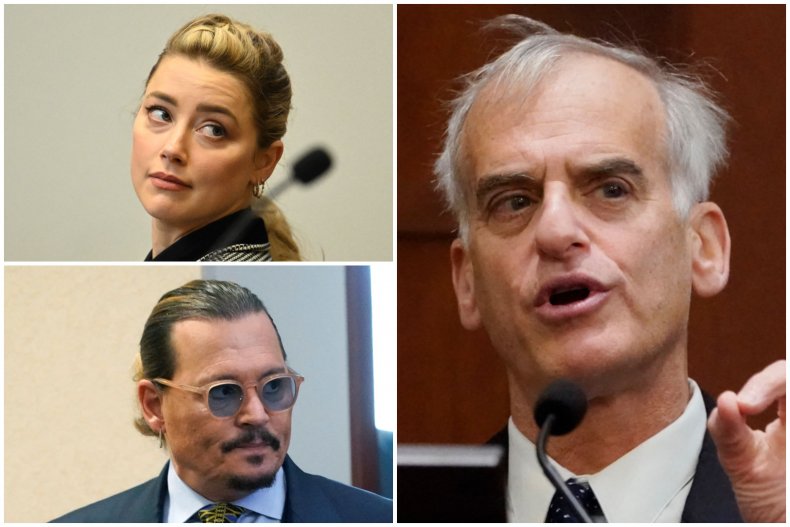 On Monday, Heard's team called on one of their witnesses, psychiatrist Dr. David Spiegel, to take the stand. Spiegel proved to be a controversial choice as he was grilled about a previous statement in which he based his analysis of Depp on the star's acting in the Pirates of the Caribbean franchise.
Spiegel claimed that Depp had "behaviors that are consistent with someone that both has substance use disorder as well as behaviors of someone who is a perpetrator of intimate partner violence."
The medical professional has since been criticized online, with some social media users comparing him to a movie villain following his time on the stand.
Who is Dr. David Spiegel?
Spiegel is a Virginia-based psychiatrist who was called as an expert witness in the Depp v. Heard case by Heard's legal team.
Based in Norfolk, Virginia, he has more than 30 years of experience after receiving his degree from the State University of New York Downstate Medical Center College of Medicine in 1989.
The Sentara health care website lists Dr. David Spiegel (not to be confused with a psychiatrist of the same name at Stanford University) as having two board certifications from the American Board of Psychiatry and Neurology.
During Monday's proceedings, Spiegel told the court during his testimony that he had requested to speak with Depp on two occasions, but was denied. As such, he said, he based his analysis on testimony from Depp, among other factors.
When Wayne Dennison, one of Depp's attorneys, asked what he had "used as a baseline" for processing speed and analyzing Depp, Spiegel said: "I guess my baseline would probably be how I've seen him interact in public, how I've seen him interact with others.
"I've seen him interact in media and his processing speed is certainly not slow. I've seen him do commercials and his processing speed was not slow."
Dennison asked: "At deposition, didn't you say that what you did was compare Mr. Depp's performance in lots of Pirate movies against his deposition testimony here?"
"What I said was I've seen Mr. Depp do apology ads," Spiegel responded, seemingly referring to the video Depp took part in after Heard illegally took their dogs into Australia back in 2015. "I've seen him interact with the media regarding to that; I saw no delay in processing speed."
When Dennison pressed him on his comments about assessing Depp in his blockbuster movies, Spiegel said: "I apologize for what I said. I misspoke."
At one point, Depp was seen placing his head in his hands as he listened to the testimony.
The Depp v. Heard trial continues Tuesday, and Newsweek will be covering all the breaking stories from the Fairfax County courtroom on our live blog.