Why China Censored Chloé Zhao, and Why Disney Is Terrified by It
Academy Award winner Chloé Zhao and her acclaimed Best Picture Nomadland may have made Oscars history on Sunday, but news of her success is non-existent in the director's homeland.
A wave of nationalism, riding the director's past comments about China, appears to be driving the campaign to "cancel" Zhao in the country, where commentators are now discussing her heritage instead of her talent.
Hushed support for the Beijing-born director notwithstanding, it remains unclear how the frosty reception she continues to receive from official bodies will translate when her highly-anticipated Marvel flick Eternals premieres this fall.
The Academy Awards saw Zhao become the first woman of color and the first Chinese woman to win an Oscar for directing in the ceremony's 93-year history. Her 2020 road movie bagged Best Picture and Frances McDormand won Best Actress.
What observers viewed as a huge moment for Asians and women in the entertainment industry was not lost on internet users in China, where elation briefly filled timelines before censors on Weibo muted discussions. Netizens resorted to using emojis, symbols and numbers to evade internet filters when talking about the Golden Globe- and BAFTA-winning film.
Congratulatory posts and related blog articles continue to be scrubbed from Weibo, the country's largest social site with over 500 million active monthly users. Despite the 39-year-old's remarkable awards season, recent discussions about Zhao are nowhere to be found on Chinese search engines Baidu and Sogou either.
Also notably absent are reports by major state-owned media outlets such as broadcaster CCTV, its international arm CGTN, and the government news service Xinhua. All had celebrated Zhao's Golden Globes success in early March as a win for all Chinese, but all mentions ceased overnight after her 2013 Filmmaker interview resurfaced.
Now residing in the U.S., the director had described China as "a place where there are lies everywhere." The situation was then compounded by a late 2020 interview with Australia's news.com.au, which accidentally misquoted her observation that "the U.S. is now my country, ultimately"—she had actually said "not" instead of "now."
The comments were considered an insult to her birthplace, where the Chinese government's domestic and foreign policies appear to be encouraging an air of nationalism—felt recently by the likes of Nike and H&M. Nomadland's April 23 theatrical release in Chinese cinemas was canceled shortly after.
On Monday, China's foreign ministry declined to comment on the censorship of Zhao and Nomadland, saying it was "not a diplomatic matter."
According to The Wall Street Journal, China's Publicity Department forbids state media reporters from writing about Zhao's Oscars success, suggesting the country's unusual silence is the result of an order from its leadership.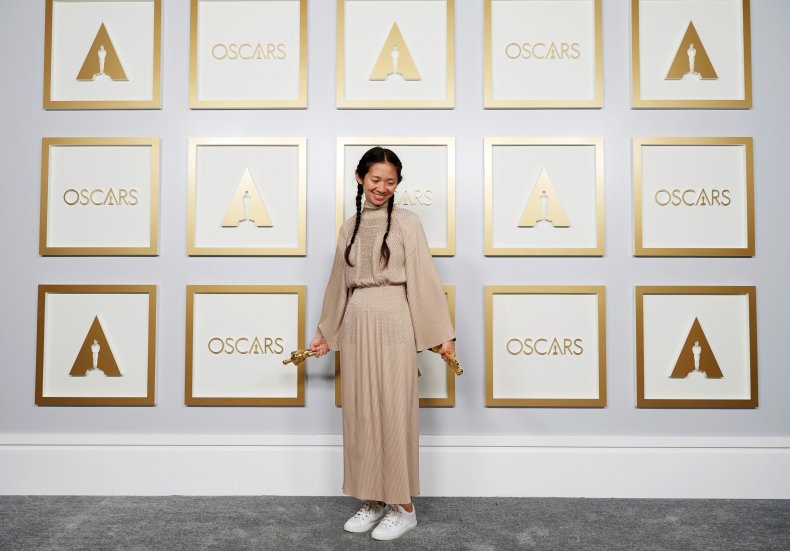 Communist Party-owned newspaper the Global Times—the only state-affiliated outlet to report on Zhao's success—offered something of an alternate interpretation.
The government tabloid said online discussions about the Oscars in China were "lukewarm," suggesting Nomadland failed to capture Chinese audiences. It predicted poor box office performances if the film were ever released.
However, fan reaction on Douban—the country's IMBD-like movie, book and music review service—tells a different story. Nomadland is currently rated 8.3 out of 10 from 102,992 ratings.
It is difficult to predict whether the nationalistic response to Zhao and her work will remain when Marvel Studios blockbuster Eternals comes out in November.
In any other market, having a multiple-award-winning director at the helm of a mega-budget film—reported at $200 million, or 40 times that of Nomadland—would guarantee success, but the country's reaction this week means Marvel owner Disney has political considerations to take when estimating its success in China.
The company's saga-capping hit Avengers: Endgame grossed $2.79 billion worldwide on a $400 million budget. Its box office take in China exceeded $620 million, according to revenue tracker Box Office Mojo.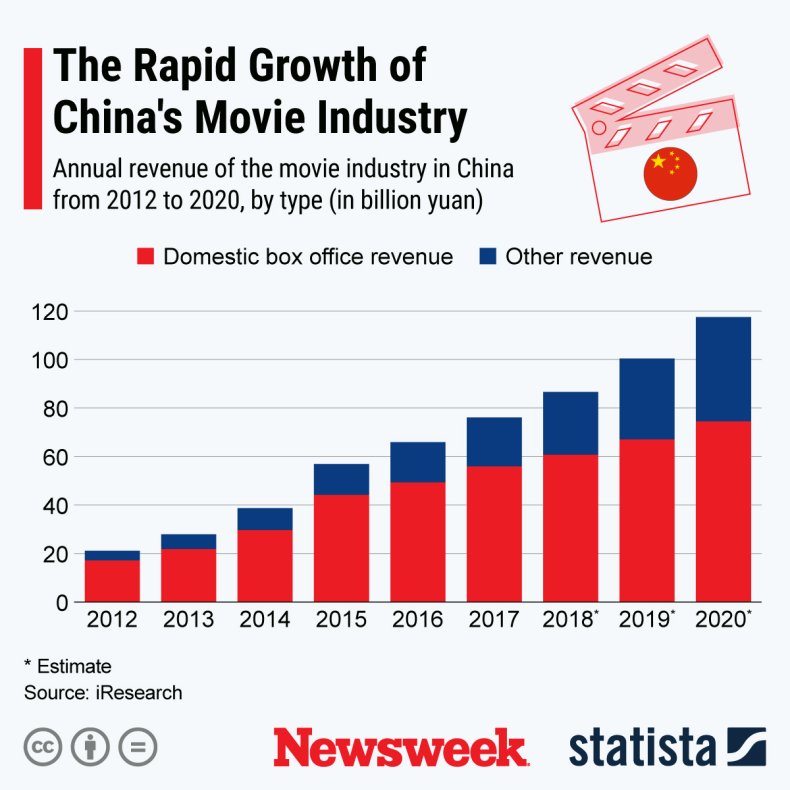 Amid a shutdown of cinemas during the pandemic last year, China overtook North America as the largest moviegoing market for the first time, reaching box office figures of $3.14 billion versus $2.09 billion in the United States and Canada, according to data compiled by Statista.
China's entire movie industry was estimated to be worth $18 billion in 2020—short of the $74.97 billion generated by equivalent U.S. production and distribution the year before.
Under the guidance of Marvel head honcho Kevin Feige, Eternals is expected to deliver for fans worldwide, but it awaits to be seen whether the Chinese market will react in the same way.
Newsweek has asked Disney for comment.