Jo Cox: The Language of Hate Has No Place in Politics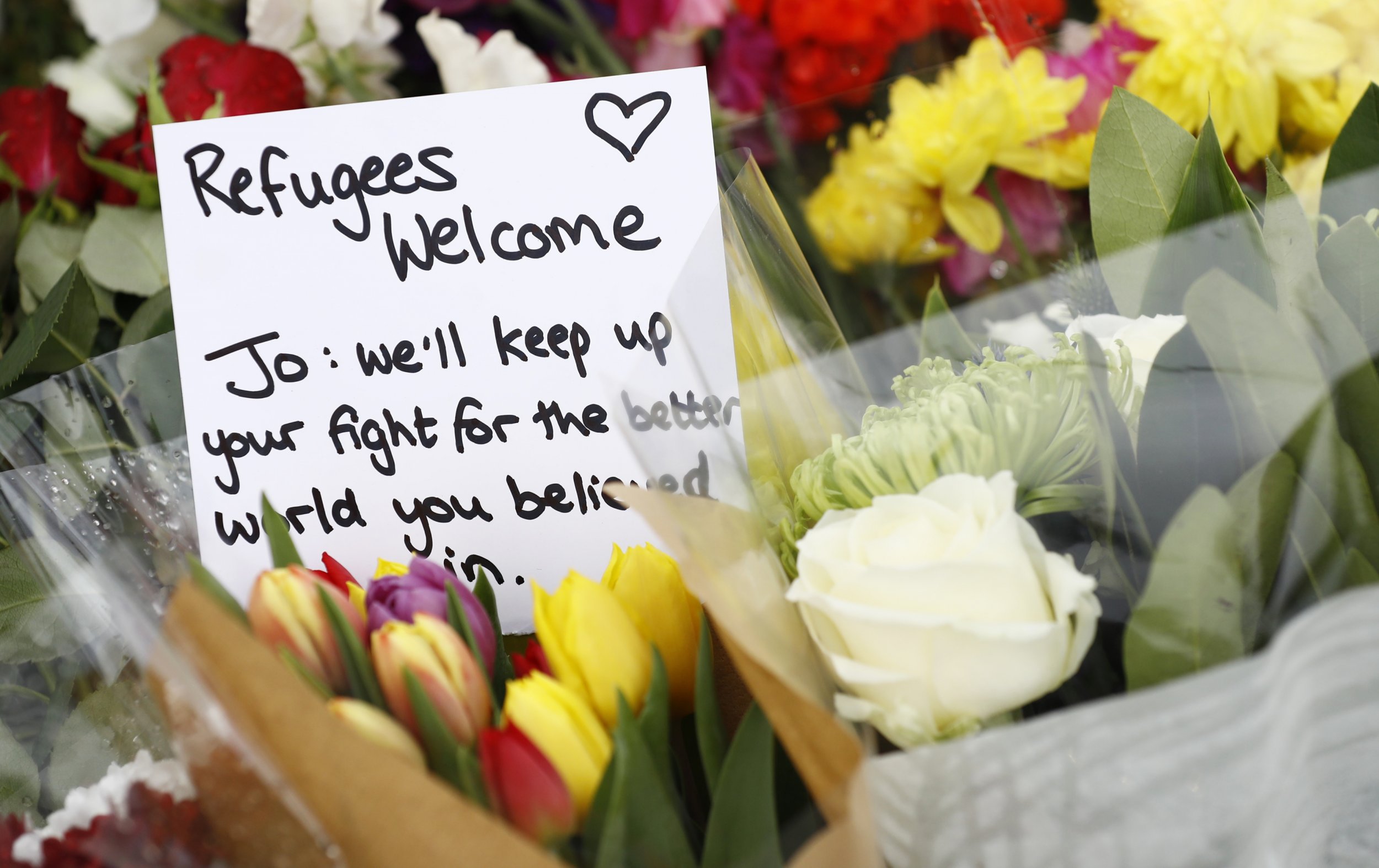 As I write this, I'm still reeling in shock and horror at the murder of Jo Cox, the MP for Batley and Spen, who was so brutally killed yesterday. I had been sharing drinks with her husband, Brendan, only the night before. Now he is a widower and their two young children face life without a mother. I find it hard to imagine their pain.
But as much as I feel pain, I also feel anger. How dare someone snuff out such a bright voice of hope in this manner? A principled and passionate MP, who championed women's and refugee rights. What gives the killer the God-given right to make this choice? Jo, a former head of policy at Oxfam, had a bright future as both a mother and a Member of Parliament. Now that's all gone.
There is much speculation about Jo's killer, Tommy Mair, 52, who shot and stabbed her multiple times outside a constituency meeting in Birstall, near Leeds. That Jo had received hate mail in the months before her death; that police were (apparently) considering offering her protection. What we do know is that while her killer Mair may have had a history of mental illness, it appears he also had a 30-year long relationship with far-right groups, stretching back to the 1980s.
He is alleged to have shouted "Britain first" multiple times during the attack. Britain First is the name of a far-right organization, led by a former British National Party (BNP) extremist, that invades mosques and carries out provocative stunts in Muslim communities "in the name of Christianity". There is nothing Christian about this vile hate group, which has its ideological roots in the extremes of Protestant Loyalism as well as violent far-right organizations.
Mair was allegedly a subscriber to S. A. Patriot, a South African magazine published by White Rhino Club, a pro-apartheid group. The club describes that magazine's editorial stance as opposed to "multi-cultural societies" and "expansionist Islam."
Our friends at the Southern Poverty Law Center in the USA have reported that Mair was a long-time supporter of the neo-Nazi National Alliance, purchasing over $600 (£420) of items, including instructions on how to build a gun.
Run until his death by Professor William Pierce, the National Alliance was once one of the most powerful neo-Nazi organizations in the world, controlling a music business, selecting and training cadres, and being linked to numerous killers, including 'The Order,' a group that killed Jewish radio host Alan Berg and carried out bank robberies and counterfeiting.
Pierce also wrote The Turner Diaries, about a fictional white uprising that led to the nuclear destruction of Israel. In it, he described a truck bombing almost identical to the Oklahoma bombing of 1995: later, Timothy McVeigh would carry out his bombing, killing 168 (including 19 children). A copy of The Turner Diaries was found in the trunk of his car.
Nick Griffin, the former British National Party (BNP) leader, took quickly to Twitter to claim that the Remain camp in the EU Referendum would seek to exploit Jo Cox's death. Griffin's sickening cynicism knows no bounds: after all, it was in his former party that the London nailbomber David Copeland, another disturbed loner, found his home. Copeland went on to kill three people, including a pregnant woman, as well as injure hundreds more in April 1999 in 13 days of attacks against the black, Asian and gay communities in London, culminating in the bombing of the Admiral Duncan pub in Soho.
After that attack, Griffin wrote about gay commemoration of the victims, claiming: "The TV footage of dozens of gay demonstrators flaunting their perversions in front of the world's journalists showed just why so many ordinary people find these creatures so repulsive."
More recently, in January 2015, a Sikh dentist had his hand almost hacked off by another white supremacist attacker, Zack Davies, in a supermarket in north Wales. Davies, linked to a neo-Nazi group called National Action, thought his victim was Muslim and screamed during his attack: "This is for Lee Rigby"—referring to the off-duty soldier murdered in 2013 by two Muslim extremists in Woolwich.
Already other far-right groups are crowing at Jo Cox's death. Yet this isn't only a sad tale of lone misfits. Jo's killing took place in one of the most febrile atmospheres that, as a seasoned anti-racism campaigner, I've ever known. The EU Referendum seems to have brought out the worst in our nation, not the best, with claims made daily about immigration and constant demonizing of immigrants.
UKIP leader Nigel Farage unveiled a poster featuring Syrian refugees heading into Slovenia last year, titled "Breaking Point"—as though these refugees were all heading to the UK (they weren't). He has spoken about immigrants as sexual predators, while others have claimed that 76 million Turks are coming to the UK if we remain inside the EU. And it's not just far-right populists who have made these claims: scare stories abound about the threat that immigration poses to our nation, almost blinding everything else (whipped on by a coarse and virulent press).
The far right often slams the same "liberal and cultural elite" that press and populist politicians like to blame for the nation's ills. Anders Breivik invoked the spectre of "cultural Marxists" as a reason for his targeting not of ethnic minorities, but the 77 young Norwegian Labour Party activists he slew in Norway in 2011.
Those who stoop low, who use the language of hate and stir the fires of resentment in order to win votes, need to accept responsibility for what they do. Whilst the killer is alone to blame for his killing, we as a society need to think about our actions too. As Jo's husband Brendan wrote yesterday, in an unbelievingly poignant note: "She would have wanted two things above all else to happen now, one that our precious children are bathed in love and two, that we all unite to fight against the hatred that killed her."
Nick Lowles is chief executive of anti-racism campaign, HOPE not hate.