Meghan Markle and Prince Harry had a private video call with Gavin Newsom "welcoming the duchess" to California, the governor's office has confirmed.
The Duke and Duchess of Sussex were booked in for an hour at 3 p.m. on October 19 in Newsom's schedule, just a couple of weeks out from the November election.
The "introductory meeting" was first reported by The Sun, with the newspaper pointing to the fact the governor was under pressure to replace Kamala Harris with another woman of color.
The vice president had been made Joe Biden's running mate, leaving a vacancy for the Democrats to fill in the California Senate seat she left behind.
In the end, Newsom appointed Alex Padilla, who had previously served on the Los Angeles City Council.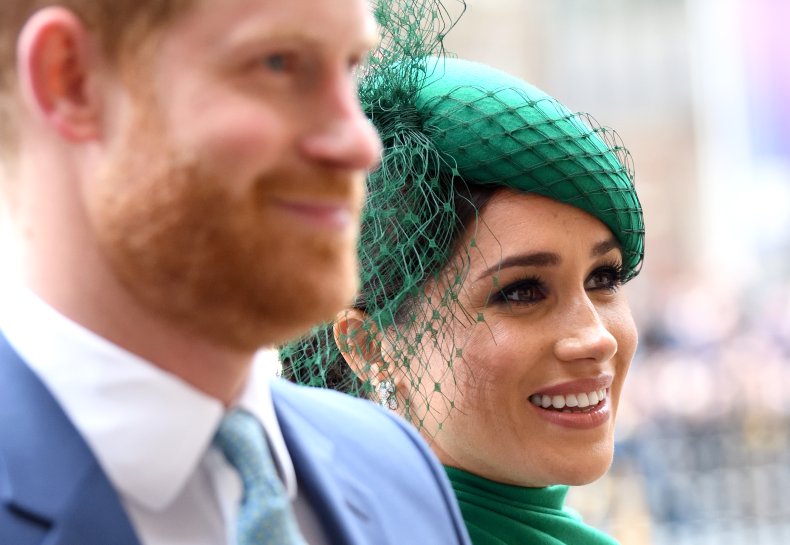 Frenzied speculation in the media had also led bookmakers to slash odds on Meghan running for president in 2024.
A copy of the California governor's schedule records both Meghan and Harry at the meeting, though a spokesperson for Newsom appeared to place the focus on one half of the royal couple more than the other.
His office told Newsweek: "The Governor had an introductory meeting welcoming the Duchess to California on October 19."
The spokesperson added: "We aren't able to comment further on the content of meetings between the Governor and private parties."
While Meghan was born and raised in California, Prince Harry moved to the state for the first time in April when the couple quit royal duties to start a new life.
It is not known whether any effort was made by the duke and duchess to lobby Newsom during the call, or whether any effort was made by the governor to recruit Meghan.
However, the meeting came on the back of months of fierce debate in the U.K. over a series of comments made by Meghan and Harry on the U.S. election.
Meghan called for "the change we all need and deserve" and said "we all know what's at stake this year" during an appearance for Michelle Obama's When We All Vote registration drive.
The duchess said in the video: "We vote to honor those who came before us and to protect those who will come after us.
"Because that's what community is all about and that's specifically what this election is all about.
"We're only 75 days away from election day. That is so very close and yet there's so much work to be done in that amount of time.
"Because we all know what's at stake this year. I know it.
"I think all of you certainly know it and if you're here on this fun event with us then you are just as mobilized and energized to see the change we all need and deserve."
Meghan added that she was "happy to be here for my friend Michelle Obama's When We All Vote."
In a September Time 100 video, Prince Harry said: "This election I'm not going to be able to vote here in the U.S. but many of you may not know I haven't been able to vote in the U.K. my entire life.
"As we approach this November, it's vital that we reject hate speech, misinformation and online negativity."
Prior to her relationship with Prince Harry, Meghan was explicit in her opposition to Trump.
On The Nightly Show with Larry Wilmore, she said he was "divisive" and "misogynistic" during the 2016 election campaign.
Newsweek has reached out to representatives of Meghan and Harry for comment.