Will Kevin Durant Leave Warriors? Draymond Green Dared 'Bitch' Teammate to Move On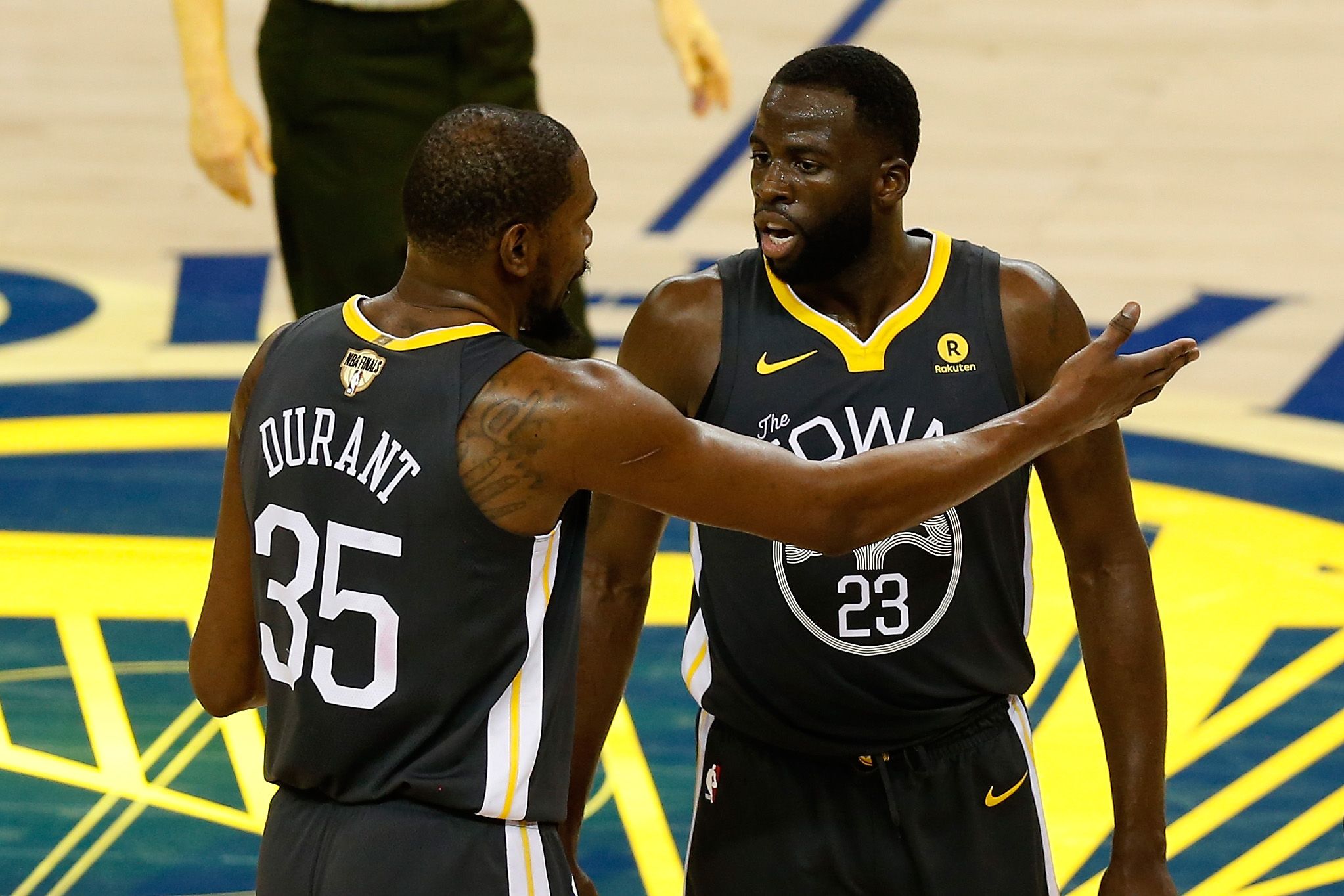 The diatribe between Draymond Green and Kevin Durant continues to provide fascinating details, after it emerged the former invited the latter to leave Golden State next summer.
Green was suspended without pay for one game as a result of a heated exchange the duo had during a loss to the Los Angeles Clippers on Monday.
With the score tied at 106 and only four seconds left, Green secured a rebound before dribbling up court, instead of passing to Durant, squandering the chance to win the game.
Durant and Green argued on the bench, before the Warriors eventually lost to the Clippers in overtime. The bad blood then spilled outside the court as the duo had an altercation in the locker room which, according to ESPN, involved some teammates loudly confronting Green for his decision-making during the final play of regulation.
The Warriors handed Green a one-game ban but his role in the on-court fracas was only partly to blame. According to Yahoo Sports' Chris Haynes, the Warriors and Steve Kerr decided to fine the 28-year-old after he dared Durant to leave in the summer.
"We don't need you. We won without you. Leave," sources quoted Green as saying, adding he called Durant a "bitch" multiple times during the exchange.
Durant signed a new two-year deal with the Warriors in the summer but has a player option for the 2019-20 season and his future has been subject of speculation. In the eyes of many, the fact the two-time NBA Finals MVP opted for a two-year deal means he is inclined to test free agency.
The Warriors are obviously desperate to keep Durant in California as they seek a third NBA title in a row and hope to move into their new arena in San Francisco next season with their superteam intact.
At the same time, Durant has made clear he wants to get paid after sacrificing financially since joining the Warriors in 2016.
Initially he signed a two-year deal worth $54.3 million with Golden State, before penning another new two-year deal worth $53 million in 2017. Durant could have signed a more lucrative deal but left $10 million on the table to help the Warriors keep Andre Iguodala, and this summer signed a one-and-one deal worth $30 million.
Suggestions Durant will at some point want to be a franchise's main player, as opposed to playing alongside Stephen Curry, have also never gone away. Coupled with his desire to be financially rewarded, it's easy to see why the Warriors are determined to prevent the situation from escalating any further.
Meanwhile, Green has since apologized for the incident, admitting he is "an emotional player" and feelings got the better of him.
"Kevin and I spoke. We're moving forward," Green said in a lengthy statement to media members during the team's shootaround on Thursday.
"I think there's no secret that I am an emotional player. I wear my emotions on my sleeve. I play with that same emotion. Sometimes it gets the best of me and it doesn't work to my favor. I am going to live with that."