Melvin Gordon Holdout: Will Los Angeles Chargers Star Play This Year?
For the second consecutive year, running backs have dominated the headlines during the offseason.
A year ago it was Le'Veon Bell refusing to play for the Pittsburgh Steelers after being franchise-tagged for the second consecutive season, this year it's Ezekiel Elliott and Mervin Gordon holding out for new deals.
While the Dallas Cowboys remain hopeful a deal with Elliott can be agreed before their season opener against the New York Giants on Sunday, Gordon's situation is far more complicated.
In July, the running back told the Chargers he would not report to training camp until he got a new contract.
Gordon is due to make $5.6 million in the final year of his rookie contract, more than what he's made in his first four years in the league combined.
As reported by NFL Network's Ian Rapoport earlier this month, the Chargers offered him a deal worth $10 million a season.
The two-time Pro Bowler, however, is understood to be seeking a deal in the region of $12-13 million a year, not far from Todd Gurley's salary.
The Los Angeles Rams made Gurley the highest-back running back in the league last year, when he signed a four-year deal worth $57.5 million with $45 million guaranteed.
Gordon didn't consider the Chargers' offer lucrative enough but the franchise hasn't budged. In fact, the running back's holdout has only succeeded in hardening up its stance.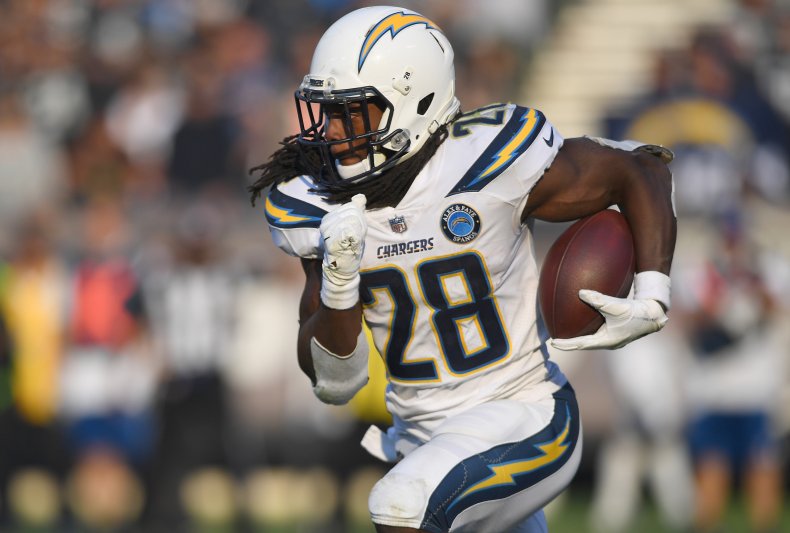 On Sunday, Chargers' general manager Tom Telesco explained a new deal for the 15th overall pick of the 2015 draft would not be discussed until after the end of the season.
Telesco also told Gordon's representatives they were free to seek out a trade for the former Wisconsin student.
The Chargers' GM added that if Gordon plays this season he will do so under his current contract, but the running back is reportedly determined not to report for Week 1.
In fact, Gordon has added a new layer of intrigue to the saga surrounding his contract. On Sunday, shortly after Telesco gave his agents the green light to find a trade for Gordon, the running back started following a number of NFL teams on Instagram.
The Philadelphia Eagles, San Francisco 49ers, Atlanta Falcons and Oakland Raiders were all among the accounts Gordon started following.
Head coach Anthony Lynn hinted he had had enough of talking about Gordon's contract and was focused on the game against the Indianapolis Colts on Sunday.
"My concern right now is on Indianapolis," Lynn said via ESPN's Eric Williams. "We've talked about that for a long time. I'm just ready to move on—we're playing games."
Gordon has amassed over 3,600 rushing yards since entering the league, with his yards-per-carry rising from 3.8 to 5.1 last season.
Unfortunately for him and for the Chargers, Gordon has only played the full 16 regular season games just once and his fitness record could count against him.
The Chargers have a strong back-up at running back in the shape of Justin Jackson and clearly feel that meeting Gordon's demands would be a risk not worth taking.
Bar a major surprise, it seems very unlikely Gordon will be available when the Chargers open their NFL season at home when they host the Colts at 4:05 p.m. ET on Sunday.