Will Putin Snub Erdogan's Olive Branch?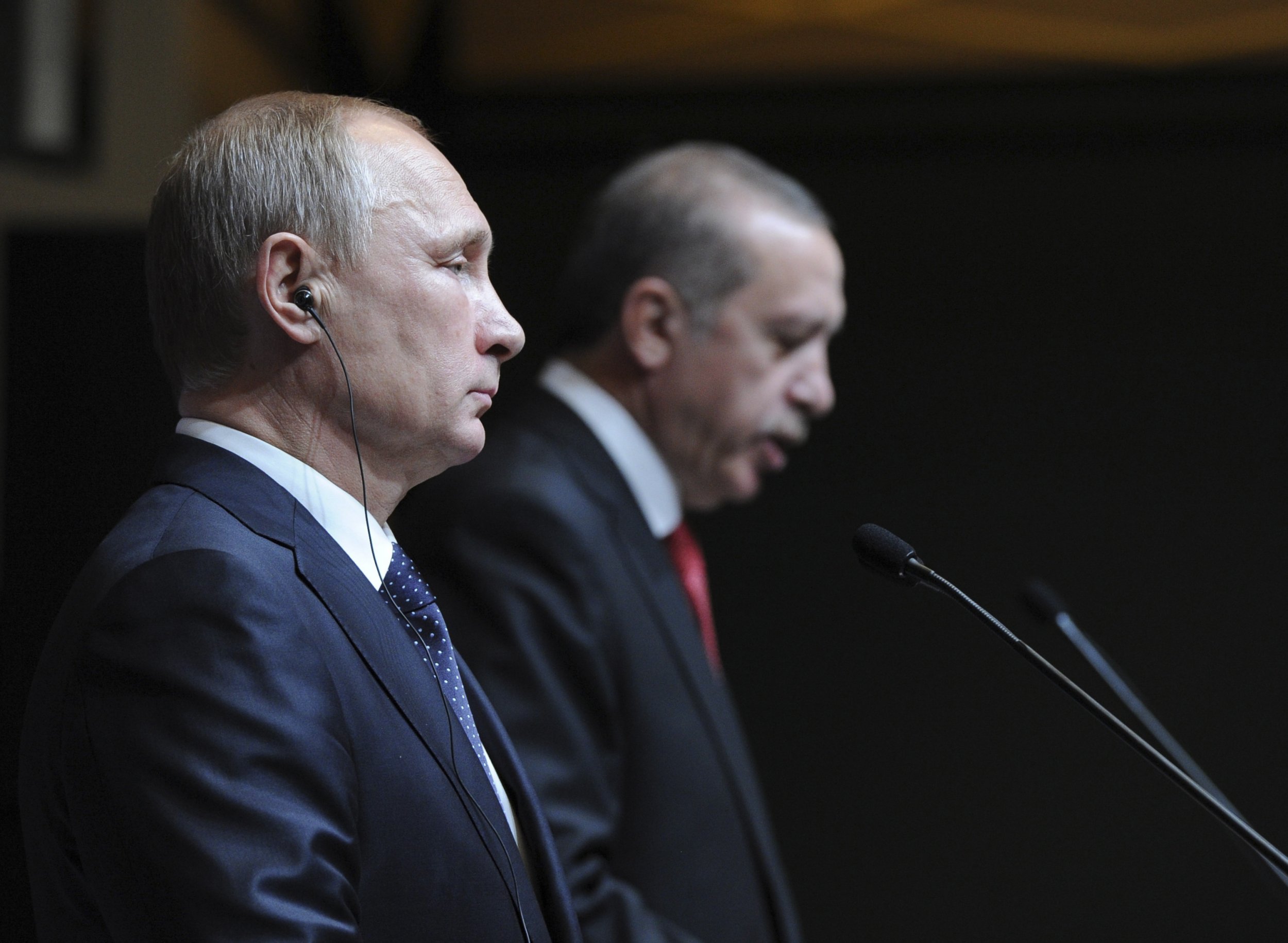 Russian President Vladimir Putin appears to have rejected an apparent move to reconciliation by Turkish counterpart Recep Tayyip Erdogan.
The two leaders entered a bitter war of words in November after Turkey shot down a Russian fighter jet, apparently invading its airspace for the third time. Since then Russia has introduced sanctions on Turkish imports, asked citizens not to visit the country and Russian public opinion of Turkey has turned overwhelmingly negative.
According to the Kremlin, the Turkish President made a significant approach to Putin by sending a letter to the Russian leader on Sunday, to mark Russia's national holiday, celebrating its post-Soviet constitution.
The letter contained a message from Erdogan expressing hope that relations between the two countries would normalise. According to Russian state news Russian Prime Minister Dmitry Medvedev, received a similar message from his Turkish counterpart.
Erdogan expressed his hope Russia and Turkey would improve their relationship when speaking to journalists earlier this week. However he has stopped short of apologizing for shooting down the aircraft, which appears to be what Moscow expects.
Kremlin spokesman said Putin would not respond to the letter, adding that, as far as it was concerned "this is a letter by protocol" for which no response is warranted, Russian news agency Interfax reports. He noted communication had been irregular between the two governments but seemed to underplay the move, saying the message contained "no other significant points."
Asli Aydintasbas, a Senior Policy Fellow at the European Council for Foreign Relations, believes Moscow is holding out for an apology from Turkey and this stubbornness is likely to cause the rift to persist.
"Yes, this is yet another attempt at reconciliation but Erdogan falls short of Putin's demands that he apologize publicly," she says. "Turkey is desperate for a speedy normalization of ties with Russia and not just for economic reasons. On the economic front, the loss of tourism revenues in the absence of nearly four million Russian tourists is devastating to Turkey's tourism sector, which is already suffering due to ISIS (Islamic State) and PKK (Kurdish Socialist Worker's Party) attacks."
"On top, there is a sense of strategic desperation that made Erdogan take this step. Turkey is frozen out of the equation in Syria, cannot stop the expansion of the Kurdish forces there and can't even fly a plane for fear it would be shot down by Russians," she adds.
While Turkey wants Russia to acknowledge it made a mistake and invaded its airspace, Russia denies this and would like Turkey to state its armed forces were wrong to down the jet.