Wisconsin's New Coronavirus Cases Rise as People Flock to Reopened Bars After Court Overturns Stay-at-Home Order
Wisconsin's coronavirus figures continue to rise with more than 300 newly confirmed cases as citizens return to normality after a stay-at-home order was lifted across the state.
Its cumulative cases throughout the pandemic rose to 11,275, with 373 of those recorded on Thursday, the third-largest daily peak for the month. The freshly reported cases are of infections that predate the end of Wisconsin's lockdown.
The state had been under stay-at-home measures sparked by the COVID-19 pandemic, but the conditions were removed after the state Supreme Court ruled against them in a 4-3 decision this week.
Governor Tony Evers said the decision turned the state into the "Wild West" with no restrictions in place, as he urged residents to remain at home, despite stating his team had "no authority" to compel people to do so following the ruling.
After the measures were lifted, crowds were seen flocking to bars as they reopened.
Following the court ruling, the Tavern League of Wisconsin, a trade association "dedicated to serving the needs of the retail beverage alcohol segment of the hospitality industry," posted an update which read: "The Supreme Court Order is effective immediately. There is no stay included in the decision. It is legal to open your business today."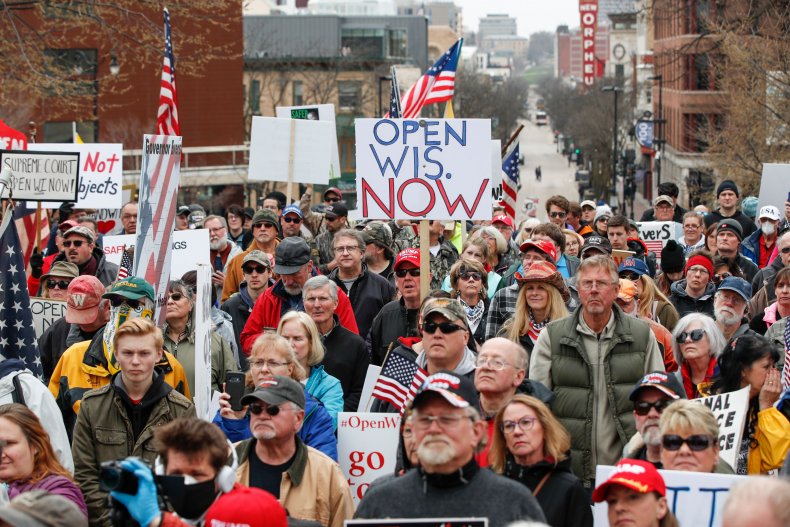 It urged business which chose to open to review guidance from the Wisconsin Economic Development Corporation, which suggested employees wear face masks or cloth coverings. It also recommends reducing the customer-facing side of hospitality businesses as much as possible, underscoring the need for continued social-distancing of six feet between patrons and staff.
Despite the suggestions, photos and videos emerged in which bars appeared packed, with patrons seated next to each other as they joined friends for drinks.
An image shared by an establishment in Platteville showed people sat side-by-side at its bar with the caption "45 minutes after the bars open in Wisconsin..."
While state-wide measures have been abolished, city and county authorities have looked to issue their own orders.
Madison Mayor Satya Rhodes-Conway said she thought it was "inevitable" that the relinquished measures and uncoordinated rules across the state will lead to more cases.
She told CNN that should a restaurant in Madison desire to follow state guidelines to open up, she would want to "work to educate them" to follow county "safer-at-home" orders and that if these were not obeyed citations may be issued.
The state-wide measures, which had been due to be in place until May 26, were lifted after Republican lawmakers complained to the state's Supreme Court which later ruled that Gov. Evers' administration overstepped its authority in its lockdown actions.
Speaking after this ruling, Gov. Evers urged people to keep following measures despite them not being legally enforced and said: "We cannot let today's ruling undo all the work we have done and all the sacrifices Wisconsinites have made over these past few months."
President Donald Trump was among those who welcomed the ruling, branding it a "win."
Newsweek has contacted Wisconsin's Department of Health Services, Gov. Evers and the Tavern League of Wisconsin for comment.
The U.S. has seen more than 1.4 million cases with over 85,000 deaths, according to Johns Hopkins University figures. Of those to be infected in the U.S., more than 246,000 have recovered, according to its stats.
The number of confirmed COVID-19 cases at state level as of May 14 can be seen in the graphic below from Statista.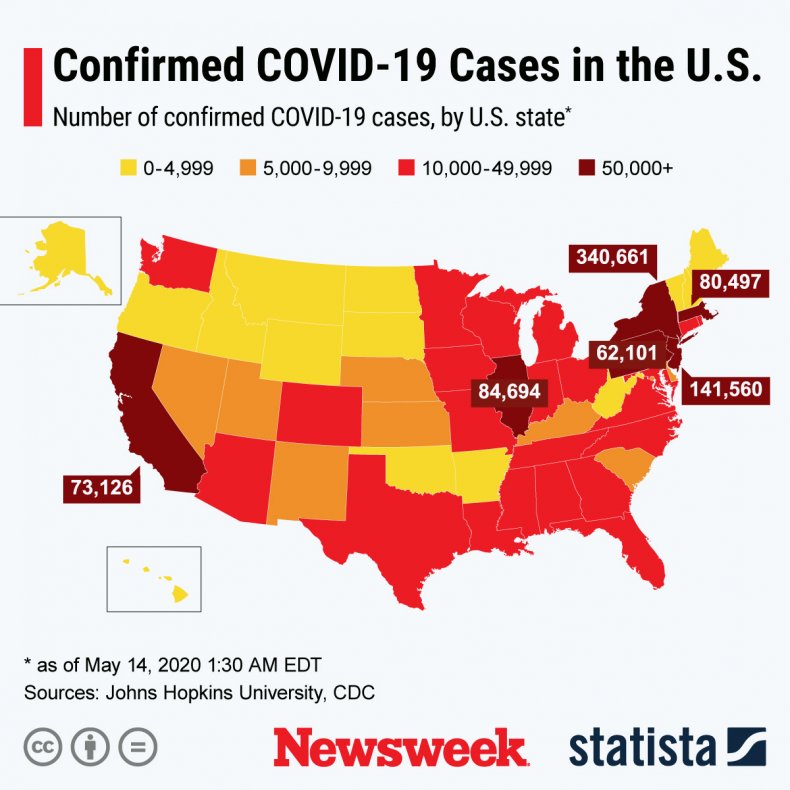 This article was updated with additional context.