Wisconsin Sees Highest Single-Day Rise in Coronavirus Cases and Deaths Since Outbreak Began
Novel coronavirus cases in Wisconsin climbed to 16,462, while the death toll reached 539, following a record number of new cases and new deaths recorded on Wednesday.
The state reported 599 new infections on Wednesday, more than double the number reported Tuesday. It also recorded 22 new fatalities on Wednesday, a jump from 22 deaths reported a day earlier, according to the Wisconsin Department of Health Services.
Wisconsin also reported a record number of test results on Wednesday, with 10,330 tests conducted, which was the first time the state conducted more than 10,000 tests in a day, according to the state's health department.
The record daily count is the state's first spike in cases since May 22. The state's previous record single-day jump in cases was reported on May 20. That record was set a week after the Wisconsin Supreme Court overturned Wisconsin Gov. Tony Evers' extension of his stay-at-home order.
The order was expected to be in place until May 26 but was lifted after Republican lawmakers made a complaint to the state's Supreme Court, which later ruled that Evers' administration had overstepped its authority in its lockdown measures.
Residents were reported to have packed into bars just hours after the court ruling on May 13, which led to a rise in new cases. The daily case count jumped to 373 on May 14 and continued to rise, reaching 502 by May 16, before dropping for a couple of days.
The state saw another dramatic single-day jump in cases on May 20, reporting 528 new cases, more than double the number recorded a day earlier.
Among the patrons at the reopened bars in Wisconsins was Katie Koutsky, a nurse from Advocate Aurora Health, a Illinois-based health care system with offices in Wisconsin. Koutsky was seen without a mask at the crowded Limanski's Pub in West Allis, a suburb of Milwaukee, while being interviewed by a news crew covering a story at the bar.
Koutsky issued a statement that week expressing regret for her actions.
"First, while my priority was to support my sister and her attempt to restart her business which has been devastated by this pandemic, I'd like to express my regret for not wearing a mask or practicing social distancing while there. It was a lapse in judgment on my part to not ensure I had my mask prior to leaving my house and to not maintain social distancing—even during the interview requested by the reporter," Koutsky said.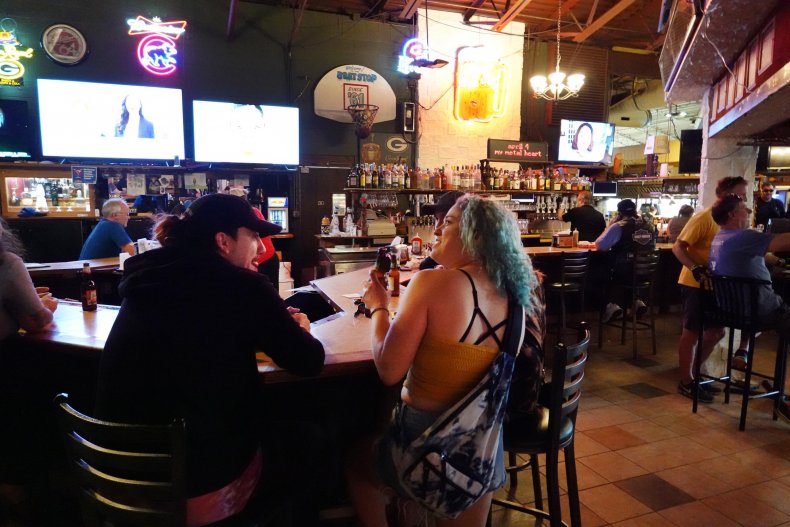 The novel coronavirus, which was first reported in Wuhan, China, has infected more than 5.6 million people across the globe, including over 1.6 million in the U.S. More than 355,700 have died, including over 100,000 in the U.S., while over 2.3 million have reportedly recovered from infection, as of Thursday, according to the latest figures from Johns Hopkins University.
The graphics below, provided by Statista, illustrate the spread of COVID-19 in the U.S. and the worst-affected countries.