Writers Guild Asks Hollywood Not to Film in States That Ban Abortions
The Writers Guild of America West (WGAW) has urged Hollywood not to shoot films and TV shows in states that ban abortions. The guild's announcement came after a draft Supreme Court opinion leaked on Monday revealed that the court's majority was prepared to overturn Roe v. Wade.
"In light of the leaked Supreme Court draft opinion on abortion rights, we want to reaffirm our Guild's commitment to fighting on our members' behalf against inequality and discrimination," the labor union said on Twitter Wednesday. WGAW represents writers in film, television, radio and internet programming.
"We call on our employers to consider the laws of each state when choosing production locations to ensure that our members will never be denied full access to reproductive healthcare," the guild concluded.
If the Supreme Court overturns Roe v. Wade, 26 states are certain or likely to move quickly toward banning abortion, according to policy experts at the Guttmacher Institute.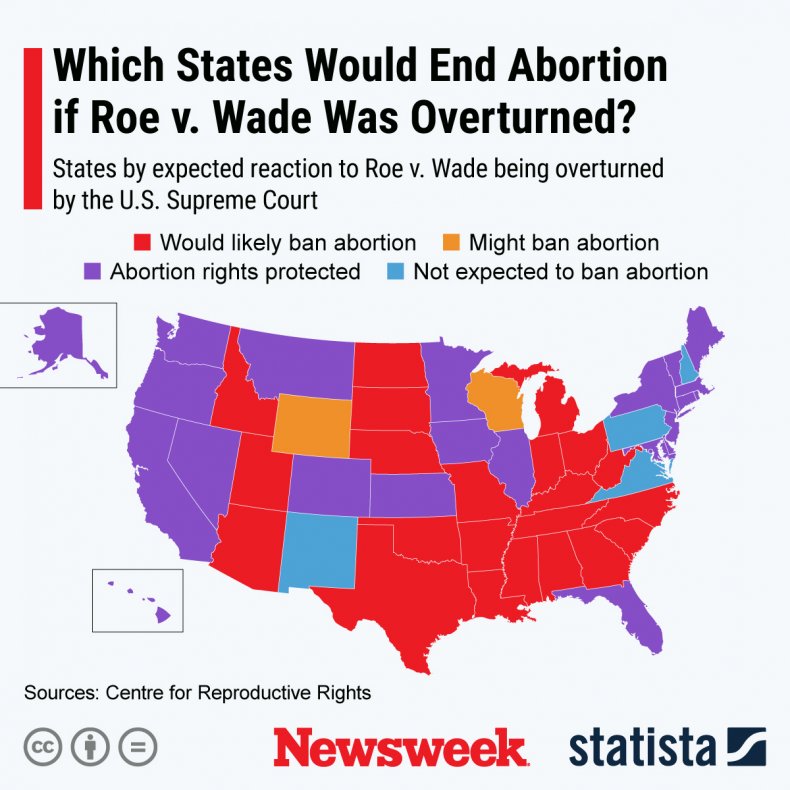 In 2019, major entertainment studios including AMC Networks, NBCUniversal, Netflix, Disney and WarnerMedia said they would "rethink" filming in Georgia if its restrictive abortion bill known as the "heartbeat bill" went into effect. This law would prohibit abortions once a fetal heartbeat is detected, typically in the sixth week of pregnancy, before many women realize they are expecting.
Georgia is a popular state for entertainment filming due to its "production-friendly" tax incentive program. The state hosted an estimated 242 film productions in 2020 amid the pandemic, according to CNBC. Between 2020 and 2021, Marvel Studio's Black Panther, Sony's Spider-Man and Netflix's Ozark were among the projects filmed there. Marvel's Echo is currently being filmed outside of Atlanta.
Georgia's heartbeat bill has not yet become law. After a lower court declared it unconstitutional in 2020, the state appealed to the Eleventh Circuit Court, which put its decision on hold pending the Supreme Court's ruling on Roe v. Wade and Dobbs v. Jackson—a similar abortion law in Mississippi.
However, if the Supreme Court's draft opinion becomes final, the heartbeat bill would be allowed to take effect and Hollywood studios would have to confront their promises during a time when the entertainment industry is recovering from the pandemic.
But Georgia isn't the only state that could be affected by boycotting production in abortion-strict states, especially with the uncertainty of Roe v. Wade.
In 2021, Texas Governor Greg Abbott signed the Texas Heartbeat Act, one of the strictest abortion laws in the country. The Supreme Court denied a motion to block the act, which allows private citizens to sue anyone who performs or aids and abets an abortion.
Texas also has a "trigger law" that would outlaw virtually all abortions if Roe v. Wade is struck down, without exceptions for pregnancies from rape or incest or cases of fetal abnormality in which the fetus is not expected to survive after birth.
The state is currently the site of several shows' sets, including CW's Walker and an HBO limited series.
Oklahoma governor Kevin Stitt signed a ban similar to Texas's Heartbeat Act on Tuesday, prohibiting abortions after about six weeks, on the heels of the Supreme Court's leaked opinion. The Oklahoma law took effect immediately and the Oklahoma Supreme Court denied an emergency request to temporarily halt the bill.
Oklahoma offers similar production incentives to Georgia and the Tulsa area has also become a filming hub in recent years.
According to KWTV-DT, the Oklahoma Film and Music Office was thrilled with the number of productions that chose Oklahoma for their filming needs last year.
"In our most recent fiscal year, over $170.4 million in direct impact and 11,000 local career opportunities were created by film and television productions in Oklahoma, which utilized the state's incentive program," OF+MO Director Tava Maloy Sofsky said.
During the Hollywood backlash to Georgia's bill in 2019, some entertainment and political figures argued against boycotting production in the state, despite their opposition to the heartbeat bill.
Actor and director Tyler Perry told the Associated Press that while he opposed the law, he believed that pulling production from Georgia's thriving television and film industry could alienate voters.
"What I know about this industry is that there are 94,000-plus or 98,000 people who are in this industry and who are benefiting from it greatly," he said in 2019. "And that's a lot of votes."
Democrat Stacey Abrams also argued that entertainment companies should keep their production in Georgia, saying that leaving would economically damage local communities and leave women with even less protection.
Newsweek reached out to the Writers Guild of America West for comment.