COVID-19 Spiked Where Restaurants, Bars and Gyms Reopened Earliest: Study
States where people were most interested in resuming their pre-pandemic activities such as eating out and hitting the gym, saw a spike in coronavirus numbers the following month, according to a survey by the online directory service Yelp.
The company compared the activity of people who viewed its business pages, or posted photos or reviews in March and April as COVID-19 cases rose, with consumer activity in May, when some states began relaxing stay-at-home orders.
It found a significant drop in consumer activity across the U.S in March and April which matched a rise in COVID-19 cases. As some states started to reopen, consumer interest in restaurants, bars and nightlife, and gyms started to increase. Its coronavirus data was drawn from The New York Times.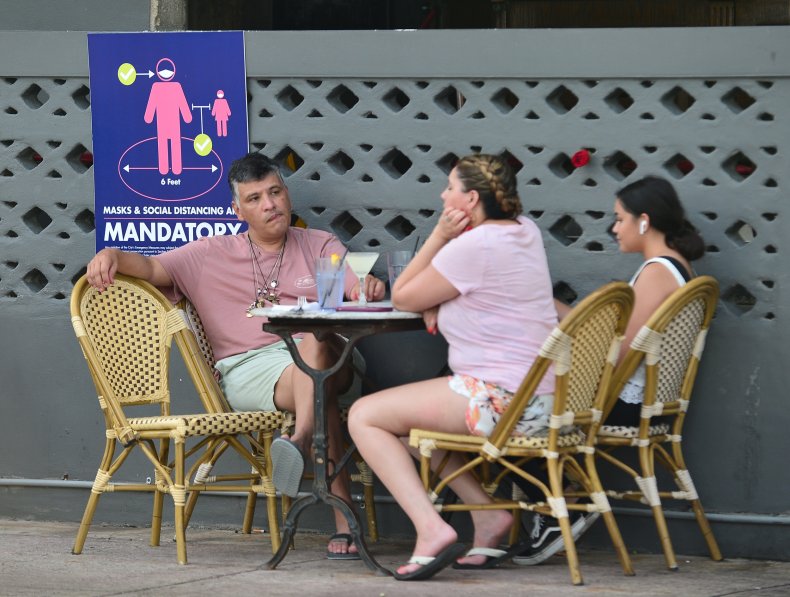 However this itching to get out of the house came at a price. The 10 states with the largest increase in COVID-19 cases in June had on average shown a 50 percent increase in consumer interest in May than during the shutdown months.
Yelp found that in Florida, Nevada, South Carolina, Texas, Georgia, Idaho, Kansas, Alabama, Oklahoma, Arizona, where people could return to restaurants, bars, nightlife, and gyms, a clear spike in COVID-19 cases within those locations quickly followed.
"We saw a noticeable pattern that consumer interest in late May, around the Memorial Day holiday, seemed to correlate with an increase in COVID-19 cases in about a three to four week delay," Justin Norman, Yelp's vice president of data science told Newsweek.
"Our data demonstrates that consumers are ready to return to some sort of normalcy," he added.
There was an increase in interest in outdoor activities like zip lining, ATV rentals, and amusement parks, as well as traditional sit-down restaurants, French cuisine and steakhouses.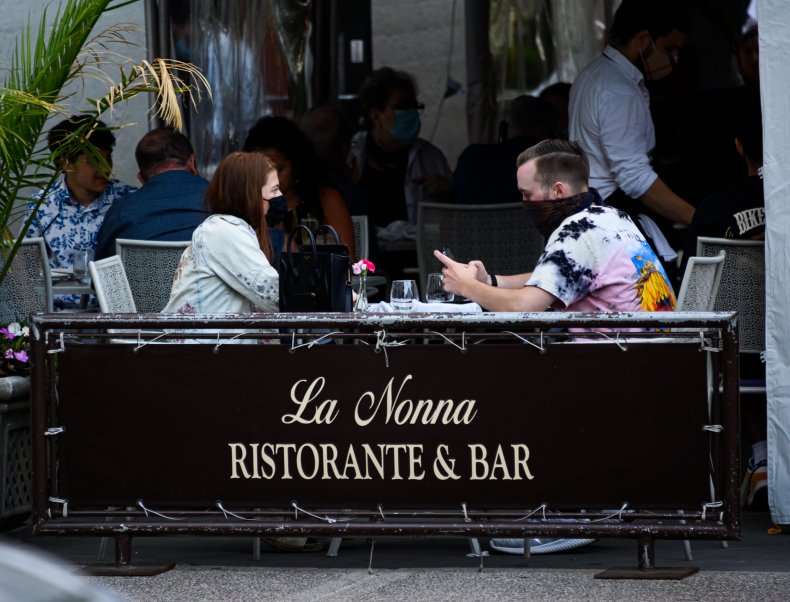 Yelp also found there was flatter consumer interest in May in states where there was the largest decrease in COVID-19 cases in June, including in Massachusetts, New York and Connecticut.
Meanwhile as outbreaks in Florida, Texas, South Carolina, and Arizona, worsened through late June, consumer interest in dining and going out also started to decrease in those states.
Yelp looked at states where there were at least three total cases per 1,000 people and said that it did not claim that any spike in infections was directly caused by more people going out. Rather it said its findings highlighted a correlation between consumer interest, the state being more active economically and the rise in COVID-19 cases.
"We can't say if a rise in pre-pandemic activities will lead to greater cases, as it is largely dependent on local governments to enact measures to monitor and control potential spikes in COVID-19 cases," Norman said.
"That said, we've seen states like Florida and California roll back reopening plans, which creates a domino effect that can inevitably impact the future success of businesses," he added.
Tough decisions remain on how to balance reopening businesses with mitigating against the spread of the disease and politicians face tough scrutiny for their coronavirus response such as Florida governor Ron DeSantis who faces criticism as infection numbers continue to rise in his state.
On Tuesday, the U.S. recorded more than 1,000 coronavirus deaths, for the first time since May, and President Donald Trump warned that the coronavirus outbreak in the country would "get worse before it gets better."
David Corsun, Director & Associate Professor of the Fritz Knoebel School of Hospitality Management in Denver, said that he did not find it surprising that states which allowed people to return to eating and drinking out the earliest, saw a spike in COVID-19 cases soon after.
"I think part of why the relationship exists is the way in which, particularly in some states, restaurants and bars were reopened.
"The capacity restrictions in some states were not as stringent as they ought to have been. Mask wearing was not as regulated as it probably ought to have been and certainly it was inconsistent," he told Newsweek.
"I don't think that in the states where we are seeing huge outbreaks right now, or huge spikes, the response on the part of the restaurateurs themselves and governmentally in terms of regulation, were thoughtful enough.
"If you look at Texas, where there was 75 percent capacity, in restaurants for seating, it is not possible to get six feet when you are at 75 percent," he said, referring to the order by Gov. Greg Abbott as part of the state's phase three reopening plan, to expand venue capacity from 50 percent.
"When you reopen bars with standing room, which some places did, you absolutely are not going to get six-foot distancing.
"When liquor licensing was extended to include sidewalks, I think that was smart but you still need to regulate the number of people and distancing. Bars should have been seating only with distancing."
Corsun said that the lack of a federal response has meant state approaches have meant a "very short term focus" to reopening.
"I think what happened was in many cases, reopenings occurred with an eye on survival," he added.
The graphic below, provided by Statista, illustrate the spread of COVID-19 cases in the U.S.