'1883' Actor LaMonica Garrett Hated Amputating That Leg in Season Finale
1883 actor LaMonica Garrett admits everyone in the cast had to take a moment to "gather themselves" after shooting another brutal scene for the season finale of the Paramount+ Western.
Note: This article contains spoilers for 1883 Episode 10 "This Is Not Your Heaven."
As Thomas (Garrett) told Josef they can take his leg or let him die with it, viewers knew the show had one final wince-inducing moment in store.
There was plenty of heartbreak and misery featured in Episode 10 of the Yellowstone prequel before the season concluded.
Garrett spoke to Newsweek about his bloody scene that left him shaken, and why 1883 was the "hardest job" he's ever had.
Taking Josef's Leg
A venomous snakebite to the leg proved costly for German immigrant Josef (Marc Rissmann) who had to get blind drunk in order to have his limb amputated. In the dead of night, the camp members held him down so that Thomas could hack at his infected leg to remove it.
"I tell you, when we were doing that scene, you could hear a needle drop in that room," Garrett told Newsweek. "And after we were done with it, every actor who was a part of that went off to the separate corners and just had to gather themselves.
"That was the hardest scene of the season for me to shoot," Garrett confirmed.
1883 didn't shy away from the events unfolding onscreen, and we saw almost every hack and incision as Thomas swiftly sawed his way through Josef's leg.
"I don't know if it captured on screen or picked up on the mics but the noise of the saw going through the bone was like something that you wake up in the middle of the night hearing again."
Not only did it sound real, Garrett said, but it also "felt like real bone."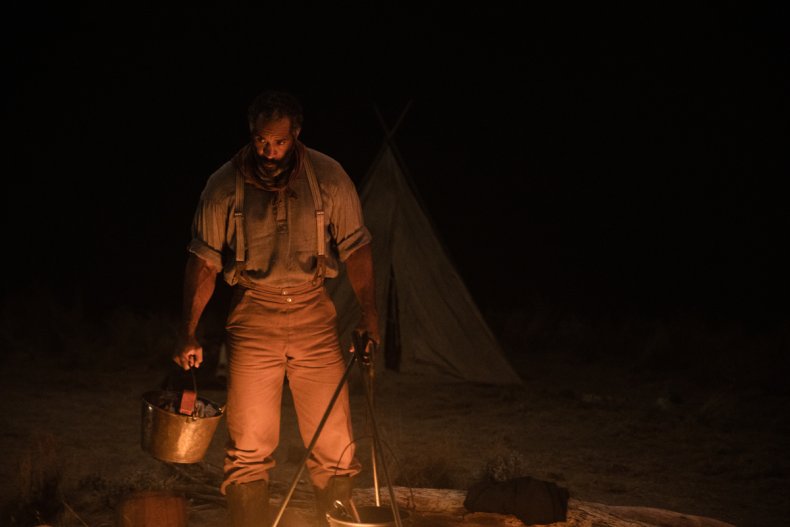 "Sam [Elliott] was saying I was probably physically the only one able to cut through that bone with that little device they gave us for the saw.
Garrett continued: "I don't know how long it took on camera, but it took like four or five minutes to actually get through the bones. So, fingers are numb, shoulders are dead. It was something else.
"The prosthetics department, they were great. It was it felt like real skin. It was some kind of bone. Maybe an animal bone or something like a cow? I'm not sure what it was, but it felt real," Garrett said.
The Extreme Difficulty of 1883
Isabel May, who shined onscreen as Elsa Dutton, told Newsweek that every day was hard on the set of 1883, and Garrett agrees with her assessment.
"It was the hardest job I've ever had. Easily the hardest job I've ever had, but it was the most gratifying," Garrett said. "I'm not too sure I'm going to do anything else to replicate the memories that we had, not just in front of camera, but you know, we lived together, we were family working together six days a week for five to six months."
For a month in Montana, Garrett confirmed he, Tim McGraw (James Dutton), Faith Hill (Margaret Dutton), Sam (Shea Brennan) and Gratiela (Noemi) all shared a house as they bubbled together because of the COVID-19 pandemic.
They'd had dinner together and bonded further by watching Monday Night Football and movies on the couch. "It was an experience that you don't know if it's gonna happen again but it was just amazing," Garrett said.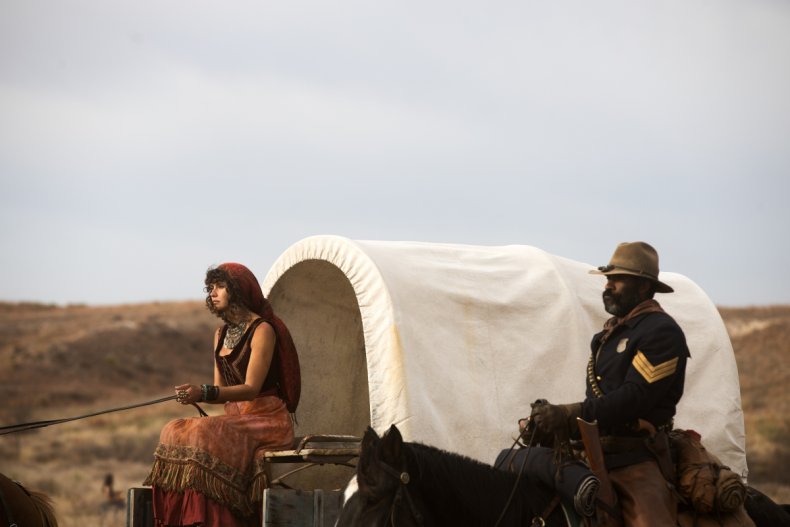 Each cast member took part in a cowboy camp ahead of shooting to add authenticity to their performances. While Garrett could ride a horse, he admits the rest of his cowboy credentials needed some work.
"They weren't up to up to snuff when we first started, I wasn't well-versed in cowboy. But, by the end of filming, I consider myself to have some cowboy in my blood now.
"Even coming back home to California, I found places where I could go ride a couple times a month, because now I need that ride. It feels like therapy to me to be on the horse."
Garrett and Sam Elliott came as a package deal within 1883, so much so that the friendship transferred off screen and continues to this day.
"I was at Sam's house this past weekend for a few hours just hanging out. These are lifelong family members now. Just because we're done filming doesn't mean that we're going to stop talking and hanging out.
From Cowboys to DC Comics
Paramount has confirmed there will be a Season 2 of 1883, and fortunately for Garrett, Thomas was one of the few characters to get a happy ending, leaving the door open for him to return. "If it carries on, I would jump back in with both feet and both spurs. I'm not sure where it's gonna go, or how it's gonna play out.
"If it keeps going, I'm all in, I would love to keep the train going with whoever survived. There's not many of us but we'll see," Garrett said.
Garrett has already had a varied career, starting out playing college football then professional Slamball before transitioning to acting. Across movies and TV he's starred in Sons of Anarchy, Designated Survivor and in many of the Arrowverse shows as Monitor. If he can't return to Westerns, Garrett would like another superhero role next.
"My passion and probably ultimate dream job, because I'm a huge comic book fan, would be Green Lantern, John Stewart, in the DC universe."
John Stewart is known as one of the first African-American superheroes to appear in DC Comics. Garrett continued: "I told my agent like 'I would do that for free' and he said 'Never say that again'. But yeah, that'd be one of those jobs where it would just be a feather in the cap for me."
The entire season of 1883 is available to watch on Paramount+ now.