Following the sentencing of actor Danny Masterson to 30 years in prison for raping two women, there has been increased scrutiny on the TV hit that brought him to fame, That '70s Show.
The sitcom also starred Mila Kunis and Ashton Kutcher, who apologized last week for writing character letters for Masterson in hopes of reducing his sentence, further fueling the controversy.
The show ran on Fox for eight seasons until 2006. It followed the lives of a group of teenage friends in the 1970s as they navigated their formative years in a changing America. Other stars on the show included Wilmer Valderrama, Topher Grace, and Masterson's then fellow Scientologist Laura Prepon. Prepon left the Church of Scientology in 2016.
Created by three prolific TV writers—Mark Brazill and married couple Bonnie and Ted Turner—the show has arguably not aged well. The litany of accusations against it is long, and raises some difficult questions. How should we judge the cultural touchstones of generations past? And should stars' real-life controversies change how we now view their much-loved fictional characters?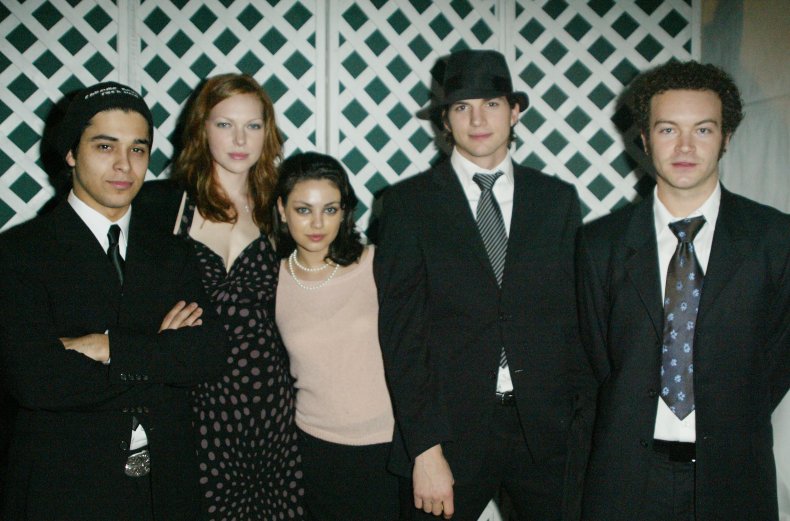 Claims of Racism and Sexism
Critics have pointed out several problematic storylines in That '70s Show, such as the racist jokes about Valderrama's character, Fez, who was the only person of color in the main cast, and ageism and sexism towards Kunis' character, Jackie Burkhart.
In fact, Fez is not even given a proper name. Instead, he is referred to by an acronym for 'foreign exchange student' because his friends don't bother to learn his actual name, which is of Cocos Malay descent. Not that the character of Fez himself was immune to criticism: he would often make inappropriate sexual comments to women and was portrayed as a stereotype that foreign men are sexual deviants.
Kunis was only 14 years old when she was cast on the show, having lied about her age. No one on the casting team had checked if she was 18, she told Vanity Fair, and the show began filming even once the truth was revealed. She was often involved in kissing scenes with a then 19-year-old Kutcher.
The show's humor may have aged badly, but that alone isn't enough to condemn it, according to one cultural historian.
"Every TV show, movie, or novel is eventually outdated. Historical distance allows audiences to see how beliefs and values have shifted over time," Jeffrey Sconce, a professor in the Screen Cultures program at Northwestern University, told Newsweek.
However, he added that other movies or TV shows with outdated themes are much older than That '70s Show, meaning people may be more forgiving of their content.
"That '70s Show is in a more difficult situation given that less time has passed, so its 'attitudes' about appropriate content remain more contentious," he said.
Kunis, Masterson and Kutcher
However, it's not only the show's storylines that have come under fresh scrutiny. The real-life comments and behavior of cast members have also raised eyebrows, especially in light of Masterson's conviction.
In one 2002 interview, Kunis described how it was generally accepted that her character was the "whore" on the show, even though she was portraying a teenager.
"I'm a whore on the show...it's upsetting to my parents," she said.
In one behind-the-scenes special, the cast speak about the clothes they wear on the show and Masterson tells a 15-year-old Kunis, "you look really hot in it." Masterson was 22 at the time. In the same special, Masterson says of Kunis, "at 14 she was even hotter."
In a recently resurfaced interview with Kunis and Kutcher from The Rosie O'Donnell Show, Kunis recalled Masterson had bet Kutcher money to French kiss Kunis during filming, when the actress was 14 and Kutcher was 19.
"It was like the first week," Kunis recalled, which Kutcher disputed. "Ashton's attractive and I was a 14-year-old little girl, and I was extremely scared for my life. He was very nice about it. He was like, 'Oh, don't worry.' So I was like, 'OK.'"
O'Donnell has since spoken out about the Kutcher and Kunis interview, calling Kutcher's comments "creepy" and "disgusting," and admitting that the clip "doesn't look good for Ashton Kutcher."
Another promo for the sitcom showed Kunis sitting on Kutcher's lap—the pair, who are now married, were not together at the time—saying he agreed to do the video only "because... Mila would sit on my lap if I did it."
In the wake of Masterson's sentencing, Kutcher was also called out for comments he made about the then 15-year-old Hilary Duff on his MTV show Punk'd.
"She's one of those girls that we're all waiting for to turn 18. Along with the Olsen twins," Kutcher said.
Valderrama has also come under fire over the years for comments about his ex-girlfriends Mandy Moore and Demi Lovato, who were 16 and 18 when they dated him. Valderrama was 21 when he dated Moore, and 30 when he dated Lovato. In various interviews, he has referred to their sex lives and taking their virginity.
Newsweek has contacted Kunis, Kutcher, and Valderrama's representatives for comment.
Cancel Culture
Given the real-life controversies now swirling around the show's stars, is it time to reassess That '70s Show? Yes and no, Sconce argued.
"Many are tempted to conflate Danny Masterson's rape convictions with the show's sensibility, but that would be simplistic and generally unfair to a series that, in the early 21st century, was trying to make comedy out of the values, memories, and styles of the 1970s," he said.
"A much more useful to approach a problematic show is an opportunity to think about how entertainment, culture, and politics are always historically intertwined."
He added: "When a cast member is convicted of an actual crime, that is the definition of accountability. When Bill Cosby was convicted, there was an impulse to go further and make his entire career vanish. But pretending The Cosby Show or Cosby himself never existed isn't really an option—both were simply too important in the cultural history of late 20th-century America.
"Masterson's behavior is obviously reprehensible. But implicating the rest of the cast, crew, and writers seems a bit excessive. Every movie and TV show involves the collaborative work of hundreds of people. Removing a show based on the illegal or even just distasteful behavior of any single individual involved in the production is not a workable response."
On September 7, Masterson was sentenced to 30 years to life in prison for drugging and raping two women who were also members of the Church of Scientology in the early 2000s.
The following day, Kutcher, 45, and Kunis, 40, apologized for writing character letters on behalf of their longtime friend.
"They were intended for the judge to read and not to undermine the testimony of the victims or re-traumatize them in any way," said Kutcher on Instagram.
"We would never want to do that and we're sorry if that has taken place."