Abortion Rights Activists Rally Outside Supreme Court on Roe v. Wade Anniversary
This Saturday marks 49 years since the U.S. Supreme Court's landmark ruling in Roe v. Wade.
It comes as the court, which has a 6-3 conservative majority, is set to rule on a case out of Mississippi later this year that could gut or overturn the 1973 decision that legalized abortion nationwide. That would likely prompt over 20 states to severely restrict or ban abortion.
With access to abortion imperiled, activists are planning to head to Washington, D.C., to mark Saturday's anniversary with a rally in front of the Supreme Court.
"We're really in a state of emergency as to whether women are going to be treated as both human beings or incubators," Sunsara Taylor, an initiator with a new movement called Rise Up 4 Abortion Rights, told Newsweek.
On Saturday, Taylor and others will announce the movement's launch with a mission statement that declares their refusal to allow the court to "deny women's humanity and decimate their rights."
"Forced motherhood is female enslavement. When women are not free, no one is free," the statement says. Among the signatories are Gloria Steinem and Rosanna Arquette.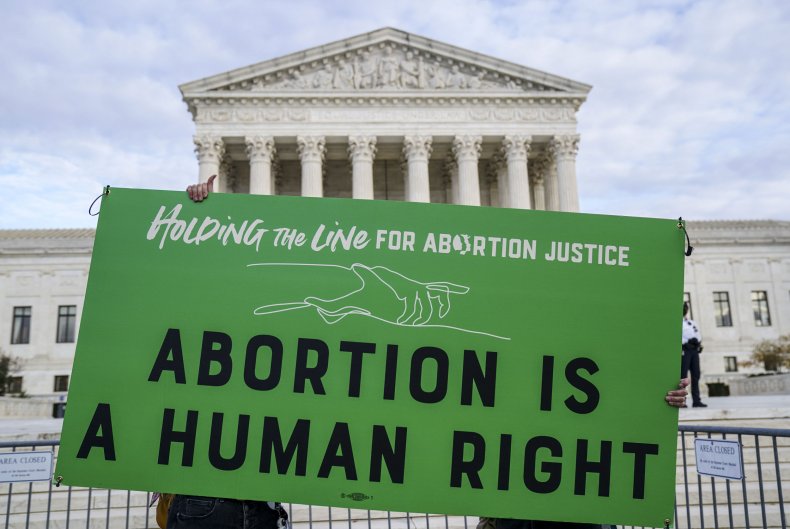 "Without the right to decide for themselves when and whether to have a child, women cannot be free and equal participants in society," Taylor said.
"And this is precisely why the right to abortion has been under increasing assault for decades. And so on January 22, we are going to rally in front of the Supreme Court and we're going to announce to the world that we've launched with this statement."
The attack on abortion rights "is part of a patriarchal Christian fascist program that takes aim at contraception as well as LGBTQ rights," the movement's statement adds. "Denying the right to abortion hits poor women, and especially Black and other women of color, with vicious consequence—tightening the chains of both white supremacy and the subjugation of women."
Even with Roe, Black women "on Medicare struggle to get abortions and maintain bodily autonomy within medical systems that were not made to support us," Monica Simpson, the executive director of SisterSong, an organization dedicated to reproductive justice for women of color, said in a statement to Newsweek.
When women seek abortions at clinics, they face "a gauntlet of Christian fascist fanatics harassing, terrorizing women, shaming them," Taylor said. It demonstrates a hatred towards women that has become increasingly violent, she said, pointing to a recent incident where an abortion clinic in Knoxville, Tennessee, was burnt down in an arson attack.
But rather than fighting to protect the right to abortion, she feels some leaders are already preparing for a post-Roe world. "We're saying no, we have to fight to protect these rights not prepare for when they're gone," she said.
She called for people to take to the streets in numbers like they did in the summer of 2020 to protest racial injustice following the police killing of George Floyd.
"We are aiming for that level of struggle here and we think it's possible, because millions and millions of women are going to be impacted," she said. "Their lives are going to be intruded upon, and the fabric of society is being assaulted in a vicious and patriarchal way."
Simpson said people "often forget how interconnected the fight for reproductive justice and racial justice is."
Abortion bans, police violence and ICE facilities "are tools of white supremacy purposefully meant to target Black, brown and queer people's right to bodily autonomy and safe communities," Simpson added. "We need to center people of color and trust in Black women's leadership. We deserve to have children; we deserve to choose not to have children; and we deserve the right to raise the families we have free from the fear of state-sanctioned violence. Reproductive justice is racial justice."
Taylor added that it is "imperative" for people from all walks of life "to stand up and wage a massive fight to change the political atmosphere."
She urged people to sign the movement's statement, share it and use it as an organizing tool, adding: "The one force that can stop this assault and preserve these rights... is the masses of people, thousands and millions. Most of them don't even know this right is being taken away, because the alarm hasn't been sounded by the so-called leaders that they normally look to.
"We have to sound the alarm ourselves through our actions and call many more people into the struggle. That's the plan."