Adam Kinzinger's GOP Challenger Accuses Him of Using Taxpayer Money to Go on 'Liberal Media Shows'
Catalina Lauf, a pro-Trump primary challenger to Republican Congressman Adam Kinzinger, has accused the Illinois lawmaker of using taxpayer dollars to appear on "liberal media shows" amid his recent criticism of the GOP.
Speaking on Fox News' The Ingraham Angle on Friday evening, Lauf bashed Kinzinger for criticizing former President Donald Trump and said he's failed to represent his constituents.
"It's time that we hold people like Adam Kinzinger accountable. They are not doing what we hired them to do. Instead he's using taxpayer dollars to go on all these liberal media shows," Lauf said. "He's playing into exactly what the left-wing media wants him to play into—which is that the Republican party is going through this civil war, and that we're rejecting Trumpism. He's becoming the poster child for that."
Kinzinger was one of 10 House Republicans to vote in favor of impeaching Trump for inciting an insurrection on January 6. The Illinois lawmaker has since railed against the Republican party for remaining loyal to the former president, and has even launched a political action committee aimed at challenging Trumpism within the GOP.
Kinzinger was also one of 11 House Republicans who joined Democrats in stripping Marjorie Taylor-Greene, a pro-Trump congresswoman from Georgia, of her House committee assignments on February 4.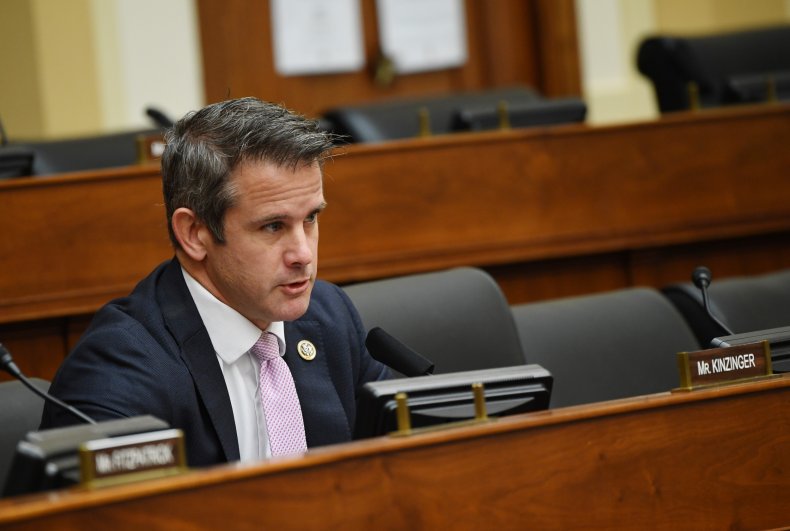 But the GOP lawmaker has come under fire from members of his own party, and has since been censured by local Republican groups.
On Tuesday, Lauf announced her intention to run against Kinzinger by bashing the Illinois representative for representing the "old guard" of the Republican party.
"I never thought I'd primary a fellow Republican, but is Congressman Adam Kinzinger really a Republican anymore?" Lauf said in a campaign announcement video, before calling him "a weak-kneed, establishment Republican who cares more about his next MSNBC appearance than the voters who elected him."
"Instead of focusing on what really matters, instead of being in our fight, Adam betrayed his constituents for a life in the D.C. swamp," Lauf added.
Though Kinzinger won by a comfortable margin in his latest race, the Republican lawmaker said earlier this month that he would be "at total peace" with facing a fellow GOP challenger.
"The bottom line, I don't need the job. I enjoy doing it," he said. "I'd like to win again, but if I don't, I can look at myself in the mirror and I'm at total peace," he said during a live webinar with The Washington Post.
A representative for Kinzinger responded to Lauf's recent attacks by saying the GOP representative "has a proven record of leadership and integrity, serving the interests of his constituents and his country—not the sole interests of one man."
Newsweek contacted Kinzinger for additional comment, but did not hear back in time for publication.