Alexei Navalny's Health Declining in Russian Prison, Aides Warn His Life Could Be in Danger
Aides to opposition leader Alexei Navalny said Wednesday that his health is deteriorating in a Russian prison and warned that his life may be in danger.
"We suppose that Navalny has possibly been transferred to the prison hospital, and the [prison] colony administration are trying to cover it up. We believe that Navalny's life is in danger and demand immediate access to him for his lawyers," Maria Pevchikh, the head of investigations at Navalny's Anti-Corruption Foundation, tweeted Wednesday.
Pevchikh said that since the end of last week, Navalny has reported experiencing severe back pain and numbness in his leg but was given only two ibuprofen pills for relief.
Navalny, 44, was sentenced to two and half years in prison last month and was moved to a prison colony east of Moscow when he began having health problems, The Moscow Times reported.
Navalny's regional network coordinator, Leonid Volkov, said his lawyers were denied access to meet with him during a scheduled visit at the prison on Wednesday.
The lawyers said prison officials told them it was not possible to visit their client because of unspecified security measures, adding to their concerns about his health, Reuters reported.
"We believe that he may now be in the prison hospital and the IK-2 [prison] administration may be trying to hide this fact," Volkov said Wednesday on Telegram. "Under the circumstances known to us, a sharp deterioration in his health cannot cause anything but extreme concern."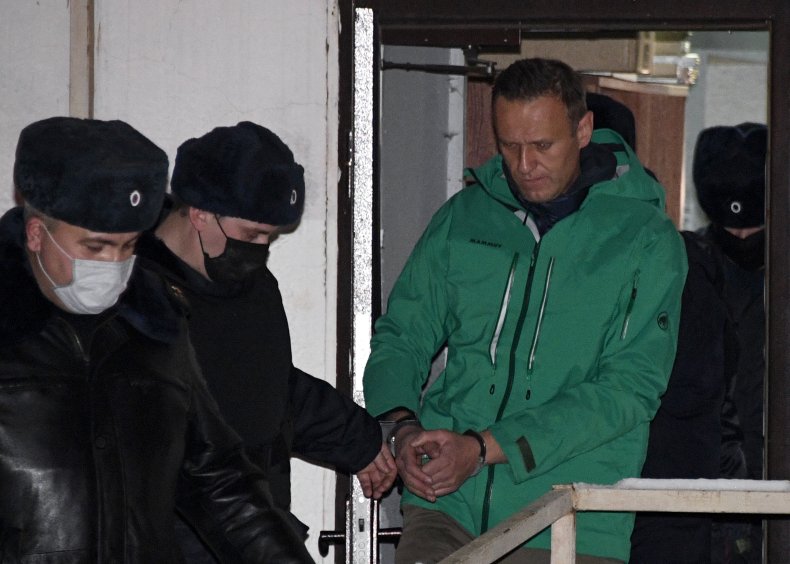 Navalny, known for being an anti-corruption activist and a critic of President Vladimir Putin, was jailed last month for allegedly violating parole while recovering from a near-fatal poisoning in Germany last August.
A number of European countries and the Organization for the Prohibition of Chemical Weapons later determined that Navalny was poisoned with a form of Novichok, a Soviet-designed, military-grade nerve agent.
Navalny has accused Putin and the Russian government of poisoning him, but they have denied being involved in the attack.
Navalny's arrest led to thousands of protesters taking to the streets across more than 100 Russian cities. On Tuesday, his aides announced plans to stage this spring what they hope will be the biggest anti-Kremlin street protest in modern Russian history, according to Reuters.
President Joe Biden's administration and other Western countries have condemned Russia's detainment of Navalny. White House press secretary Jen Psaki said in January that the U.S. was calling for the "immediate and unconditional" release of the opposition leader.
"I'll just reiterate our call from here on Russian authorities to release all those detained for exercising their universal rights," she said. "We also urge Russia to fully cooperate with the international community's investigation into the poisoning of Alexei Navalny and credibly explain the use of a chemical weapon on its soil," Psaki said.
Earlier this month, the Biden administration sanctioned seven senior Russian officials and 14 entities associated with Russia's biological and chemical agent production in connection to Navalny's poisoning.
Newsweek contacted the White House for additional comment but did not hear back in time for publication.