'American Pickers' Star Mike Wolfe Hints Show Is Staged in Feisty Clapback
American Pickers star Mike Wolfe has hinted that his show is somewhat staged, following accusations that a scene from the series wasn't spontaneous.
The longtime co-host and creator of the History Channel show, which follows antique collectors traveling across the U.S. in search of unique and rare objects, took to TikTok this week to share a scene from a recent episode.
In it, Wolfe, 58, was seen visiting a sizable disused machine shop, a part of which was the foundry for the original Packard Automotive Plant in Detroit. He was shown around the more than century-old building, which has fallen into disrepair.
Captioning the clip, Wolfe wrote: "Ever since watching the show Anthony Bourdain did on the Packard Plant in Detroit I've wanted to see it for myself. His story telling along with the visuals took Urban Exploration to the next level."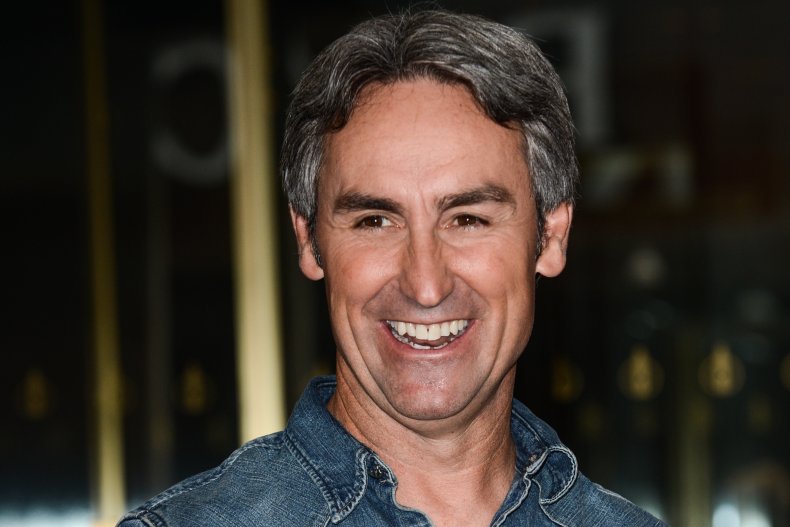 "Well, I finally got my chance and even managed to buy something!" Wolfe added. "Can't wait to show you guys what we got up to in this weeks new @americanpickers episode."
Despite Wolfe's enthusiasm, a pair of TikTok users expressed a touch of cynicism, with one commenting that the visit "was 100 percent setup."
"Of course it was," Wolfe hit back. "[We're] making a television show."
"Show is always staged!" wrote another, which Wolfe responded: "Haha yes they knew I was coming. [We're] making a TV show."
Amid the handful of other comments were fans suggesting places for Wolfe to visit next, including the National Packard Museum in Warren, Ohio.
Wolfe, who has fronted American Pickers since its 2010 launch, has recently been updating his Instagram profile with a host of behind-the-scenes clips from the show.
Since American Pickers premiered, there have been some changes to the way the show is shot and produced, which Wolfe recently addressed after hearing from fans.
Responding to a fan's comment on social media, Wolfe admitted there's less "freestyling" on the show now. "If you notice we don't do that anymore. It doesn't work into the show we're too recognizable now. Miss that though it was fun and exciting," he wrote.
The lack of "freestyling" doesn't mean that the entire show is staged, as Wolfe was quick to point out when other people left comments suggesting so.
When one TikTok user commented "[too] bad it's all staged," Wolfe took exception to the insinuation. "Staged meaning we know where we're going. Yep true story. [Scripted?] Negative," he replied.
He elaborated after another person made a similar accusation.
"There is no script for this show when we're picking we either find something or we don't. Yes there are thru stories to make what we do into a show," Wolfe wrote.
The comments and responses from Wolfe were sparked by the TV personality sharing a video that highlighted the names and roles of the behind-the-scenes team.
Many of the comments asked Wolfe why Antiques Archaeology shop manager Danielle Colby was missing from the video, seemingly worried that she'd gone the way of former host Frank Fritz and had been removed from the show. Wolfe assured several fans that she was "still rocking with us," implying that she remains part of the show.
It was announced in July 2021 that Fritz would be leaving the cast of American Pickers, despite being a co-host since it began in 2010. He suffered a stroke in July 2022, which prompted fans to urge Wolfe to make amends with Fritz. Seemingly unprompted, Wolfe addressed Fritz's contribution to the show.
"Nothing will ever replace Frank we miss him. Very much like y'all do," Wolfe wrote.