Ana Navarro, Alyssa Farah Defend Republican Ties: 'Reform From Within'
Ana Navarro and Alyssa Farah Griffin defended being Republicans during a heated chat with Sunny Hostin on The View.
On Monday's episode, Hostin, 53, said she felt like the Republican party is the "Trumplican party at this point."
The lawyer cited research that suggests 80 percent of Republicans identify former President Donald Trump "as the party," adding that it's a "party of white supremacy, it's a party of fascism," and "it's a party of all the things that are counter to our democracy."
Hostin noted that she has "issues" with Navarro, 50, being a part of the organization when she's a "Latina woman" who immigrated to the U.S. from Nicaragua.
"I don't understand," Hostin said.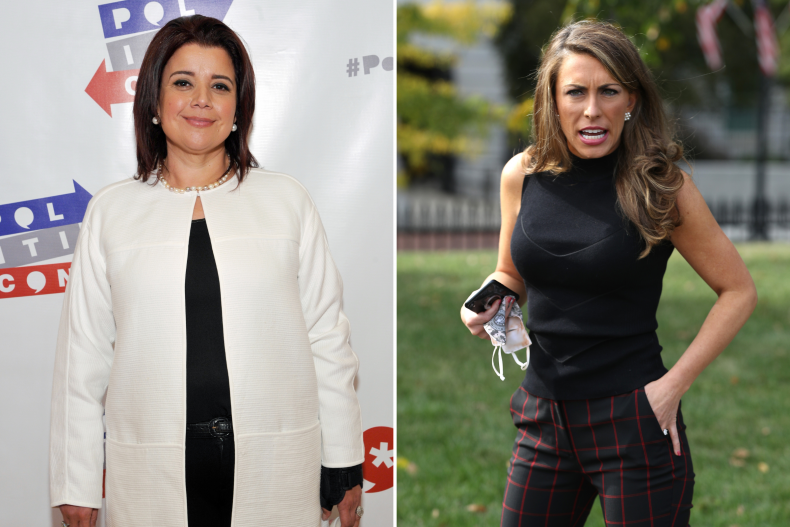 Navarro explained, "When I came to this country, the Republican party was the party that stood up against communism, and that is something that is engrained in me."
She gave an example of Hostin remaining as a member of the Catholic church despite its numerous pedophilia scandals.
"You stayed in the Catholic church because there's more to it than that," Navarro said, which Hostin refuted.
"No, as you know, I actually stopped going to church," she countered, before fellow co-host Whoopi Goldberg said they were going off topic.
The co-hosts had been discussing whether there would be a benefit to having a third political party in the United States. While going back to the topic, Hostin asked both Navarro and Griffin if they felt "complicit" by remaining in the Republican party "given what you've seen."
Navarro quickly jumped on the question and replied, "I'm a registered Republican, I donate to Democrats who I think are better, I campaigned for [Joe] Biden, I argue and call out the people who have lost their principles and who I think have lost their way in defending what I think are Republican values."
"The question is: do you piss from inside the tent or from outside?" the political strategist asked, which prompted laughter from the audience.
"I truly think you piss from outside," Hostin said, before turning to Griffin, 33, and noting, "I mean you certainly were complicit. You worked there."
Previously, the political commentator was the White House Director of Strategic Communications during Trump's presidency.
"Wouldn't you rather have someone like Ana trying to reform the party from within?" Griffin said. "There's going to be a Republican party whether you want there to be or not, so wouldn't you want someone who's sober-minded and sound and who's more aligned with you?"
In response, Hostin said she doesn't "think that's going to affect the strategy."
Navarro and Griffin were brought on as permanent co-hosts of ABC's The View in August, replacing Meghan McCain. They joined other permanent panelists, Hostin, Goldberg, Joy Behar and Sara Haines.