Angry Democrats Say Chinese Balloon 'Further Inflames Relations'
Democrats on the newly constituted House of Representatives' select committee on China have expressed dismay at the presence of a Chinese spy balloon in the U.S. and suggested it will harm relations.
In statements sent to Newsweek on Friday, several Democratic members of the House Select Committee on Strategic Competition between the United States and the Chinese Communist Party (CCP) criticized China for deploying the balloon.
The Chinese Foreign Ministry has described the balloon as a "civilian airship" mostly used to monitor the weather but the Department of Defense (DOD) has identified it as a surveillance balloon.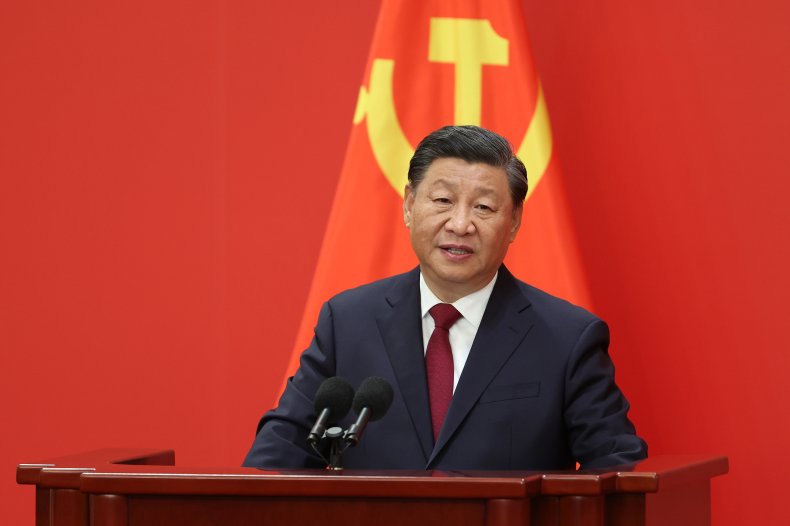 "Violations of American air space must be taken seriously and I'm grateful for the quick action of our Defense Department and national security teams," said Representative Andy Kim of New Jersey.
"It is a reckless move by President Xi's regime that further inflames relations while providing them with little actual intelligence value. It should never have happened and we must work to make sure it never does again," Kim said.
Representative Ritchie Torres of New York said he was "alarmed by reports from the Pentagon that defense officials have discovered and are actively tracking a suspected surveillance balloon over the northern United States that's believed to belong to the Chinese Communist Party."
"This is a clear violation of American sovereignty and reminds us that the threats posed to our country by our chief adversary on the world stage do not stop overseas," Torres said.
"We deserve to know more about the purpose of this balloon and the intentions of the CCP. As a newly appointed member to the House Select Committee on Strategic Competition between the U.S. and China, I am following this situation closely and remain committed to doing everything in my power to protect and defend our national security and the privacy of Americans from foreign espionage," Torres added.
Representative Ro Khanna of California told Newsweek that "as a member of the Select Committee on the Strategic Competition between the United States and the Chinese Communist Party, I'm deeply concerned with the news of the CCP Spy balloon hovering over Montana."
The balloon was spotted over the state of Montana on Friday but later moved on to Missouri despite claims that the object had been shot down. That suggestion proved to be unfounded.
"We need answers from the CCP about their surveillance of critical assets like the 341st Missile Wing at Malmstrom Air Force Base, Montana, which holds our ICBMs," Khanna said.
Khanna also pointed to the need for "a full briefing from the Administration" before Secretary of State Antony Blinken's planned visit to China. That trip has now been postponed.
Blinken had been due to meet Chinese President Xi Jinping in Beijing next week with an unnamed senior State Department official telling reporters on a background call that they concluded "the conditions are not right at this moment for Secretary Blinken to travel to China" following consultations with Congress and interagency partners.
Some, including former President Donald Trump, have called for the balloon to be shot down, but there are concerns that doing so could be dangerous to civilians due to debris.
Representative Raja Krishnamoorthi of Illinois is ranking member on the House China select committee. His office addressed the idea of shooting down the balloon in a statement to Newsweek.
"U.S. officials and senior military leaders have thus far advised against shooting the balloon down due to concerns about falling debris and civilian safety. Congressman Krishnamoorthi has full confidence in the U.S. military to protect our safety and security interests, and is monitoring the situation closely," the Democrat's office said.