Woman Whose House Anne Heche Crashed Into Speaks: It's 'Devastating'
The woman whose home was destroyed in Anne Heche's fatal car crash has spoken out following the actress' death.
Lynne Mishele's Mar Vista, California property burst into flames after Heche lost control of her blue Mini Cooper on August 5 and plowed into the front of the house.
A GoFundMe was later set up by John and Jennifer Durand, the home's owners. At the time of publication, more than $174,000 had been raised by 4,200 donors, far surpassing the $100,000 goal.
On Friday, August 12, Mishele expressed her condolences to Heche's family and friends via her business account, Creative Organization.
"Hi, this is Lynne Mishele. The news of Anne Heche passing is devastating," she said in the Instagram clip, which has garnered more than 3,000 likes. "Her family and her friends and her children especially, really have suffered a great loss and my heart goes out for them. This entire situation is tragic and there really are just no words. I'm sending love to everybody involved."
According to the GoFundMe, Mishele, her dogs Bree and Rueban and tortoise Marley were inside the residence when the accident occurred and "very narrowly escaped physical harm."
That said, she "lost her entire lifetime of possessions, mementos, all equipment for her business including her laptop and iPad, all of her clothing and basic necessities, and all household items."
Although firefighters were "able to pull a few damaged sentimental belongings from the wreckage," the page's description read, "everything else is gone."
Newsweek reached out to Mishele for additional comment.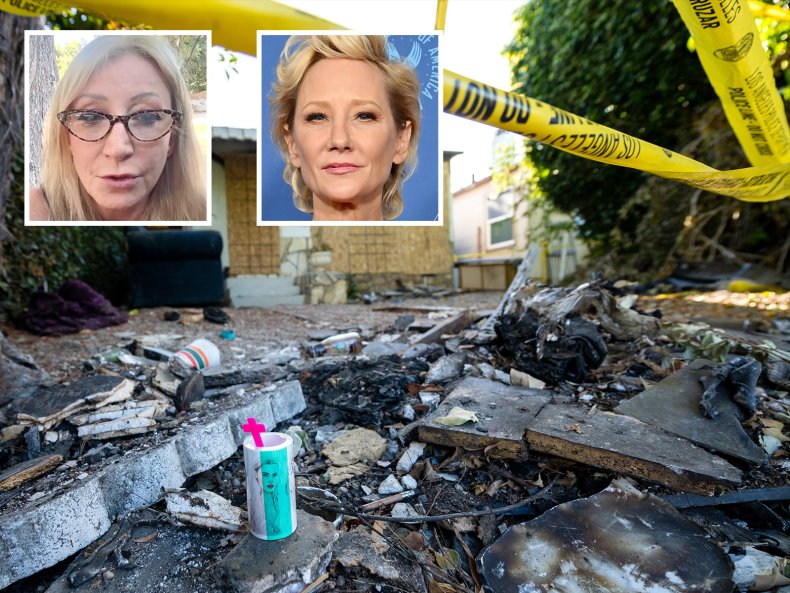 According to a report published by the Los Angeles Fire Department, it took 59 firefighters 65 minutes to fully control and extinguish the blaze. Heche was rushed to the hospital with severe burns and no other injuries were reported.
The Girl in Room 13 star died on August 12 at age 53.
"Today we lost a bright light, a kind and most joyful soul, a loving mother, and a loyal friend. Anne will be deeply missed but she lives on through her beautiful sons, her iconic body of work, and her passionate advocacy," Heche's representatives said in a statement obtained by Newsweek. "Her bravery for always standing in her truth, spreading her message of love and acceptance, will continue to have a lasting impact."
Prior to her death, her rep said that "Anne suffered a severe anoxic brain injury" and had a "significant pulmonary injury" which required "mechanical ventilation."
Heche is survived by her two children: Atlas, 13, whom she shares with ex James Tupper, and Homer, 20, whom she shares with ex-husband Coley Laffoon.
Following her death, celebrities including Rosie O'Donnell and ex Ellen DeGeneres have shared messages of support.