Anonymous Says 'Covid19, Stand Back and Standby' After Trump's Positive Coronavirus Test
The hacking collective Anonymous has reacted to Donald Trump's COVID-19 diagnosis with a series of tweets and retweets poking fun at the U.S. President.
"Covid19, stand back and standby," Anonymous tweeted shortly after Trump revealed that he and first lady Melania Trump had tested positive for the virus.
Earlier this week, during the first presidential debate against Democratic candidate Joe Biden, Trump infamously avoided a public denunciation of white supremacists and far-right militia factions.
"Proud Boys, stand back and stand by," was instead the president's response, provoking widespread anger amongst both Democrats and Republicans, and glee in far-right circles.
He later backtracked, saying: "I condemn the KKK. I condemn all white supremacists. I condemn the Proud Boys. I don't know much about the Proud Boys, almost nothing, but I condemn that."
Anonymous also posted a video that shows Trump making fun of Biden for his use of face masks, which can help slow the spread of COVID-19.
"I don't wear masks like [Biden]," Trump said on Tuesday. "Every time you see him he's got a mask. He could be speaking 200 feet away and he shows up with the biggest mask I've ever seen."
The Curb Your Enthusiasm theme tune, which has become synonymous with awkward moments and a favorite soundtrack amongst social media users, then kicks in.
During Tuesday's debate Trump pulled a face mask out of his pocket and said that he wears one "when needed."
"I put a mask on, you know, when I think I need it. Tonight is an example, everybody has had a test. I wear a mask when needed. When needed, I wear masks," he said.
However, the Trump family and members of the Trump administration who attended the debate reportedly ignored mandatory mask-wearing rules which applied to everyone in the room.
They also reportedly ignored a prompt from a doctor to put a face mask on.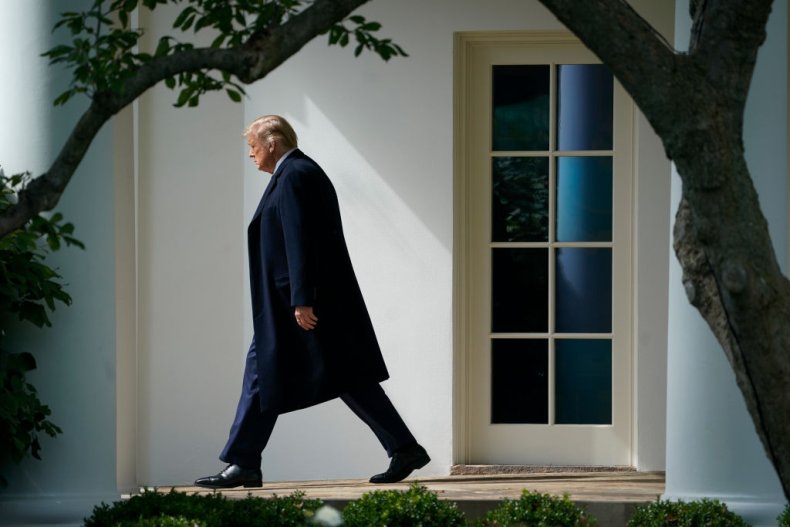 Trump has repeatedly understated the impact of the COVID-19 pandemic, despite being in a high-risk category.
The President is 74 years of age, and according to the Centers for Disease Control and Prevention 80 percent of COVID-19-related deaths reported in the United States have been amongst adults aged 65 years and older.
Trump is also obese and has high blood pressure, which could leave him even more vulnerable to the virus.
The president has reportedly said that COVID-19 will "go away" at least 34 times, and has also claimed the virus is no more harmful than the flu and that a vaccine is imminent.