AOC Denies Faking Being Handcuffed, Calls It 'Best Practice' When Detained
Representative Alexandria Ocasio-Cortez denied that she was "faking" being handcuffed in a widely circulated social media video that showed the New York lawmaker being arrested Tuesday.
In the video, which was viewed 9.8 million times as of Wednesday afternoon, Ocasio-Cortez is seen being escorted away from the U.S. Supreme Court by police while holding her hands behind her back, even though they are not cuffed. At one point in the video, she raises one of her arms into the air for a few seconds and then returns it to its position behind her back.
Though some GOP lawmakers have accused her of "faking" being handcuffed for political gain, Ocasio-Cortez explained in a tweet Wednesday that placing her hands behind her back "is a best practice while detained, handcuffed or not, to avoid escalating charges like resisting arrest."
"No faking here," she wrote.
Ocasio-Cortez was one of 17 Democratic congressional lawmakers arrested Tuesday during a protest for abortion rights in Washington, D.C. Others included Ilhan Omar of Minnesota, Ayanna Pressley of Massachusetts, Cori Bush of Missouri and Assistant House Speaker Katherine Clark of Massachusetts.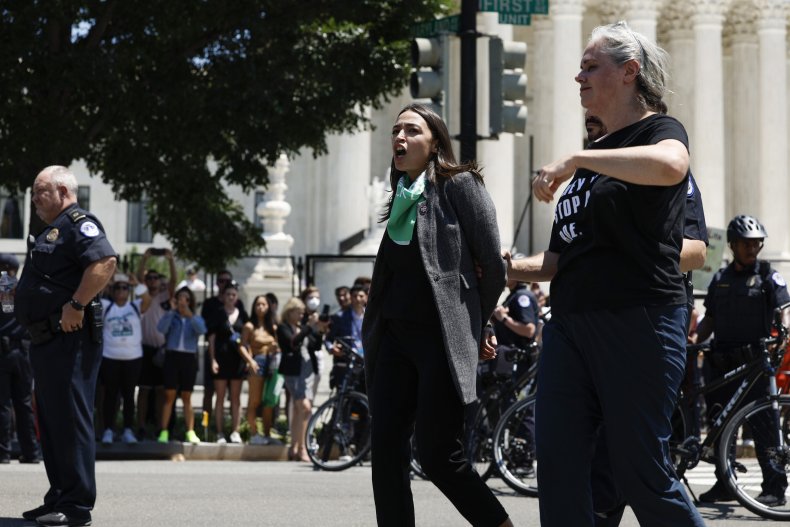 Capitol Police said on Twitter Tuesday that those 17 lawmakers were among a total of 35 people arrested for crowding, obstructing or incommoding.
"It is against the law to block traffic, so officers are going to give our standard three warnings before they start making arrests," the police force said in an earlier tweet. "We have already given our standard three warnings. Some of the demonstrators are refusing to get out of the street, so we are starting to make arrests."
The members of Congress reportedly marched from the U.S. Capitol to the Supreme Court to protest the recent overturning of Roe v. Wade. States almost immediately began enacting laws to restrict or ban abortion procedures after the ruling.
Republican Representative Marjorie Taylor Greene of Georgia is among those who accused Ocasio-Cortez of faking being handcuffed "to sell her lie."
"Democrats are failing so badly, they are now resorting to flat out lying to their voters to try to get them to vote," she tweeted Tuesday. "It's pathetic!"
When asked for comment on Ocasio-Cortez's denial of pretending to be handcuffed, a spokesperson for Greene told Newsweek in a statement: "Representative Ocasio-Cortez was clearly looking for the photo-op, and she got it."
GOP South Carolina Representative Nancy Mace also accused Ocasio-Cortez of pretending to be handcuffed in a tweet Wednesday.
Eliza Orlins, who identified herself as a public defender, replied to Ocasio-Cortez's tweet Wednesday to "attest" that "if you're being arrested one of the safest things to do is put your hands behind your back or where an officer can see them."
Newsweek has reached out to the office of Ocasio-Cortez for further comment.
Updated 7/20/22, 5:30 p.m. ET: This story was updated with a statement from a spokesperson for Greene.