Ayanna Pressley Urges Joe Biden to End Federal Death Penalty by Executive Order
Democratic Representative Ayanna Pressley has urged President Joe Biden to take execution action to end the federal death penalty.
During an appearance on MSBNC's American Voices on Sunday, the Democratic congresswoman told host Alicia Menendez that the Department of Justice's recently imposed moratorium on federal executions was "a step in the right direction."
Attorney General Merrick Garland announced at the start of July that federal executions would be paused while the department conducts a review of its policies and procedures after a historic spree of executions in the final months of Donald Trump's presidency, despite the worsening coronavirus pandemic.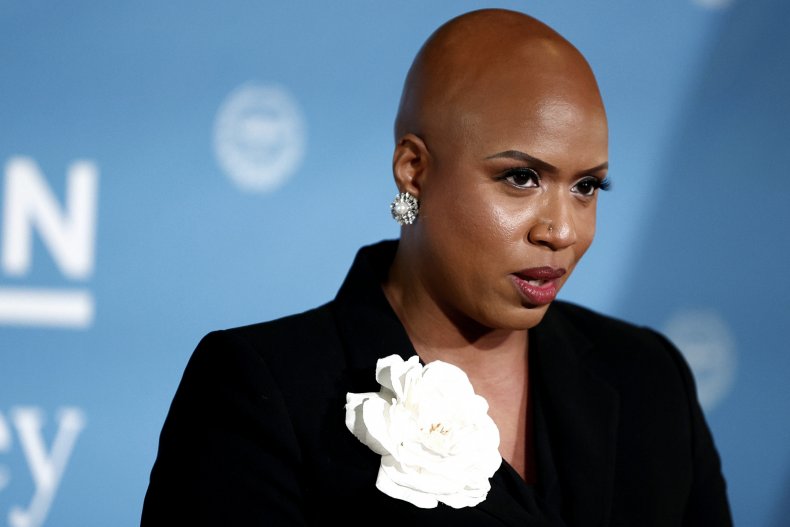 Pressley described the move as "welcome" and "overdue," but said legislation needed to be passed to ensure a future president doesn't simply restart executions.
She introduced the Federal Death Penalty Prohibition Act of 2021 in the House earlier in 2021. The bill has more than 90 co-sponsors and has been endorsed by more than 250 organizations, Pressley told Menendez.
"State-sanctioned murder is not justice," she added. "We need to pass a bill to abolish the federal death penalty so that it is not reinstated by a future president.
"In the final days of Donald Trump's administration, he went on a killing spree and more people were executed in those final days than have been in the last six decades."
Pressley said she would also like to see Biden commute the sentences of those on federal death row by executive order.
"We should direct DOJ prosecutors to no longer seek the death penalty and we should dismantle and shut down the death row facility at Terre Haute," she added.
On his campaign website, Biden—a death penalty opponent—vowed that he would work "to pass legislation to eliminate the death penalty at the federal level, and incentivize states to follow the federal government's example."
But activists were disappointed when the president failed to take action in his first 100 days in office—and the Biden administration recently asked the U.S. Supreme Court to reinstate the Boston Marathon bomber's original death sentence.
The review announced by Garland into protocols put in place by former Attorney General William Barr is similar to the one ordered during Barack Obama's administration. Obama directed the DOJ to conduct a broad review of capital punishment and issues surrounding lethal injection drugs after a botched state execution in Oklahoma in 2014.
Barr announced in 2019 that the review had been completed and cleared the way for executions to resume. He approved the new procedure for lethal injections that replaced the three-drug combination previously used in federal executions with one drug, pentobarbital.
The Trump administration put 13 inmates to death over the course of seven months after ending a 17-year hiatus on federal executions in July 2020.
The administration also carried out the first executions by a lame-duck president in more than a century, according to the Death Penalty Information Center. Dustin John Higgs was executed days before Trump left office in January.