Black Lives Matter Co-Founder Says Democrats Have 'Dragged Their Feet' on Racial Justice
Black Lives Matter (BLM) co-founder Ayọ Tometi said President Joe Biden's White House still has "a lot of work to do" and that Democrats have "dragged their feet" on issues important to the organization.
"I think our administration has a long way to go," Tometi, who created Black Lives Matter alongside Alicia Garza and Patrisse Cullors in 2013, told Newsweek at the Web Summit in Lisbon, Portugal. "I know it has a long way to go."
Biden has pushed for policing and voting rights reform but his proposals have stalled in Congress, with Republican opposition a major hurdle due to the small Democratic majority in each chamber. Debates have erupted surrounding the notion of defunding the police, a phrase that has caused splits in opinion across the U.S.
"I know the progress hasn't been fast enough," Biden said at the Martin Luther King Jr. Memorial in Washington in October, Reuters reported.
In a September statement, Biden spoke of taking executive action on police reform which he said would honor "the name and memory of George Floyd," whose death sparked major BLM protests after he was killed during an arrest last year.
Biden added that "we need legislation to ensure lasting and meaningful change."
However, despite BLM's domestic and global influence—Tometi claims it is now the "largest movement in the world"—it is apparently lacking a substantial relationship with those who hold political power in America.
"The lines of communication need to be open," Tometi said of contact with the administration and other figures in power. "There are some of us who've had a little bit of access but by and large we haven't had the type of access that you would think."
Dragging Their Feet
Tometi acknowledged that the issues facing Black Americans "aren't problems that only one party can resolve," but also accused the Democratic Party of being "slow" and having "dragged their feet."
"If folks want to be really honest—and I'm going to be really honest—our movement started where there was a Black president in office, really," Tometi said.
"And yes, it grew, for sure under Trump because there was so much retaliation and backlash towards us. But certainly, I think it serves us to be reminded that we didn't emerge in a time where there was a face that was white."
This is important, she said, because "it tells you how entrenched the system is with racism."
"How kind of profound the ideology is that even with a Black president," Tometi continued, "even with an Oprah Winfrey or Michael Jordan or any of these Black celebrities—and we have the most Black elected officials of any time in history, we have Black actors and actresses and all this stuff—all of that does not still equate with justice for the everyday average Black person in the United States. It just doesn't.
"And so we miss it when we think it's only that. The Democratic Party doesn't have it right. The Republican Party certainly doesn't have it right."
Tometi urged the administration to "stand with us when it comes to the various laws and policies that we're pushing. Those laws that are explicitly anti-racist."
Policing Proposals
Among BLM's proposals is redirecting money spent on the military and policing "to our communities, invest in our communities, invest in the healthcare system, invest in climate justice, invest in our businesses."
While there continue to be such calls from activists to reroute police funding to other areas, public opinion appears to be less supportive.
Minneapolis voters rejected a proposal that would have seen its police department replaced with a new Department of Public Safety earlier in November.
Polling from Pew Research showed support for reducing police funding had declined between 2020 and 2021.
In polling from June 16 to 22, 2020, 12 percent of those asked said spending on policing in their area should be decreased a lot and 14 percent decreased a little. When asked more than a year later, between September 13 to 19, 2021, the numbers had dropped to 6 percent and 9 percent respectively.
Similarly, in 2020, 11 percent said police funding should be increased a lot, but this figure had risen to 21 percent in the 2021 results.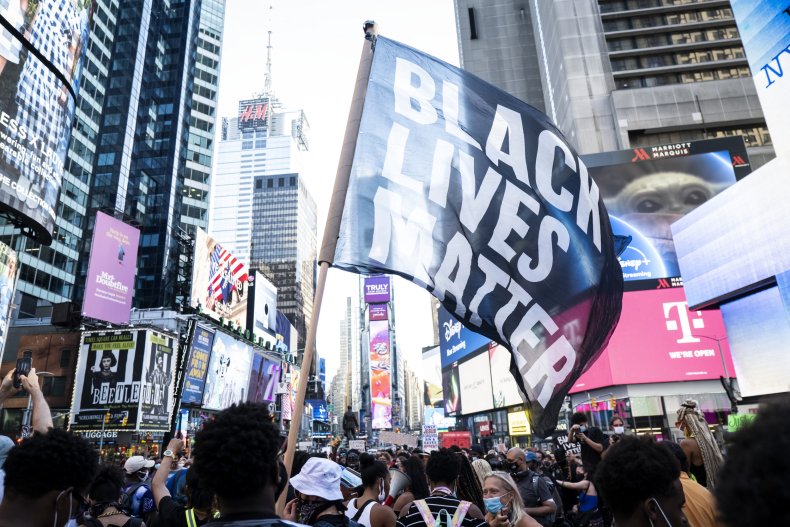 Surface-Level Work Not Enough
Looking to the future, Tometi said she feels a "sense of incredible accomplishment" because of the movement's reach, but substantive change must now flow from the attention BLM has pulled to the issues it campaigns on—and that requires power.
"I guess the most frustrating aspect of it is that we still need power, right? People think that just the surface-level work is enough. And it's just about diversity or it's just about one symbolic gesture here or there," she said.
"But they're not recognizing all the time that it must be with substance. It's not just about the symbolic action. It has to be substance. And everyone who talks it, needs to walk it, right?
"And I find that so often we get a lot of people who are big on the talk and not so much on the walk."
Tometi said wide support on social media does not necessarily coincide with real-world change:
"People are ready to retweet or post or something like that, but behind the screen. Or when you're home or the office, when you're in the street, how are you treating one another?
"And not only that, how are you participating in institutions that tell another story? Institutions that support Black Lives Matter, institutions that are anti-racist explicitly not just neutral, but are actively working and informing their policies to be anti-racist.
"So that to me is the biggest challenge. Are people willing to do the work over a prolonged period of time?"
She continued: "The truth is we didn't get here overnight. Yes, there are some quick solutions for some things, but not everything's going to be a quick solution. Transforming institutions, transforming societies, it's work that has to be done day in, day out for years.
"It's not just a quick hashtag trend and then we're done. So I think that, to me, is the challenge that we're up against.
"Will these corporations, will these governments, will they stay the course? My hope is that yes, but the accountability along the way has to be there for them to stay the course. I'm very clear about that.
"We have to be able to build our power so that we can also hold folks accountable."
Justice and Dignity
On near-term goals for BLM, Tometi said there was still a range of overarching aims. "There are so many goals and at the same time, it feels like there aren't. Ultimately, the goal is for justice for Black lives," she said.
"Dignity, so just basic dignity, the ability for people to live a life of peace, of joy, of health, of community, with their loved ones, those things are rather simple."
But she also referenced one concrete policy action taking place—a guaranteed basic income program in Los Angeles—that BLM would like to see rolled out elsewhere in the United States.
"I think programs like this are incredibly important, not just for the Black community, but for communities, period, who've been suffering as a result of the pandemic, but who have likely been experiencing hardship before that," Tometi said.
"And so sometimes you have to just invest, give, put your money where your values are and demonstrate that these people deserve to have the resources, to put food on the table, to make those ends meet.
"Our government has access to our tax dollars, has access to what we've been contributing over the years...We need to start reshaping the public safety net, which for far too long in the United States was really just gutted."
Tometi said police budgets should instead be "invested in our ideas, in our community, in the infrastructure, in our neighborhoods, so that we do have the ability to not only just survive, but we really need to be in a place that we finally thrive."
"So that's, my hope," Tometi said. "And so those are the kinds of policies that I want to see more of in our communities. And we're seeing, you know, we're seeing pockets of that happen, but we definitely need even more."
Newsweek has contacted the White House and the DNC for comment.