At least four babies are being treated at a South Carolina hospital for issues related to a severe baby formula shortage in the U.S.
Heather M. Woolwine, a spokesperson for the Medical University of South Carolina (MUSC) in Charleston, told The State Friday that the babies have been hospitalized either because homemade formulas have made them sick, or because they are not tolerant of new types of formula their parents have been forced to use as a substitute.
The national shortage, which has left desperate parents scrambling to find new ways to feed their children, was sparked in part by product recalls from the manufacturer Abbott Nutrition, as well as supply chain disruptions and labor shortages due to the COVID-19 pandemic.
"Many of the children we treat have complex health conditions including nutrition so it's hard to nail down an exact number. But we can safely say at least four have been related to the formula shortage," Woolwine told the newspaper.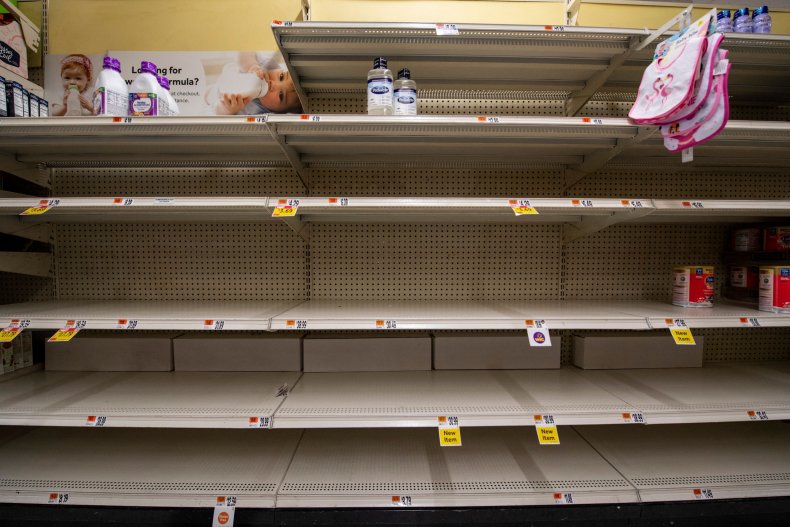 Hospitals in Atlanta, and Memphis, Tennessee, have also reported taking in infants as a result of the shortage. Dr. Mark Corkins, a pediatric gastroenterologist at Le Bonheur Children's Hospital in Memphis told Newsweek that he is treating two babies due to the issue.
"I am angry to be put in a situation that I can't 'fix' for my patients no matter how hard I try. But my primary emotion is sadness, that parents and patients can't get the formulas that were working so well for them," he told Newsweek earlier this week.
Corkins' patients came into the hospital dehydrated and were given IV fluids after their parents were no longer able to feed them EleCare Jr formula, which is produced by Abbott. He told Newsweek that parents should not dilute formula or use a homemade formula to feed their children. However, health care experts have noted that children, who do not have specific nutritional issues or sensitivities, should be able to safely consume other types of market-approved formulas.
In late February, the U.S. Food and Drug Administration (FDA) announced a voluntary recall for some Similac, Alimentum and EleCare powdered formulas produced by Abbott. The move came over fears that a type of bacteria, which had caused some babies' illnesses and deaths, may have been present in the products. However, the company said earlier this week that an investigation did not find a link between the formulas and the illnesses.
On Monday, Abbott reached an agreement with the FDA to resume production of its formulas, but noted that it could take up to 10 weeks before new products hit shelves. In the meantime, up to 40 percent of all baby formula is out of stock across the country, causing parents to panic-buy or drive for hours in order to find replacements.
"Having to drive one to two hours away from your own home in hopes of finding formula for your child, then having no luck, makes you feel so guilty," Kenzie Martin, 29, of White Plains, New York, previously told Newsweek. "I'm scared for the mothers who haven't welcomed a baby into the world yet and are already scared of not being able to feed their infant."
Newsweek contacted MUSC for comment.