Democratic New York Representative Alexandria Ocasio-Cortez has referred to Republican Colorado Representative Lauren Boebert and other far-right members of Congress as the "Ku Klux Klan caucus" after Boebert hurled Islamophobic slurs aimed at Democratic Minnesota Representative Ilhan Omar and another Muslim member of Congress.
"People truly don't understand the scale, intensity, & volume of threats targeting (Omar)," Ocasio-Cortez wrote in a Wednesday morning tweet. "[Republican House Minority Leader] Kevin McCarthy is so desperate to be [House] speaker that he is working with his Ku Klux Klan caucus to look aside & allow violent targeting of (women of color) members of Congress.This cannot be ignored."
Ocasio-Cortez's tweet was attached to a video of Omar sharing a death threat voicemail she had received following Boebert's Islamophobic remarks.
"We see you, sand [n-word] bitch," the voicemail began. "We know what you are up to. You are all about taking over our country. Don't worry. There are plenty who would love the opportunity to take you off the face of this f**king earth ... You are f**king Muslim piece of sh*t. You are Jihadist ... You will not live much longer, b*tch. I can almost guarantee you."
Omar played the voicemail during a Tuesday evening press conference held by the three Muslim Congress members. The members demanded accountability from McCarthy and Republican leadership in order to address Islamophobia in the GOP's ranks.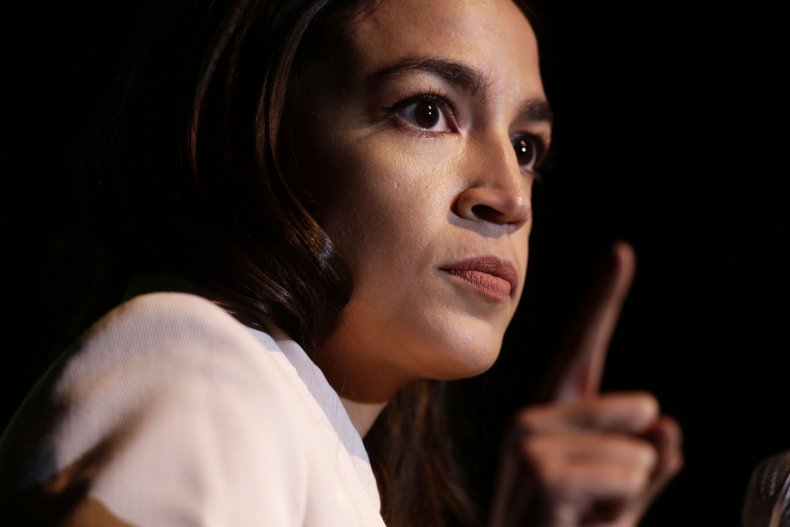 Two recent videos have shown Boebert referring to Omar as a terrorist bomber within the Capitol and a member of the "Jihad Squad." In one of the videos, Boebert referred to Omar and fellow Muslim Democratic Representative Rashida Tlaib of Michigan as "blackhearted evil women who want to destroy America."
"When a sitting member of Congress calls a colleague a 'member of the Jihad Squad' and falsifies a story to suggest that I will blow up the Capitol, it is not just an attack on me, but on millions of American Muslims across this country," Omar said at the Tuesday conference.
The conference occurred in response to McCarthy's tepid statement about Boebert's slurs, which didn't condemn the remarks. Republican Arkansas Governor Asa Hutchinson criticized McCarthy for not "publicly condemning" Boebert's comments.
Omar initially responded to the first video of Boebert's comments by stating, "Saying I am a suicide bomber is no laughing matter. ... Normalizing this bigotry not only endangers my life but the lives of all Muslims. Anti-Muslim bigotry has no place in Congress."
Last Friday, Boebert tweeted a 41-word apology to the Muslim community for her remarks, calling the incident an "unnecessary distraction." Then, on Monday, Boebert called Omar to discuss the matter.
Omar hung up on Boebert after deciding the call was "unproductive," Omar said on Monday.
In a Monday Instagram video recounting the call, Boebert accused Omar of "sympathizing with terrorists." Boebert has previously, baselessly called Omar an advocate "for state-sponsored terrorism" and an "honorary member of Hamas."
During the call, Boebert also called for Omar to apologize to the "American people for her anti-American, antisemitic, anti-police rhetoric."
The rhetoric Boebert mentioned may refer to Omar's past controversial statements. She has said that Israel's allies in American politics were primarily motivated by money. She has also compared American war atrocities to those committed by terrorist groups.
Georgia Republican Representative Marjorie Taylor Greene has also referred to Omar as a part of the "Jihad Squad." She and Boebert have also both baselessly claimed in the past that Omar is in an incestuous marriage with her brother.
At the start of this year, Greene, Republican Florida Representative Matt Gaetz and Arizona Representative Paul Gosar were all members of a failed "America First Caucus," which championed "Anglo-Saxon political traditions." Anglo-Saxon is a term for white people related to Germanic inhabitants of 5th century England.
Fellow Republican Representative Adam Kinzinger referred to the group as the "White supremacist caucus."