GOP Gov. Hutchinson Says Kevin McCarthy Should Be 'Publicly Condemning' Gosar, Boebert
Arkansas Republican Governor Asa Hutchinson said he believes House Minority Leader Kevin McCarthy should be "publicly condemning" GOP House members—such as Representatives Lauren Boebert and Paul Gosar—when they behave inappropriately.
Last week, Islamophobic remarks from Boebert, a Colorado Republican, went viral online. In a clip, Boebert suggested Democratic Representative Ilhan Omar of Minnesota—who is Muslim—was a suicide bomber.
Gosar, an Arizona Republican, was censured and stripped of committee assignments earlier this month after he posted an anime video that was edited to make it look like he was killing Democratic Representative Alexandria Ocasio-Cortez of New York.
McCarthy, a California congressman and the highest-ranking House Republican, has not publicly condemned the actions of the representatives. On Sunday, Hutchinson was asked about the issue during an interview with CNN.
"Do you think McCarthy should be publicly condemning this kind of behavior?" State of the Union host Dana Bash asked.
"I do," Hutchinson responded. "I think whenever even in our own caucus, our own members, if they go the wrong direction, I mean, it has to be called out. It has to be dealt with, particularly whenever it is breeching the civility—whenever it is crossing the line in terms of violence or increasing the divide in our country."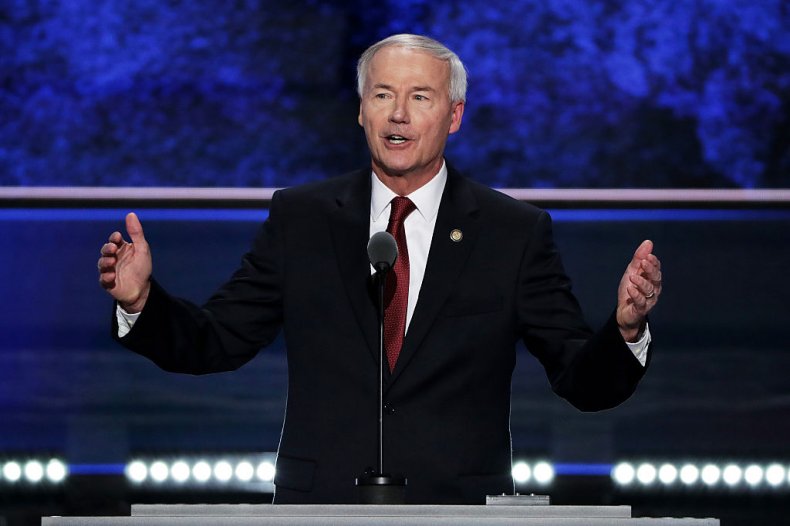 The Republican governor said that moving forward, it's important to enhance "civil debate" and "civil discourse."
Hutchinson also remarked that "we've got to look for ways that bring people together and not divide, and certainly along racial lines."
In response to the backlash against Boebert, McCarthy issued a statement on Saturday. "I talked to Congresswoman Lauren Boebert today," he said. "She has apologized for what she said and has reached out to Congresswoman Omar to meet next week."
"I spoke with [Democratic House Majority Leader Steny] Hoyer today to facilitate that meeting so that Congress can get back to talking to each other and working on the challenges facing the American people," McCarthy added.
Boebert on Friday apologized to the Muslim community but not to Omar directly.
"I apologize to anyone in the Muslim community I offended with my comment about Rep. Omar. I have reached out to her office to speak with her directly. There are plenty of policy differences to focus on without this unnecessary distraction," she tweeted.
Some criticized Boebert's apology, saying it was not enough.
"'I apologize to anyone offended' is a classic non-apology apology. Also, no actual apology here from Boebert to her Congressional colleague for suggesting she might be a suicide bomber," MSNBC anchor Mehdi Hasan tweeted.
After Gosar faced backlash for the anime video he tweeted of him killing Ocasio-Cortez, McCarthy said he spoke with the GOP Arizona congressman about the issue earlier this month.
"He took the video down and he made a statement that he doesn't support violence to anybody. Nobody should have violence [against them]," McCarthy told CNN on November 15. "I called him when I heard about the video, and he made a statement that he doesn't support violence, and he took the video down."
After Gosar was formally censured in a full House vote and stripped of his committee assignments, he appeared to double-down on sharing images of violence against Democrats. He quickly retweeted a Twitter user who had reposted his original video. The congressman went on to share a photo-shopped anime image of himself and other Republicans facing off in battle with prominent Democrats.
Newsweek reached out to spokespeople for Gosar and Boebert but did not immediately receive responses.