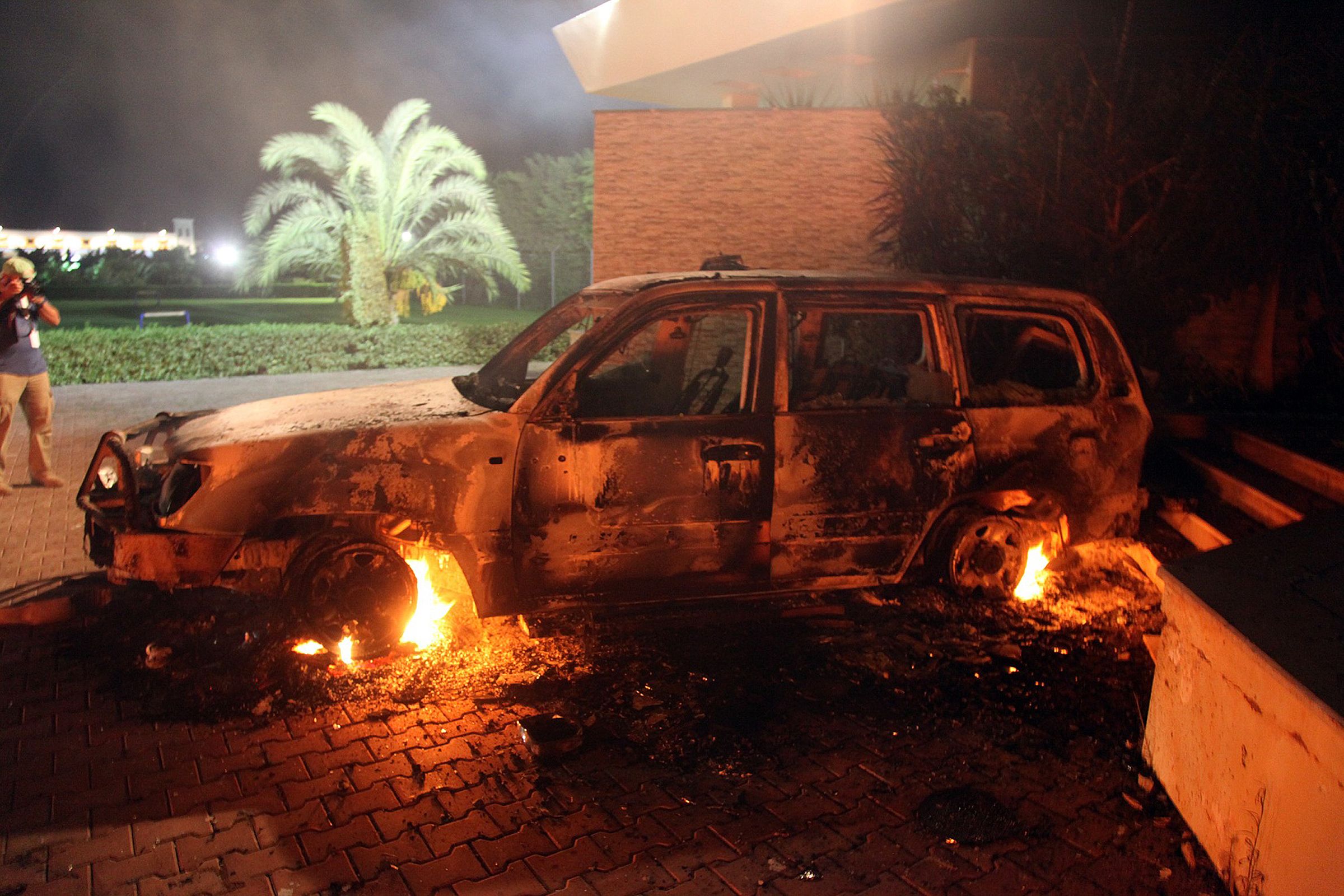 Almost five years after the deadly attack on the U.S. mission in Benghazi, Libya's second city, the Al-Qaeda linked group Washington held responsible for the siege has announced it is disbanding.
Ansar al-Sharia (ASL), formed in 2012 following the overthrow of Libyan autocrat Muammar el-Qaddafi, announced its dissolution in a statement posted online on Saturday. The group is one of many fighting for supremacy in a civil war in the country and said it had been weakened by intense fighting with the forces of General Khalifa Haftar, an ex-Libyan army commander whose forces control much of eastern Libya.
The news will be welcomed in the United States, as Ansar al-Sharia is the group believed to have attacked the U.S. mission, causing one of the worst diplomatic incidents in recent decades. Militants in Benghazi launched an attack on the U.S. diplomatic mission in the city on September 11, 2012; the attack killed Ambassador Christopher Stevens and another U.S. official, Sean Smith. Two CIA contractors also died in an attack on another U.S. facility nearby later the same night. Stevens was the first U.S. ambassador to be killed in the line of service in over 30 years.
U.S. officials initially characterized the attacks as spontaneous protests against an anti-Islamic video made by U.S. filmmakers, called "Innocence of Muslims," but later acknowledged they were planned operations. The attack and its aftermath dogged Hillary Clinton, who was the U.S. Secretary of State at the time, during her 2016 presidential campaign: The State Department had rejected numerous requests for additional security at the Benghazi mission prior to the attack.
Read more: The Manchester bomber spent time in Libya—here are the key players fighting there
Washington blamed ASL for the Benghazi attack, and though it denied responsibility, the claim had a big impact on the group's standing. Mass public demonstrations against the attack temporarily forced ASL out of its bases in Benghazi and in Darna, a port city in eastern Libya. In January 2014, the State Department designated Ansar al-Sharia's branches in Benghazi, Darna and neighboring Tunisia foreign terrorist organizations, making ASL members official targets for U.S. operations. U.S. forces captured an alleged ringleader of the attack, Ahmed Abu Khattala, in Libya in 2014; he faces trial in the U.S. in September.
While ASL suffered a dip in popularity following the Benghazi attack, its demise is mostly attributable to an attritional war in the city against Haftar's forces. Since Qaddafi's overthrow and Libya's fracturing into several rival governments, Haftar has emerged as the main power broker in eastern Libya, commanding the remnant of Libya's national military and courting Russian support.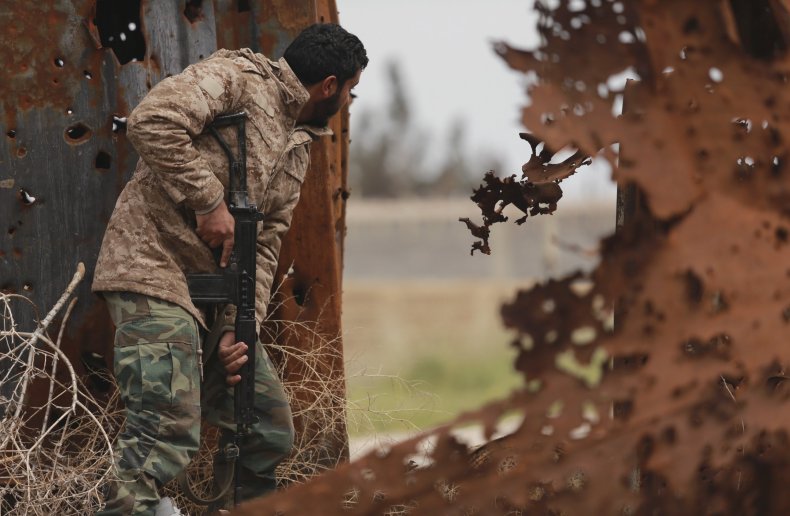 Haftar has pledged to eradicate jihadi groups in Libya and his forces have wiped out most of the senior leadership of ASL. The group's founder and leader, Mohammad al-Zahawi, was killed in clashes with Haftar's army, ASL said in January 2015.
ASL has also suffered as a result of the rise of the Islamic State militant group (ISIS) in Libya. ISIS has built up support and territory in the North African country since late 2014, taking control of cities including Darna, Sabratha in the west and the coastal city of Sirte, though these gains have since been reversed. ASL has suffered numerous prominent defections to ISIS— including its top jurist, Abu Abdullah al-Libi —and came under intense pressure to declare official allegiance to ISIS caliph Abu Bakr al-Baghdadi, though it appears not to have taken that step.
In its dissolution statement, ASL called on other Islamists and Islamic shura councils to join together to fight Haftar's forces in Benghazi. But given the chaotic nature of the conflict in Libya—the country is currently home to two rival parliaments, three governments and a plethora of militias and jihadi groups—a unification of forces appears unlikely.