Bethenny Frankel Echoes Spencer Pratt's Frustration With Lisa Kudrow—'Rude'
Bethenny Frankel has inserted herself into the Spencer Pratt and Lisa Kudrow drama.
Recently, Pratt, 39, revealed the "rudest" celebrity he's ever met in a video posted to TikTok, which has garnered more than 4.9 million views at the time of publication.
"Oh, that's easy. Phoebe from Friends," The Hills alum said, referring to Kudrow's character on the popular sitcom. "Hands down, one of the worst humans I've ever come in contact with. By far."
Pratt explained in a separate video that he met the actress in 2009 at an NBC party, which he attended with now-pregnant wife Heidi Montag.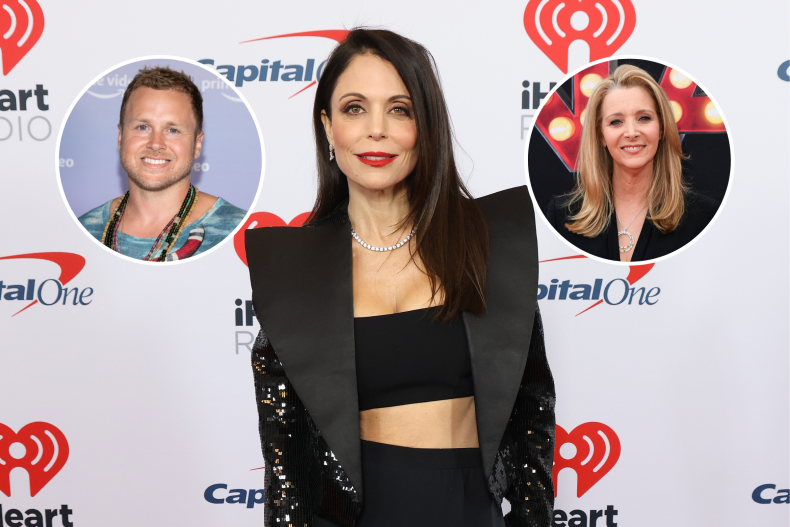 "Right in front of me, she tells Heidi that she needs to get away from me as fast as possible because I'm going to murder Heidi and that I have the eyes of a serial killer," the Los Angeles native added.
"That's crazy. She was on my talk show and I had a crazy experience also," Frankel, 51, commented on his initial post.
The Real Housewives of New York City alum didn't elaborate on the encounter at the time, though she later posted a separate video via her own TikTok. The mom of one—who shares daughter Bryn Hoppy with ex Jason Hoppy—claimed that Kudrow, 59, didn't seem to want to chat during her appearance on Bethenny.
"When [Lisa] was on my talk show, she stood out as the person who wanted to be there least of anybody the entire run," Frankel said in the two-minute, 22-second clip. "It was like I walked up to her at the supermarket, and she'd be like, 'What?! You're coming up to me in the frozen food section.'"
Frankel continued, "I was asking her very basic, normal questions, and you could tell she didn't want to be there, which does make two of us."
"She didn't want to be interviewed," the "Just B" podcast host concluded, "which does get in the way of an interview."
However, the Skinnygirl CEO was quick to acknowledge that despite their awkward encounter, she's "sure Lisa Kudrow is a lovely person," noting she's a "wonderful actress."
Following Pratt's comments, fans defended The Comeback star on social media.
"Lisa Kudrow was rude to Spencer Pratt and I'm supposed to like her less for that?" one person asked on Twitter, while another said: "This is incredibly funny for Lisa Kudrow and incredibly embarrassing for Spencer Pratt lmao."
"I think Spencer Pratt is trying to become relevant/raise his profile by revealing this story about Lisa Kudrow," writer Liana Jacob chimed in via her verified account. "Only explanation for this unnecessary beef lol."
Kudrow has not yet spoken out about the claims.
Newsweek reached out to Frankel's representative for further comment.