Senator Bill Cassidy Says 'I Feel Good' About Vote To Convict Donald Trump
Senator Bill Cassidy says he has no regrets about voting to convict former President Donald Trump during his impeachment trial, despite blowback to his stance from within his party.
The Louisiana lawmaker was one of seven Senate Republicans who voted to convict Trump for inciting his supporters to storm the U.S. Capitol on January 6.
Straight after the upper house vote on February 13, he defended his position, tweeting that "our Constitution and our country is more important than any one person. I voted to convict President Trump because he is guilty."
However, he was rebuked by his state party. Louisiana's GOP executive committee and three other parish Republican executive committees censured their senior senator, while the Bossier GOP described Cassidy as "an object of extreme shame."
On Wednesday, Cassidy reiterated his position, telling reporters: "I am such at peace with that vote," adding, "I say that knowing that I'm getting criticized."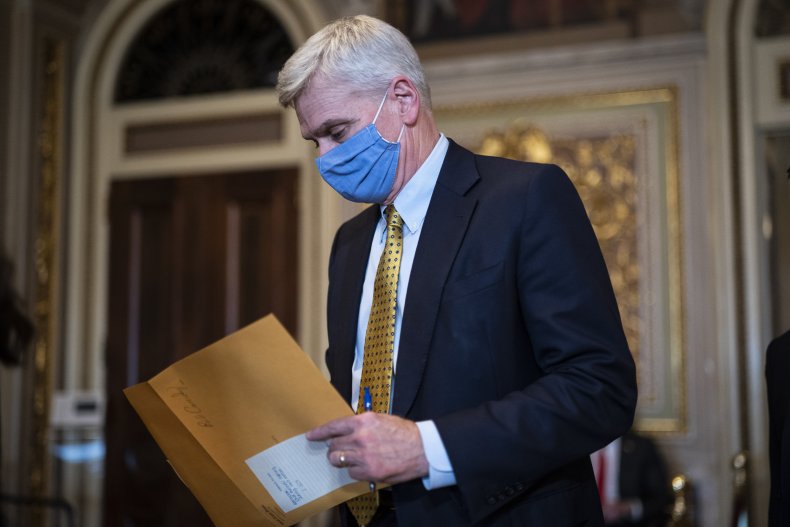 Cassidy also described those who censured him as not representing the broader Republican Party. "I've received a lot of support from [Republicans] who agree with me or respect my thought process in making the decision."
Cassidy, who was easily re-elected on November 3 last year, said that the fact that he is not facing voters until 2026 was "immaterial" to his decision. This was because the oath he took was to defend the Constitution and his decision to side with Democrats to convict Trump was in keeping with that.
"I'm supposed to defend that oath despite the consequences," The Monroe News-Star reported, "I feel good about that." Newsweek has contacted the Republican Party of Louisiana for comment.
Cassidy joined Senators Richard Burr (R-NC), Ben Sasse (R-NE) Pat Toomey (R-PA), Lisa Murkowski (R-AL) Susan Collins of Maine and Mitt Romney of Utah among Republican senators voting to convict the former president.
Trump was acquitted on a 57-43 vote, falling far short of the two-thirds majority, or 67 votes, required to convict. Each GOP senator who backed conviction defended their decisions saying that they were based on evidence and the Constitution.
This week, Collins and Romney remained the only lawmakers not rebuked by their state parties for their votes, although Maine Republicans have not ruled out censuring Collins.
Some Utah Republicans are also looking to censure Romney with a petition circulating this month accusing Romney, a frequent Trump critic, of putting his "personal and political vendetta" against Trump "ahead of the Constitution."