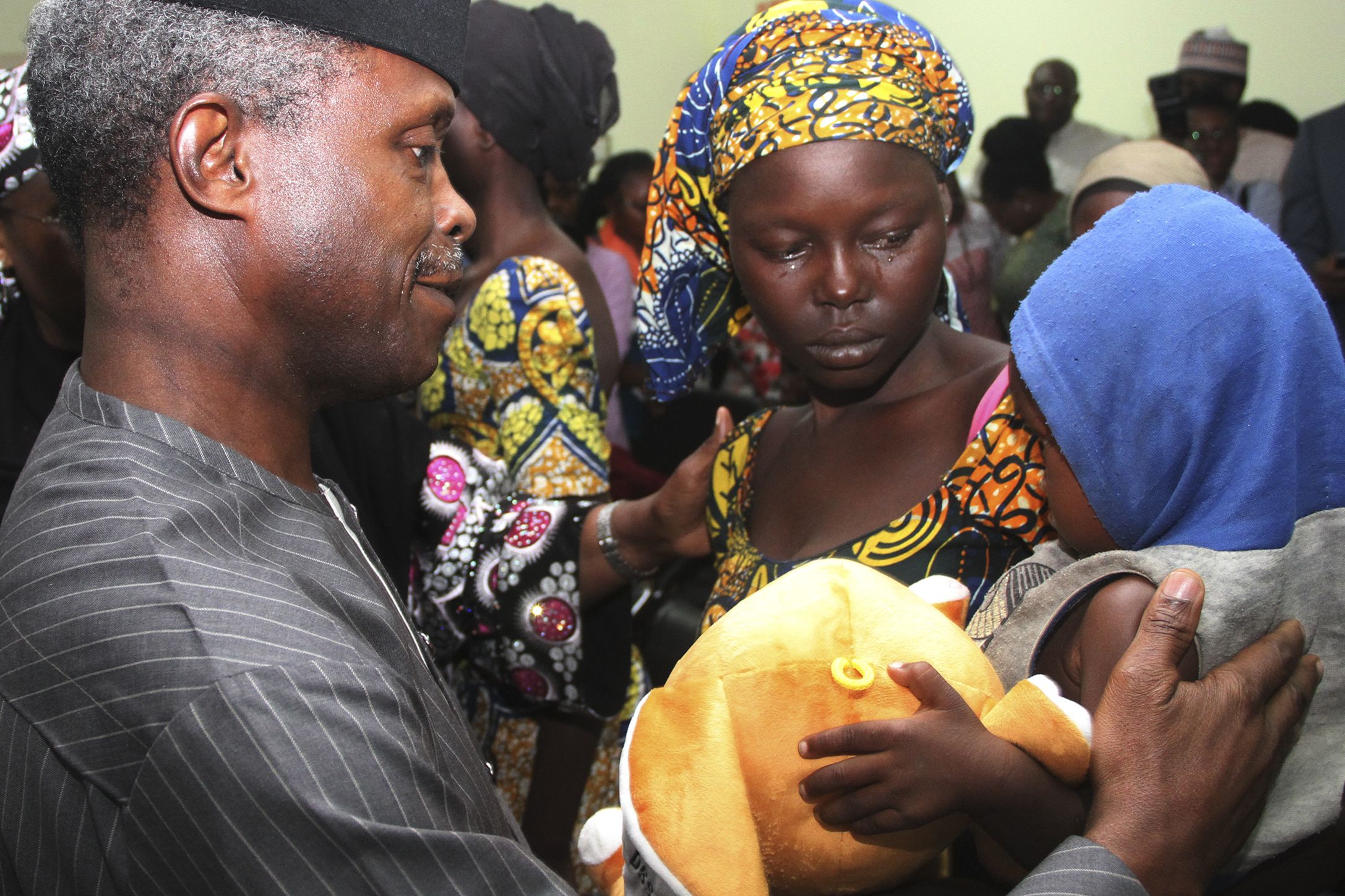 A faction of Boko Haram is ready to negotiate the release of 83 more of the girls kidnapped from their school in Chibok, northeast Nigeria, in April 2014, according to a presidential spokesman.
Boko Haram militants abducted 276 girls from the Government Secondary School in Chibok, with 57 escaping almost immediately afterwards. The Nigerian government confirmed Thursday that the militant group had released 21 of the girls, who have since been reunited with their families.
Prior to the release, only one of the girls had escaped Boko Haram captivity since April 2014.
A spokesman for Nigerian President Muhammadu Buhari, Garba Shehu, told the Thomson Reuters Foundation Sunday that the faction of Boko Haram allied with the Islamic State militant group (ISIS) was ready to negotiate the release of more of the girls "if the government is willing to sit down with them."
Shehu said that the 21 released girls are "supposed to be tale bearers" to indicate to the Nigerian government that more girls may be released.
Boko Haram pledged allegiance to ISIS in 2015 but has recently split into factions , allied either with ISIS or Abubakar Shekau, Boko Haram's leader since 2009. The split solidified after ISIS proclaimed a new leader for Boko Haram—Abu Musab al-Barnawi, a former spokesman for the group—in August, an appointment Shekau rejected.
According to Shehu, the ISIS-allied faction had said that the majority of the girls remained under the control of Shekau's group. The Nigerian military has claimed to have killed Shekau on multiple occasions, most recently in August, but his death has never been independently verified.
Boko Haram released a video in August that appeared to show scores of the girls and a masked fighter. One of the girls, who identified herself as Maina Yakubu, claimed in the video that Nigerian military airstrikes had killed some of the girls and that the government should release imprisoned Boko Haram fighters in order to secure the girls' freedom.
Nigerian government officials confirmed that Thursday's release was negotiated with the assistance of the Swiss government, while the International Committee of the Red Cross provided logistical support. Nigerian authorities, including Information Minister Lai Mohammed, denied that the girls were released as part of a prisoner swap, after AP reported that four detained Boko Haram leaders had been freed prior to the girls' release.