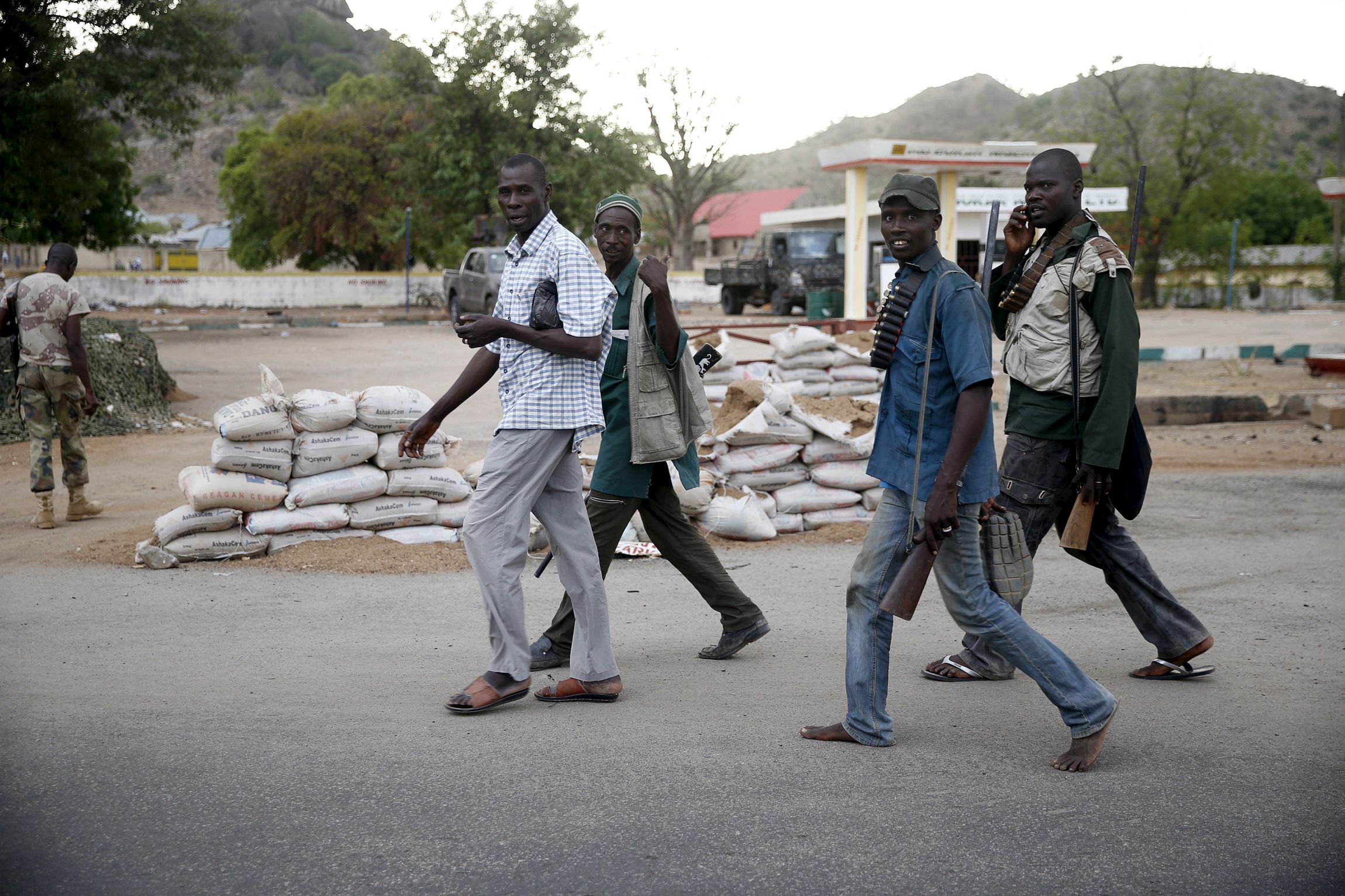 The use of vigilantes and armed civilian groups has become a necessary part of regional efforts in West Africa to end Boko Haram's bloody insurgency. The use of such groups, however, could leave Nigeria and its neighbors with more problems than solutions, according to security analysts.
The governor of Cameroon's Far North region, which has been peppered by Boko Haram attacks in recent months, recently said that financial provisions will be made in the 2016 budget to support self-defense groups. In Nigeria, the Civilian Joint Task Force (JTF)—originally set up in Borno state in May 2013 following the declaration of a state of emergency in the northeast, is occasionally credited with having greater success than the military at driving the militant group from their bases.
Seen as having local knowledge, vigilante groups help to form an effective counterweight to the Multi-National Joint Task Force (MNJTF)—an 8,700-strong regional force comprised of soldiers from Nigeria, Chad, Cameroon, Niger and Benin. Reports have also emerged, however, of JTF members allegedly torturing suspected members of Boko Haram and recruitment of child soldiers into vigilante groups used to hunt down the militant group headed up by Abubakar Shekau.
"There are real concerns around accountability, [about] who these individuals are working for and what their aims are," says Elizabeth Donnelly, assistant head and research fellow of the Africa program at London-based policy institute Chatham House. "The danger with this is that if you have groups of people who are armed, maybe somewhat trained but largely not, roaming around—with responsibility for security but not accountable to anybody, then you have problems emerging of how they use that force."
The deadline of the end of December , proposed by Nigerian president Muhammadu Buhari—by which time the Nigerian Army is supposed to have reclaimed all territory held by the insurgents—is fast approaching. Though the militants—recently awarded the dubious title of the world's most dangerous militant group —appear unlikely to fade in 2016, the idea of armed civilian groups roaming the region in a post-Boko Haram Nigeria is a concerning one, says Donnelly. "Let's say once the Boko Haram crisis starts being properly, dramatically reduced...What are you going to do with all of these armed volunteers, many of whom right now aren't paid at all?" she says.
In Nigeria, the structure and make-up of civilian vigilante groups is fluid. The Civilian JTF was formed as a civilian self-defense group following a spate of Boko Haram attacks in Borno state more than two years ago. Originally thought to consist of some 500 young fighters, who were not soldiers but ordinary Nigerians, the Civilian JTF is now thought to be thousands-strong, with a single unit in Borno state comprising up to 8,000 members. There are also other civilian groups, such as the Vigilante Group of Nigeria, 1,200 of whose members underwent an intelligence-gathering and counterterrorism training weekend earlier in December.
Vigilante groups are nothing new in Nigeria and their presence is a realistic consequence of the limitations of the military, says William Assanvo, a senior researcher based in Dakar, Senegal for the Institute of Security Studies, an African think tank. "There is an acknowledgement that the security forces are not in a position to be everywhere at any time and that they need to have [the] contributions of local populations," says Assanvo. He adds that the use of civilian forces against Boko Haram raises the chance of civilian targets being attacked by the militants. Boko Haram have shown no aversion to hitting civilian sites—such as markets , churches and religious processions—in the past, and Assanvo says that vigilante groups turn civilian populations into legitimate targets in the eyes of the militants.
Vigilante groups present opportunities as well as challenges. According to a 2010 Human Rights Watch report, Nigeria's police force consisted of some 371,800 personnel—the largest in Africa—but is dwarfed by the country's population of almost 180 million, despite Buhari's plan to recruit an additional 10,000 officers. These vigilante groups could, with additional training and regulation, be integrated into the police force and utilize their local know-how in service of the federal government, according to Donnelly.
Additionally, the fluidity and unregulated structure of such groups means they are effective at following Boko Haram, which crosses borders at will. This same flexibility, however, brings attendant problems. "Because they aren't accountable and they don't have the same rules [as the military], they carry risks with them. The hope is they're accountable to their communities, but once these guys have a weapon in their hands, the balance of power shifts," says Donnelly.