Britney Spears Calls Out Kelly Clarkson on 2008 Comment: 'I Didn't Forget'
Britney Spears has called out Kelly Clarkson for comments the singer and TV personality made about her during an interview in early 2008.
Spears, 40, took to her Instagram account to address the American Idol victor, 40, who jokingly suggested during an interview with radio station Q100 Atlanta that the "Gimme More" singer was "screwing with everyone" amid her series of issues.
At the time of Clarkson's interview, Spears had already gone through a highly publicized rough patch in her life that included a divorce and custody battle with Kevin Federline, a stint in rehab and shaving off her own hair in a Los Angeles salon.
The pop star was placed on a 5150 psychiatric hold at the start of 2008, leading to her controversial conservatorship, where her personal and financial decisions were overseen by others for almost 14 years before the arrangement was dissolved.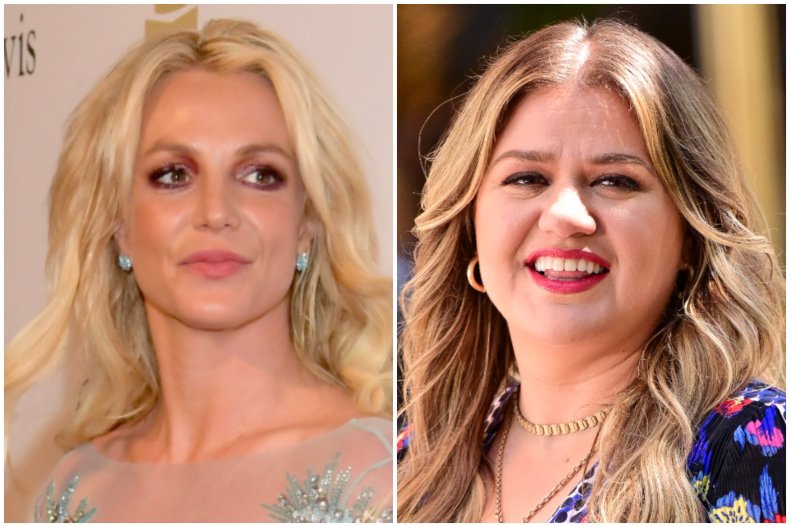 During her interview, Clarkson said that while she was a fan of Spears' critically acclaimed album Blackout, she appeared to jokingly question whether the series of issues that the star was navigating at the time was all just a clever marketing ploy.
"Man, but wouldn't it be funny if she's just totally screwing with everyone?" Clarkson said, during the year that she promoted her studio album My December.
One of her interviewers then cut in to say: "I think some celebrities are smart enough, that are capable of doing that."
Responding, Clarkson said: "Because it'd be real funny if she were like, 'Just kidding!'"
Explaining her take on the matter, Clarkson added: "I mean, think about it. She's done no press for her album—which I love by the way. She's done no press, just gets so much press off all this other stuff."
In an apparent response to those comments some 15 years later, Spears let her Instagram followers know that she still remembers what was said about her.
Sharing footage of herself posing in a green corset dress with Bazzi's track "Mine" serving as the soundtrack, mother or two Spears wrote: "'I don't forget' ... don't you just wish she would say she's kidding ???
"Clarkson ... in a world where bullying has been heartbreaking, I've had my share .... Can we get an AWW [...] ??? Psss ... I'm not kidding ... play on friends, play on !!!"
It wasn't long before fans dug up the Clarkson interview that Spears appeared to be referring to, sharing the clip across social media.
Fans also appeared to dig up what they believed to be the "aww" reference in Spears' Instagram post, as it was her reaction on Twitter to Clarkson covering her 2004 track "Everytime" during a performance in Las Vegas.
"Awww @Kelly_Clarkson this is beautiful girl!" Spears tweeted back in 2012, prompting Clarkson to respond: "Thanks girl! I love that song :)."
While there have been criticisms directed at Clarkson following Spears' comments, others stated that the Texas native didn't actually say anything negative about Spears.
On YouTube, where the full interview has been shared, one person said of Clarkson: "I love how classy she's being by trying not to talk s*** about Britney despite everyone else in the room doing so and trying to get her to."
Newsweek has contacted a representative of Clarkson for comment.
For more than a year, Spears has used her Instagram account to call out a number of people—including immediate family members—over past incidents and allegations from over the years.
Perhaps most notable of her statements on social media have been those pertaining to her controversial conservatorship, under which her father, Jamie Spears, oversaw her personal and financial decisions.
Citing health reasons, Jamie Spears stepped down from the personal branch in 2019 and was replaced by Jodi Montgomery.
In September of last year, the patriarch was suspended from the conservatorship altogether, ahead of the entire arrangement being officially dissolved.
Thanks to a new legal team and the backing of the #FreeBritney movement across social media, Britney Spears received a groundswell of support as she marched toward her goal of taking her personal matters into her own hands after 13 years.
That wish was granted in November, 2021 when a California judge dissolved the conservatorship, leading to celebrations among supporters—and from the star herself.