Camille Vasquez Says She's a 'Touchy Feely' Person Amid Depp Dating Rumors
Camille Vasquez has addressed the dating rumors surrounding her and her client Johnny Depp, suggesting she's "touchy feely with everyone."
The pair were subject to a number of rumors across the internet during Depp's defamation trial against his ex-wife Amber Heard, and Vasquez has spoken out against the chatter, calling the speculation "sexist."
Vasquez and Depp's legal team recently launched an appeal against the verdict which awarded Heard $2 million in the recent trial in Fairfax County, Virginia, a day after Heard had launched her own appeal against the $10.35 million Depp was awarded.
Gayle King interviewed Vasquez for CBS Mornings on Thursday, and once again the topic of romance between Depp and his attorney was brought up.
"It was disappointing to hear them," Vasquez said addressing the rumors that the pair were dating. "But I think they started because people like love stories, they like to make things up, right? It doesn't mean they're true. And obviously, in this case, they weren't true. Never have been true."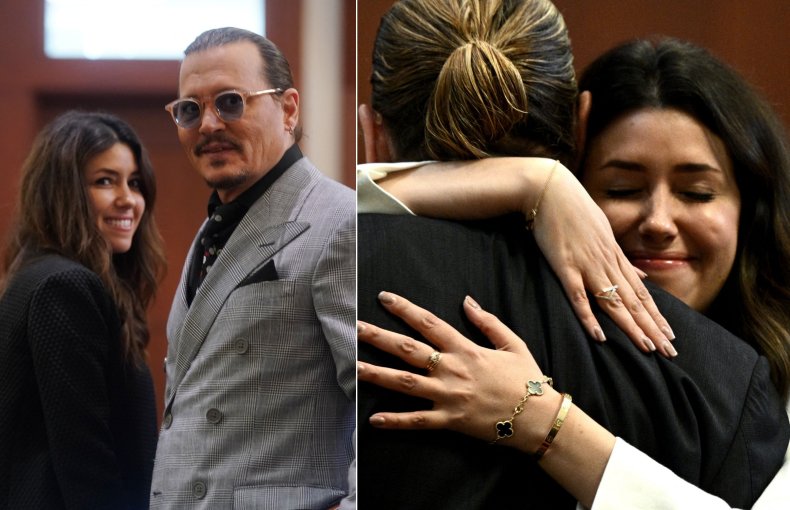 Many people have praised Vasquez online for her performance during the Depp and Heard trial from the start in April until the verdict was given on June 1, 2022. The nature of Depp and Vasquez's relationship has been widely discussed, with even podcaster Joe Rogan saying "we all want" them to date.
King suggested to Vasquez that people thought something might have been going on between then because they were "touchy, feely" with each other.
"Sure but I'm touchy feely with everyone," said Vasquez. "That's just who I am. I'm naturally described as a warm person and I don't think there's anything wrong with caring for your clients. Right?"
Vasquez suggested the situation called for her to be tactile as the stakes were so high. "I was fighting for his life, his name. It's perfectly normal, I think, to be able to extend a hand and give him a hug, and make him feel like he was protected," she said. "We all were that way with each other and with him. Just supportive and protective."
After the trial, Vasquez was promoted within her law firm, Brown Rudnick, and became a partner. Looking ahead to her further career aspirations, Vasquez said: "I don't have a long term goal, except I want to continue my practice. I'm a lawyer. When I look at myself in the mirror, I see an advocate. I was born to do this. I really feel that way. I do."
The trial between Depp and Heard took place as a result of Heard stating in a 2018 op-ed that she was the survivor of domestic abuse—the Pirates of the Caribbean star was not named in the op-ed. Depp's team argued that this statement was defamatory towards him and claimed a loss of career earnings. The jury in Fairfax County, Virginia ruled in favor with Depp across three counts, but sided with Heard on one count of defamation in relation to comments made by Depp's lawyer Adam Waldman in 2020.