Johnny Depp's fresh appeal against ex-wife Amber Heard has nothing to do with money, according to his lawyer, Camille Vasquez.
The trial of the year between Depp and Heard appears to be rolling on as both sides have filed appeals against each other after the result was announced in June. The jury in Fairfax Country, Virginia found that Heard had defamed Depp in a 2018 op-ed and awarded him over $10 million, while Depp was also ordered to pay Heard $2 million for defaming Heard via comments made by his attorney Adam Waldman.
Vasquez, part of the team from law firm Brown Rudnick, spoke to Gayle King on CBS Mornings and explained why Depp felt it was necessary to take his latest legal step.
Heard filed her own notice of appeal earlier this month, while Depp followed suit shortly after. Vasquez said that Depp's team had expected the appeal and that Depp filed his own appeal so that "the court could have a full record." She continued: "[Heard] insists on continuing to litigate this matter. We have to protect our client's interests."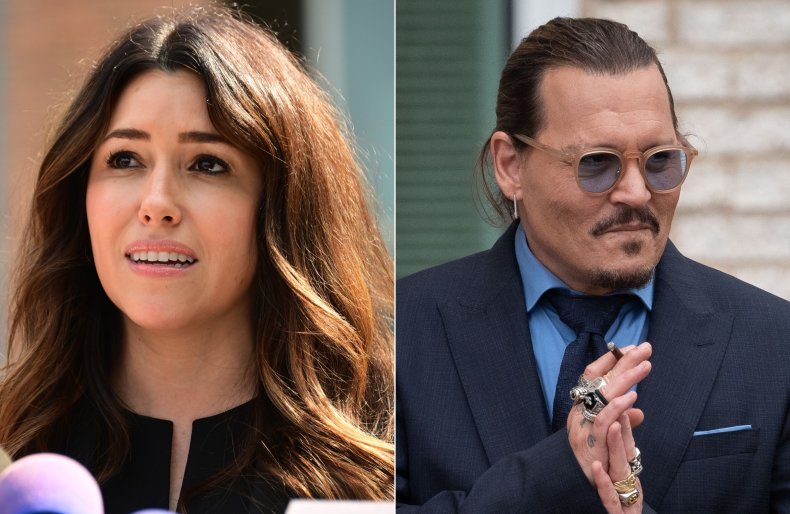 "This was never about the money for Mr. Depp," Vasquez said, "But in order to protect his interests, as his representative, we have to respond to the appeal with his own appeal."
King asked Vasquez whether it was fair to suggest that if Heard "hadn't appealed, you all would not have appealed either?" Vasquez replied: "Yes. That's a very fair statement."
"How do you heal and move on when both sides are still in court arguing?" asked King.
"It's pretty standard legal procedure. We just are hopeful that the court will uphold the verdict, which we think was the right verdict, and allow both parties to move on."
Heard's decision to appeal the verdict is a "smart strategic play," according to legal expert Andrew M. Lieb.
Commenting after Heard's team first announced their appeal, the attorney told Newsweek: "Amber Heard should 100 percent appeal her defamation trial loss against Johnny Depp because she has an as of right ability to file an appeal with the Court of Appeals of Virginia and failing to make the filing is an acknowledgment that she is stuck with a $10.35 million verdict against her."
Despite Heard's team filing an appeal, a spokesperson for Depp told Newsweek that they are "confident" in the jury's initial decision.
"The jury listened to the extensive evidence presented during the six-week trial and came to a clear and unanimous verdict that the defendant herself defamed Mr. Depp in multiple instances," the statement read. "We remain confident in our case and that this verdict will stand."
Camille Vasquez became a surprise breakout star during the defamation trial in Virginia between her client Depp and his ex-wife Heard. She became the subject of a number of social media posts and online rumors, but ultimately she was promoted to partner at Brown Rudnick as a result.