Candace Owens Attacks Jill Biden and Fetterman's Wife: 'Absolute Monsters'
Candace Owens called the wives of President Joe Biden and Senator John Fetterman "absolute monsters," accusing them of becoming "creatures on their quest for power" as they support their husbands' political careers.
During a recent appearance on Fox News's Tucker Carlson Tonight, conservative commentator Owens criticized Biden and questioned his ability to effectively lead the U.S. Carlson then questioned the mental capacity of Biden and Fetterman.
Fetterman last month checked himself into a medical center to receive treatment for clinical depression, while Biden has been accused of having dementia despite his physician declaring him "healthy," "vigorous," and "fit" following a medical in February.
"So here you have Dr. Jill [Biden] and Gisele [Barreto] Fetterman, both cheering on their husband's political careers," said Carlson. "Well, one is effectively incapacitated by dementia and the other one is literally in a mental hospital.
"Wouldn't you think that a woman who loves a spouse, who loved her husband, would say no, it's not good for him? Why is Dr. Jill not the villain in this story? What is her problem? What a ghoulish power-seeking creep and the same with Giselle Fetterman. Her husband's in a mental hospital. Like, what?"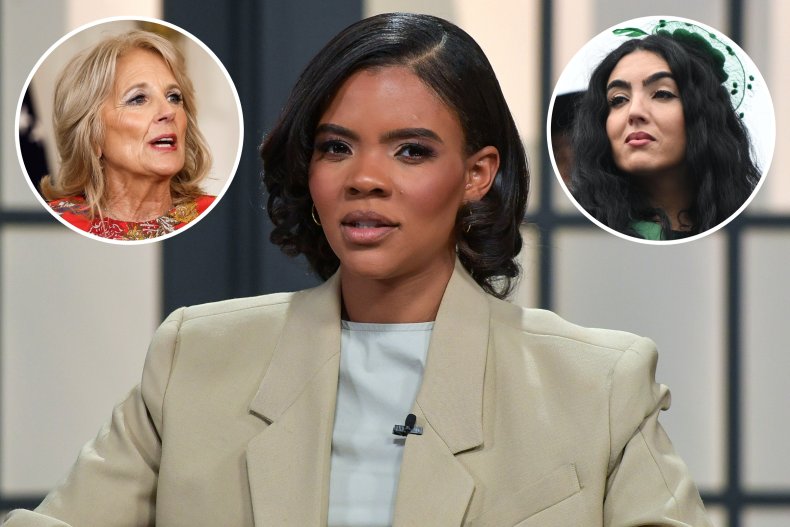 "These women are monsters," said Owens in agreement. "I'm not going to mince words here. These women are absolute monsters.
"If you're in a relationship and you love someone and you've had a family with this individual, you would never want to see them suffer, period. Now imagine allowing them to suffer publicly. That's exactly what these women are doing.
"They somehow have become creatures on their quest for power. And they should be ashamed of themselves, but I promise you they won't be. It's all about serving the party and if they have to sacrifice their husbands, oh well."
As the interview ended, Carlson added that "if my wife did that to me because she wanted to spend the weekend at Camp David, my feelings would be hurt—a lot."
Fetterman checked himself into Walter Reed National Military Medical Center to receive "treatment for clinical depression" last month, his chief of staff, Adam Jentleson announced.
"While John has experienced depression off and on throughout his life, it only became severe in recent weeks," Jentleson said.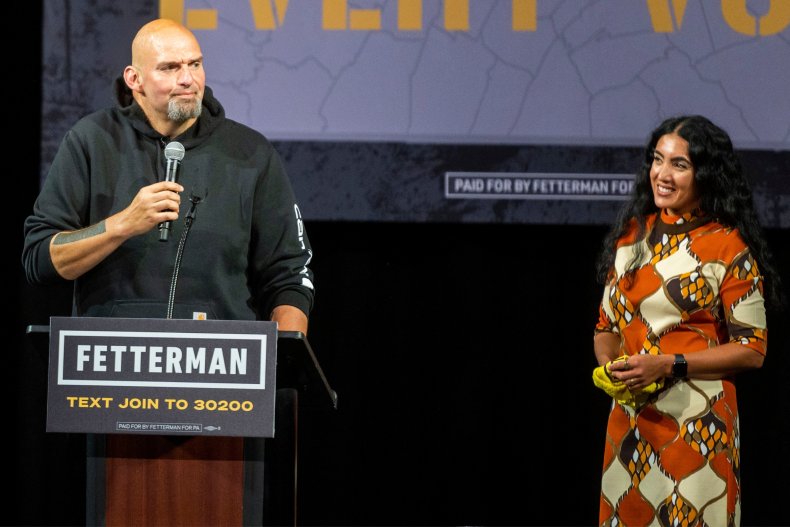 Fetterman suffered a stroke last May while campaigning in Pennsylvania. The politician's wife was recently questioned and criticized on social media over her decision to leave the country following her husband's hospitalization.
Barreto Fetterman tweeted on February 24 that she had taken the couple's children to Canada amid intense media attention following the senator's admission to a hospital to receive treatment for clinical depression.
"I am not really sure how to navigate this journey but am figuring it out slowly. 1 week ago today when the news dropped, the kids were off from school and media trucks circled our home. I did the first thing I could think of ... pack them in the car and drive," she tweeted, adding: "We drove straight into ... Canada (and lovely Buffalo NY)."
Sharing a photo and a short video, she added that she and her children "did some scary things but we did them together. We ziplined over Niagara Falls and August got stuck."
Some social media users were highly critical of that decision and questioned why she had chosen to leave the United States while her husband was hospitalized.
Meanwhile, Fetterman's fellow Democrat Biden's age and cognitive ability have raised much scrutiny since his presidential campaign in 2020.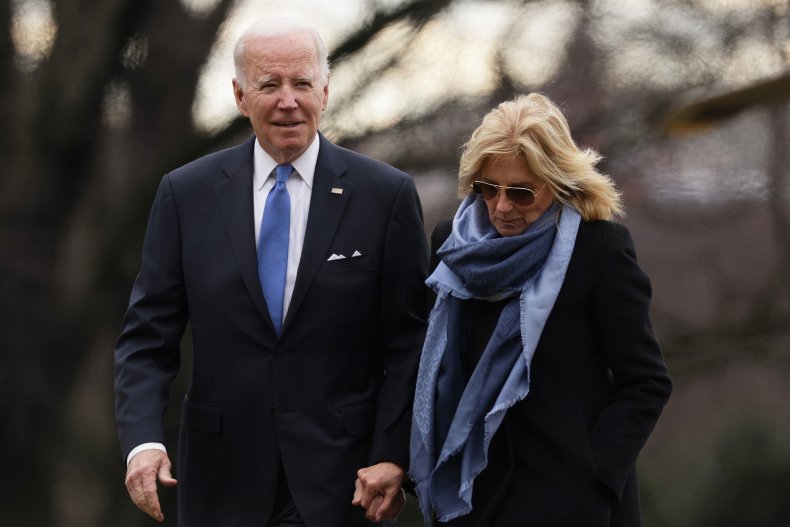 Comedian Jimmy Fallon mocked Biden's age and "brain" during Tuesday's installment of The Tonight Show, echoing the sentiments of many who have zeroed in on those factors concerning the president.
Back in October, Joe Rogan theorized on his podcast that Biden was suffering from dementia, saying he was showing "clear evidence of cognitive decline." The take has been suggested by a number of Republicans over the years.
During the 2020 presidential election campaign, Donald Trump said a slip-up by Biden in which he forgot Mitt Romney's name was evidence that his "dementia" was getting worse.
"Joe has never been a nice or kind guy, so it's easier to find this obvious & rapidly getting worse 'dementia' unacceptable for USA!" Trump wrote in a tweet on October 13, 2020.
Later that month, a billboard was put up in Fayette County, Pennsylvania, which made the same claim, though it spelled dementia incorrectly.
"Biden's dimensia [sic] is worsening, he is not fit," the billboard said, featuring pictures of Biden and his then-running mate Kamala Harris.
Amid the ongoing criticism directed at their husbands, Biden and Barreto Fetterman have publicly spoken out in their defense.
During an appearance on CBS Sunday Morning in 2021, the first lady dismissed concerns about her husband's mental fitness.
Citing polling results, interviewer Rita Braver said that "quite a few Americans have some questions about the president's current mental fitness," prompting the first lady to hit back that the claims were "ridiculous."
On Barreto Fetterman's part, she expressed her family's outrage at Republican challenger Dr. Mehmet Oz questioning her husband's ability to effectively serve in office following his stroke.
In an interview with NBC's Today in December, she said that her children were aware of Oz's focus on their father's health condition.
"My kids were appalled by that. They thought it was so gross," she said. "[I raised them] to be kind and compassionate and empathetic children...They recognized what was right and what was wrong and that is all you can hope for as a parent, that you're teaching your kids to recognize right and wrong."
President Biden underwent a routine medical examination last month, his second since taking office in January 2021.
A summary of Biden's condition was written by his physician, Dr. Kevin O'Connor. It described the president as "a healthy, vigorous, 80-year-old male, who is fit to successfully execute the duties of the Presidency, to include those as Chief Executive, Head of State and 'Commander in Chief."
Newsweek reached out to Fetterman and the White House for comment.