Capitol Staffers Put Up Police Tribute Signs in House Tunnel After Riot
Lawmakers, reporters and staffers have been paying tribute to police officers in the wake of the siege on Capitol Hill by putting up signs along the House tunnel.
Those working at the Capitol on Wednesday were forced to hide under desks and chairs, secure themselves in offices and take refuge in the tunnel as pro-Trump insurrectionists stormed the building.
Five people died, including a police officer, during the violence just hours after President Donald Trump addressed crowds at a Stop the Steal rally.
Disturbing footage has shown officers being crushed by crowds and dragged down steps as the mob overwhelmed law enforcement to breach the building.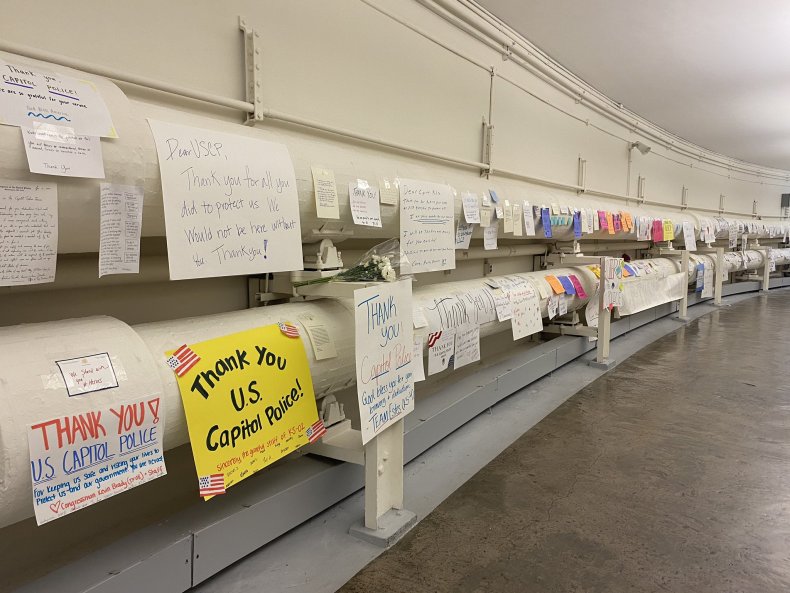 Now lawmakers and staff have been making cards, signs and messages of support to pin along the walls of the underground tunnel between the Capitol and House office buildings.
The effort was organized by Committee on House Administration Republicans, their communications director, Ashley Phelps, told CNN.
Phelps told the broadcaster they chose the tunnel as it is the entrance through which most people come into the Capitol.
She added that the action aimed to help "people to show their appreciation" for the Capitol Police and other law enforcement agencies.
Some lawmakers also shared pictures of a sign they had put up on their office doors that read: "Thank You U.S. Capitol Police #heroes."
California lawmaker Young Kim shared photos of her putting up a message that read: "Thank you to our U.S. Capitol Police for keeping us safe. We have your back, as you have ours."
Texas Rep. Kevin Brady shared a picture of his message, saying: "My staff and I are so grateful to @CapitolPolice for their heroic actions last week & for all they do to protect us each day. Proud to display these signs outside my office and in the Capitol—we support you and are immensely grateful for all that you do. Thank you!
Virginia lawmaker Jennifer Wexton shared footage of the tunnel and wrote: "It's humbling to see this beautiful makeshift tribute in the Capitol tunnels. The heroism of Capitol Police officers saved countless lives during last week's attack. I'm grateful for the courage that so many officers displayed to keep members, staff, press and workers safe."
It comes after the Capitol was placed on lockdown as protesters bore down on the building. While senators debated the merits of overturning Arizona's Electoral College vote, protesters in Trump gear pushed past security guards, prompting concerns about legislators' safety.
Vice President Mike Pence, who was presiding over the Electoral College certification, was taken out of the chamber and legislators were asked to shelter in place. Speaker Nancy Pelosi was also rushed from the House floor.
A staffer working in the Capitol said she found the office panic buttons had been "torn out" ahead of the pro-Trump mob swarming the building.
House Democrats have now introduced articles of impeachment against Trump, saying he "engaged in high crimes and misdemeanors by inciting violence against the government of the United States."