How to Find the Love of Your Life, According to Nursing Home Residents
To mark the most romantic holiday of the year, a group of elderly care home residents have shared their love advice for couples celebrating Valentine's Day.
With an average age of 90 and well over 100 years of marriage between them, these residents may teach millennials and Gen Zers a thing or two about first-date etiquette and the secrets to a lasting relationship.
This year, 32 percent of Americans are set to celebrate the most romantic holiday of the year with their partner, while a further 27 percent plan to celebrate the day with friends or family or on their own, according to a YouGov survey of 1,181 people. Their Valentine's activities include relaxing at home, eating out, or watching a film.
Newsweek has reached out to relationship coach Mairead Molloy who agrees with all of the Valentine's Day tips provided by the U.K.-based elderly care home residents.
Valentine's Day 'Do's' and 'Don'ts'
The following tips have been shared by elderly care home residents across the U.K. from care homes that partner with Lottie, a care home marketplace.
Most of them are part of the "silent generation" as they were born between 1928 and 1945. They are best known for their traditional values.
'
Put Your Phone Down and Have a Chat Together'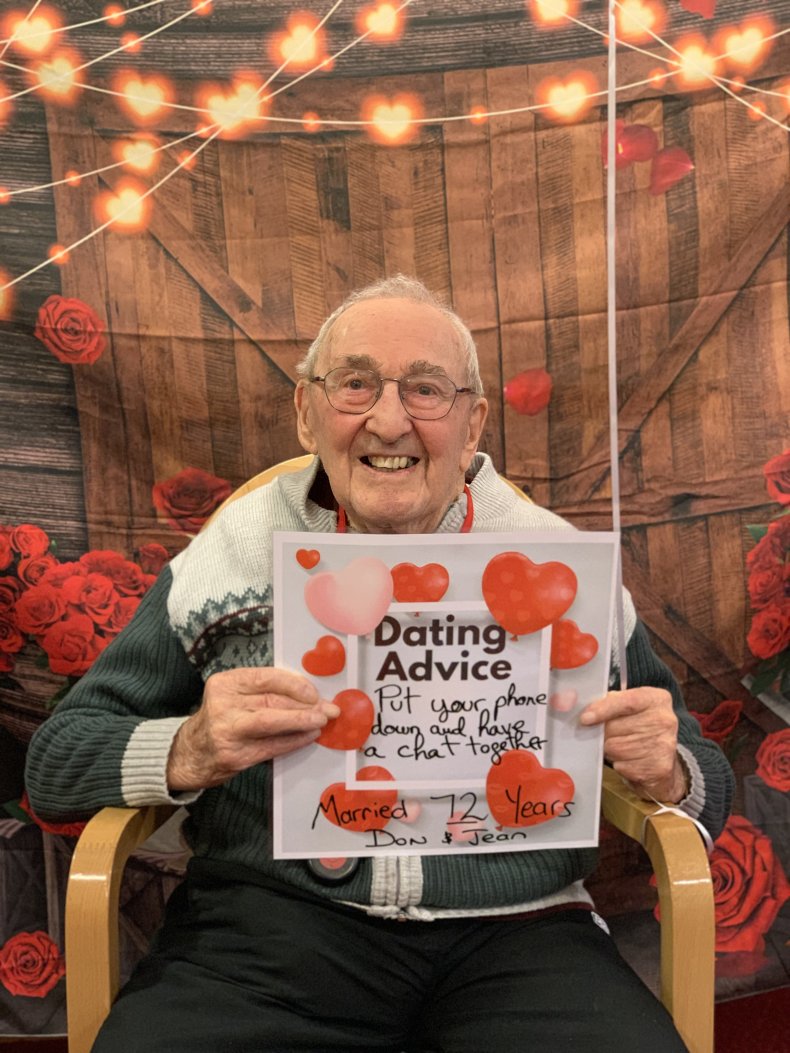 These days it isn't unusual to see couples glued to their device despite being on a date; 100-year-old Don, who has been married for 72 years, encourages people to give their full attention to their partner.
Molloy said: "Make the day all about each other. Removing distractions is a brilliant way to live in the moment and truly cherish one another. Giving your loved one your full attention is one simple way to."
'Only Give a Goodnight Kiss'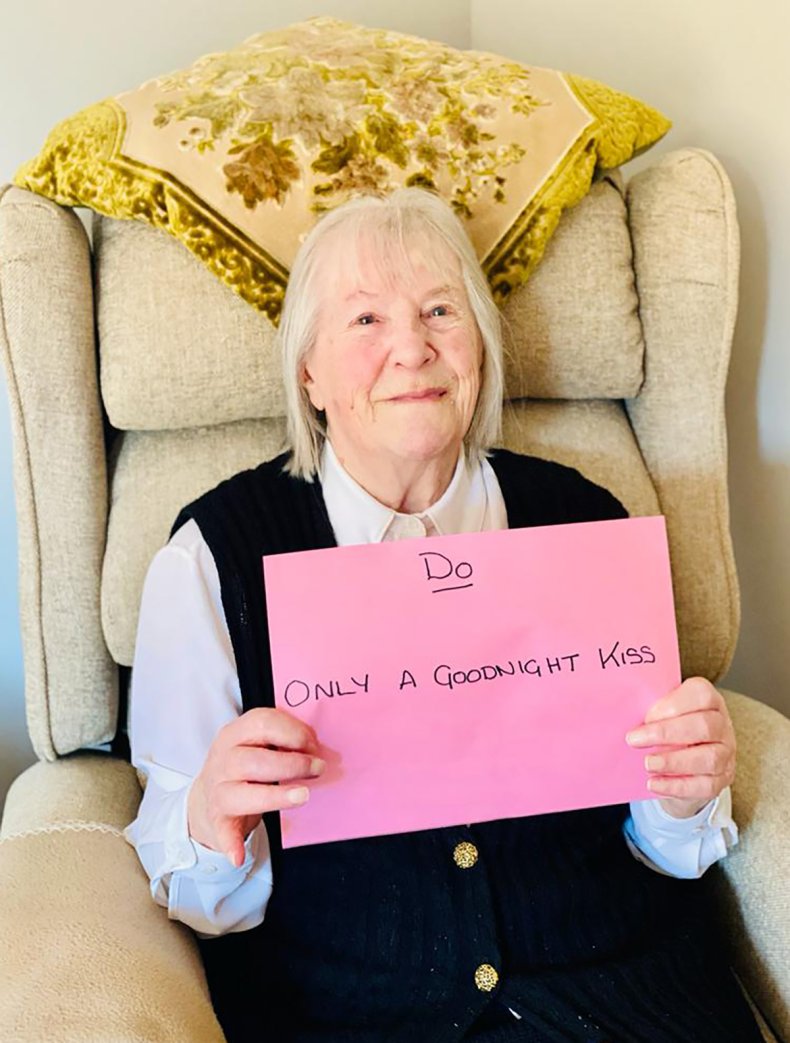 The Match Lab, a dating profile writing service, revealed 68 percent of Americans are open to a kiss on the first date. And 21 percent said you should ask before going in for a kiss whereas 75 percent said it depends on the situation.
Jean, 96, a resident at another home, recommends taking it no further than a kiss goodnight.
"Intimacy might need to adapt at different stages of life. Sometimes a goodnight kiss is all the romance that is needed—it is a delicate and endearing act of love," Molloy told Newsweek.
'Make Them Pay'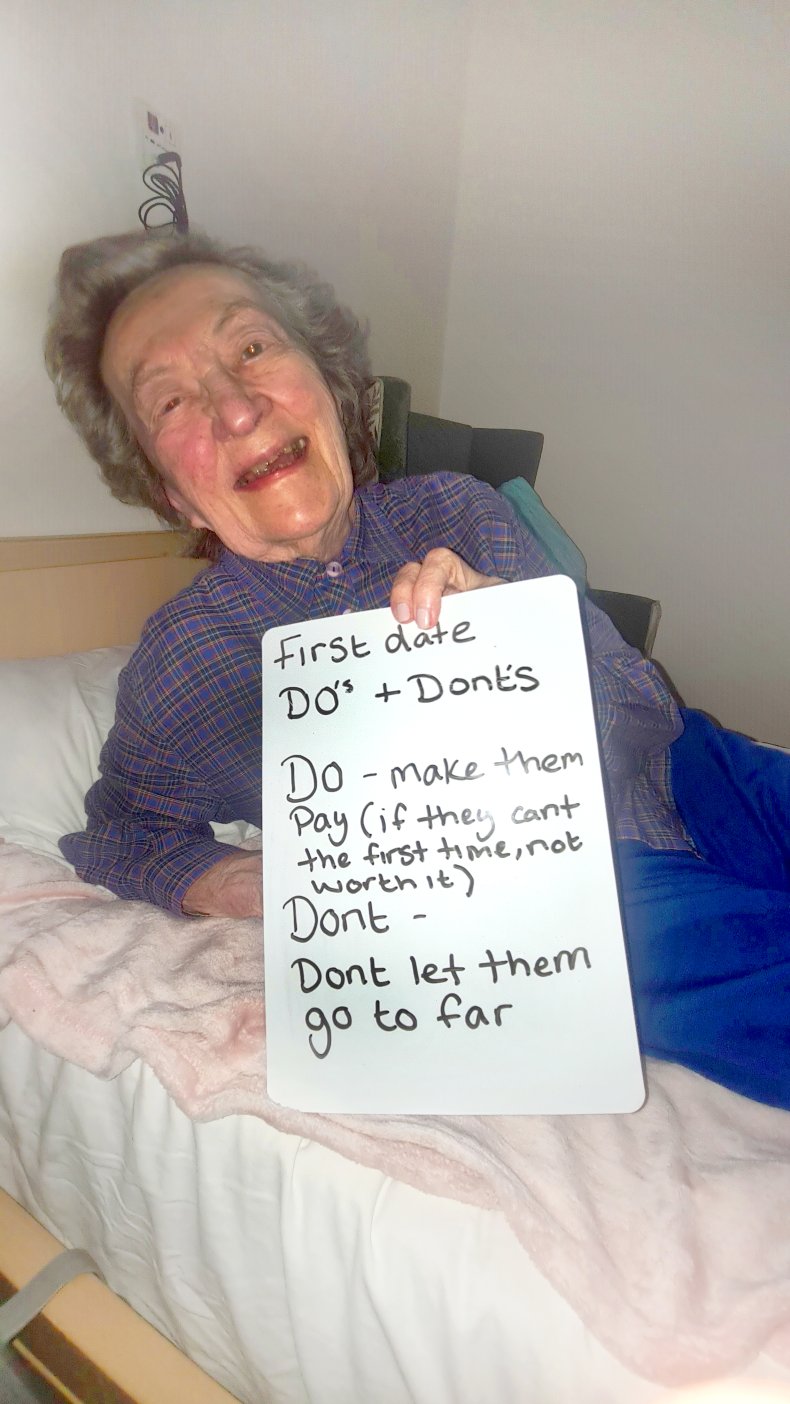 A SurveyMonkey/Money online survey revealed that 78 percent of 4,447 participants believed men should pick up the bill on a first date.
It seems Eileen, 95, couldn't agree more as she states a second date isn't "worth it" if they can't pay for the first.
'Treat Her Like a Lady'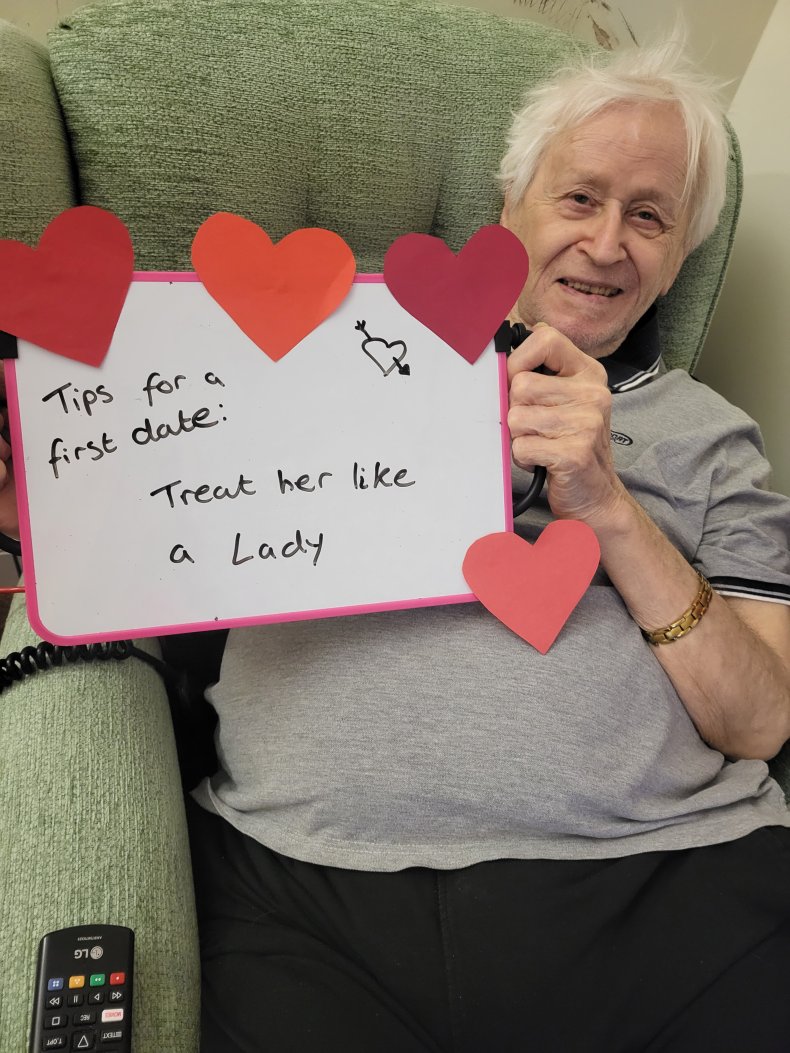 According to the YouGov survey, 52 percent of men are treating their loved ones to a meal and 19 percent are gifting them clothes or jewelry.
Colin, 86, advises men to treat their date like a lady. However, not everyone has a romantic date on Valentine's but that doesn't mean they can't celebrate it.
Molloy said: "A special evening out would be a beautiful way to make Valentine's Day special if it can be organized. Valentine's Day can be difficult for lots of people since many of them have lost a spouse that they would have celebrated this day in the past. If this is your family member, taking them out to a special dinner will remind them of those happy times, and help them to know that they are still deeply loved."
'Don't Jump Into Bed'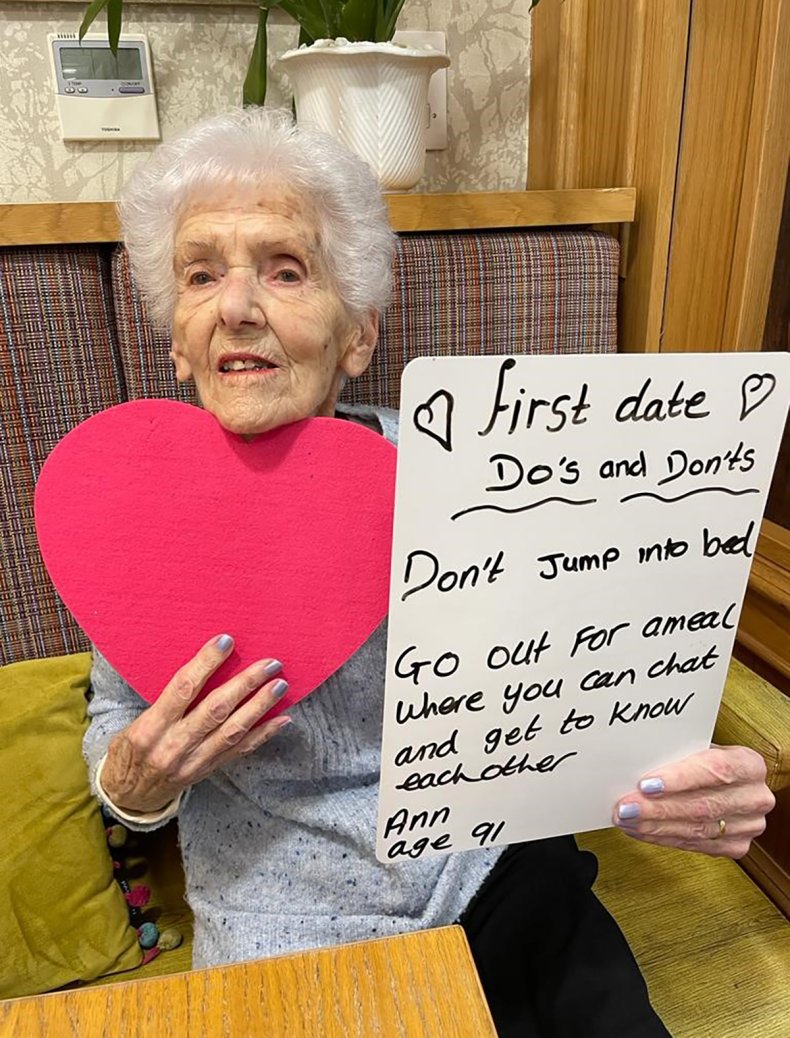 In 2020, a Pew Research Center survey revealed 30 percent of 4,860 U.S. adults said sex on the first date can be acceptable under some or all circumstances whereas 42 percent say it is never acceptable.
Ann, 91, advises people against jumping into bed with their Valentine's date. Instead, she advises people to go for a meal and get to know the person.
'Chat Normally Then Dance'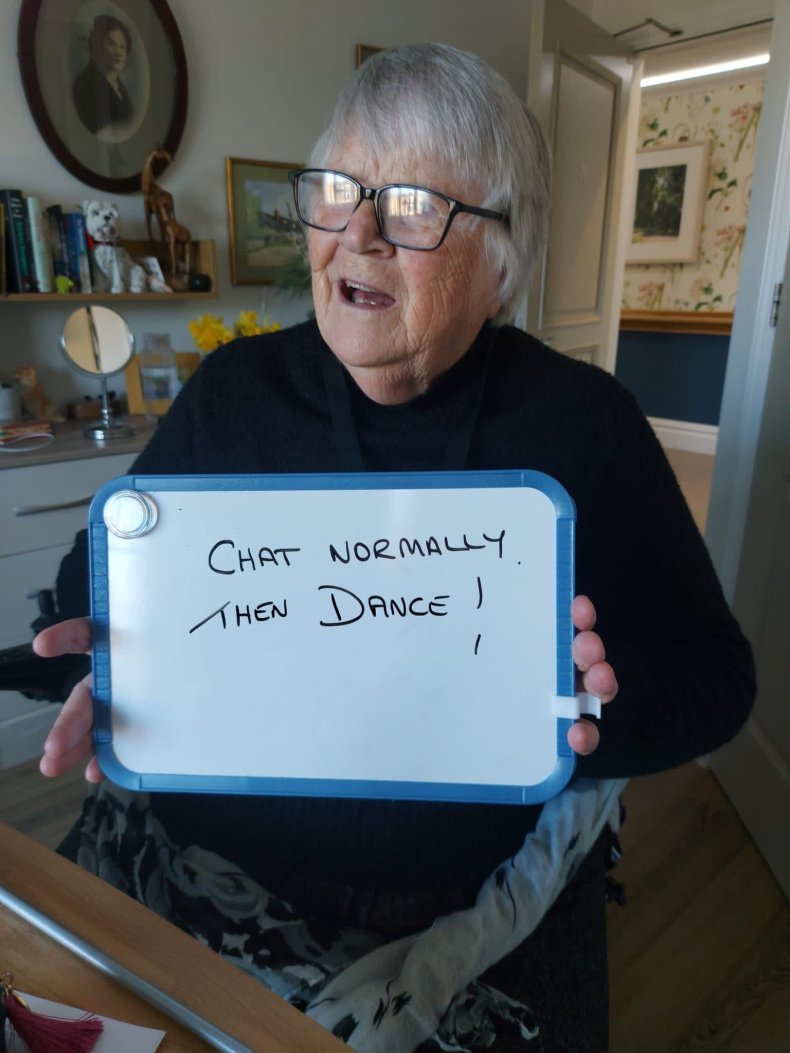 Meeting someone for the first time can be nerve-racking and daters may find it hard to find the right thing to say. Pam, 83, encourages the younger generation to avoid awkwardness by dancing after a chat.
Previously, Newsweek shared an article about first-date conversations where experts suggested keeping the topics light-hearted.
"Dancing releases endorphins and can be a fun and romantic way to enjoy the evening. Put on your favorite music, including songs that unlock your most cherished memories, for an evening to remember," Molloy told Newsweek.
'Don't Take Your Parents'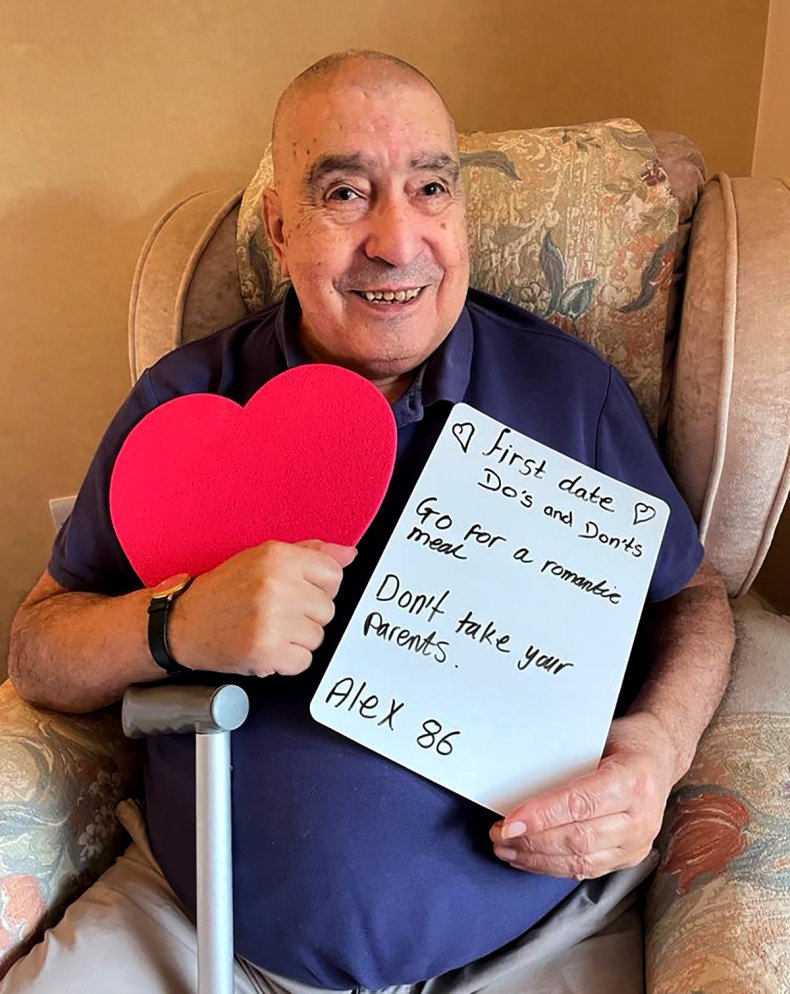 Alex, 86, has advised people to go for a romantic meal without their parents this Valentine's. However, he needn't worry about that happening as a YouGov survey revealed that American adults tend to wait for months until they introduce their significant other to their parents.
In July 2021, 22 percent of 1,323 U.S. adults said they introduced them after four to six months and one in eight participants suggested waiting at least one year.
'Always Be Loyal'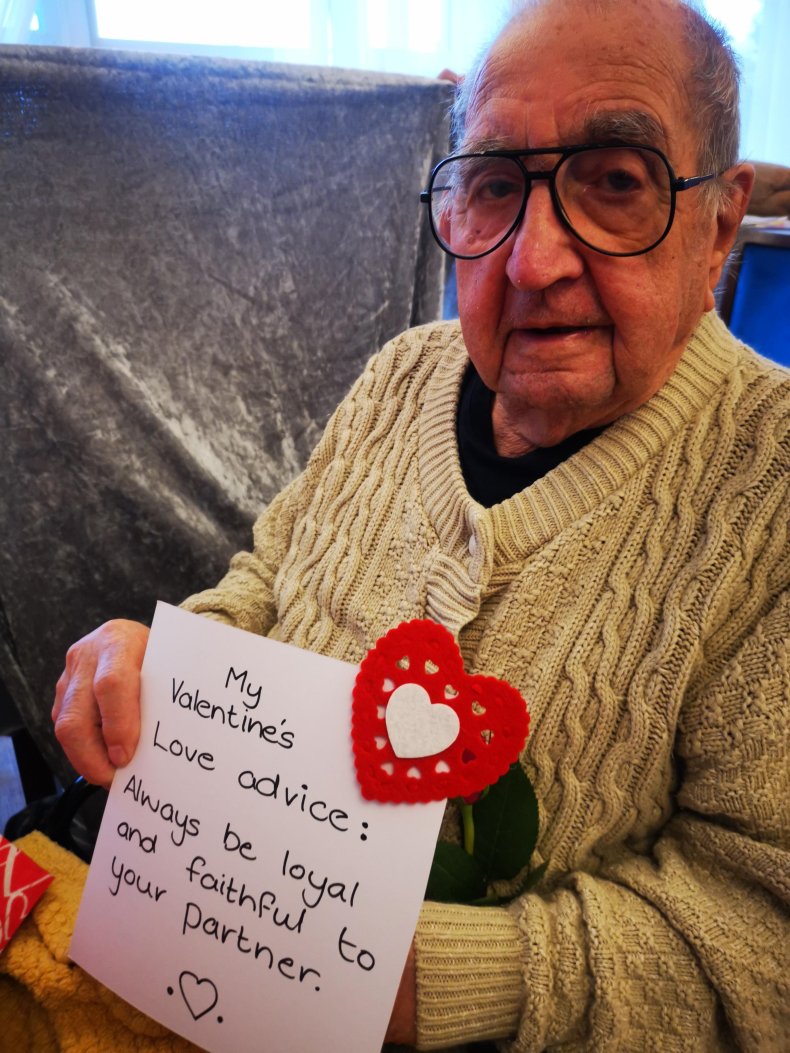 Stanley's advice isn't just for Valentine's Day. The 93-year-old tells people to "always be loyal and faithful to your partner".
Molloy said: "This one goes without saying!"
In 2022, a YouGov survey revealed one third of participants admitted to cheating while in a monogamous relationship. And 54 percent of 2,000 U.S. participants revealed they had been cheated on physically, emotionally, or both.
'Love Is Something Most of Us Search for in Our Lifetime'
Chris Donnelly, the co-founder of Lottie, said: "There's something so special about hearing about these stories of love in our care homes. Love is something most of us search for in our lifetime—and it's great to hear the funny, inspiring, and heart-warming tips our residents have for younger generations when it comes to finding your perfect match."
Has infidelity broken your trust in your partner? Let us know via life@newsweek.com. We can ask experts for advice, and your story could be featured on Newsweek.