'I'd Do It Again': CEO Explains Why He Posted Viral Crying Pic on LinkedIn
A CEO who has been criticized after sharing a crying selfie of himself on the social network LinkedIn after discussing layoffs at his company has spoken out about the controversial post.
In a new post, Braden Wallake, CEO of HyperSocial, a company that specializes in optimizing LinkedIn posts, has explained the context behind a social media post.
Wallace made headlines last week when he shared a post following a wave of redundancies at his company.
The picture was labeled "cringe" and some criticized his actions as "all optics and theatrics."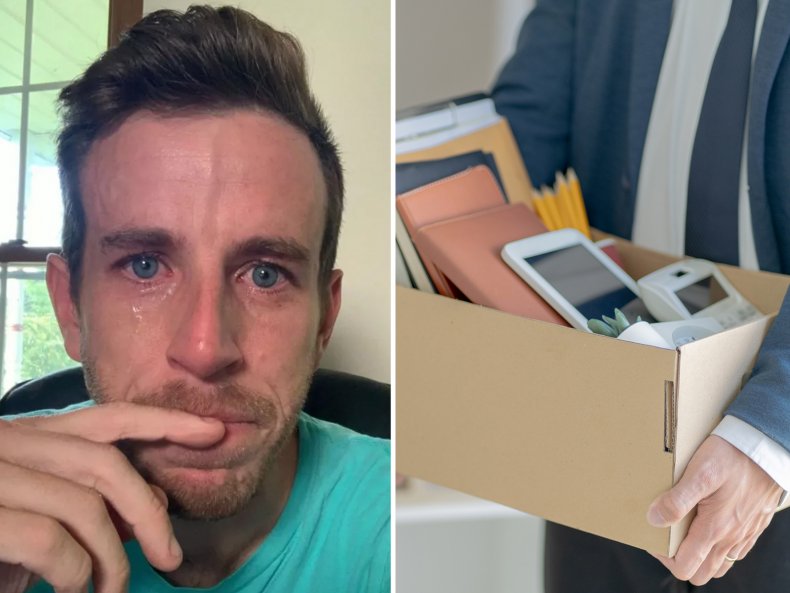 In another post on the employment-oriented social media site, Wallake updated his followers on Thursday. He wrote: "Time to answer the question everyone has been asking. Why did I make that original post with the picture of me crying?"
He continued: "Did I want pity? Am I a narcissist? Am I a super genius that knew it would go viral? No."
Instead, he shared a screenshot of a message he received in his inbox and said: "It's this right here. What the media and all of the people who think they know everything about me don't see."
In an attached screenshot, an anonymous person had messaged Wallake and written: "Thanks for your raw honesty. I just wanted to send you a personal message off the back of the post you did a week or so ago about the difficult decisions you've had to make as a CEO and how that has affected you.
"I'm not a CEO, I'm a department head and tomorrow my team will hear that they will be subject to redundancy. This was a decision I made in May that we have had little choice but to act on. My role is also subject to redundancy, a suggestion that I have made as it's untenable for me to stay."
The message continued: "I have a heart too and tomorrow I will be brave but it will be tough as those who are impacted yet again will find out."
He thanked the CEO for his response to the layoffs, telling him that he is not alone and sympathizing with the position of needing to tell someone their job was ending.
According to the U.S. Bureau of Labor Statistics, 1,327 thousand workers were subject to layoffs in June, down from the previous month but similar to the numbers at the same time in 2021.
Layoffs come as 35 percent of the American public say that the economy is the nation's biggest problem, with many also citing inflation, fuel prices, and unemployment or taxes.
But after receiving the message in his inbox, Wallake was quick to share the reasons for his post earlier this month.
"See, while I was sitting at my desk crying, I was thinking about life and layoffs and how difficult life has been for a lot of people, especially over the last couple of years. I knew my connections here on LinkedIn. Mostly founders, business owners, CEOs, and managers. Lonely roles. They choose those roles, but that doesn't make them less lonely," he wrote.
He continued to explain that he wasn't good with words and so he grabbed his phone, took the selfie, and made the post. He explained it was: "For others like this. Leaders that are struggling with layoffs, whether large layoffs or small layoffs. That are going through something similar and are heartbroken about it."
"And honestly, I'd do it again," he explained: "I'd take all of the hate, the nasty comments, the threats, the mockery photos and videos, the media (most of them) completely twisting my intentions."
Despite the honest update post, Wallake did not escape further criticism online as LinkedIn users headed to the comments to react.
"Why would you share this? Just proves everyone's opinion about you. It would be different if that individual who sent this to you posted this, but this is sad," said one commenter.
Another reply said: "I think it's time to move on, man."
"Ah, now I get it," wrote another reply: "The CEOs are the real victims of layoffs. Thanks for clarifying."