Cher Reacts to Fan Calling Dua Lipa 'the Cher of Our Generation'
Music icon Cher, 76, had a hilarious response to a tweet that compared pop star Dua Lipa to her.
One Dua Lipa fan described the 27-year-old British singer as "the Cher of our generation."
They had posted a photo on Twitter of the two singers side-by-side looking remarkably similar with straight, long black hair and revealing sparkling outfits.
Another Dua fan retweeted that tweet, adding "so much truth in one tweet," and tagged both singers.
Cher, who is known as a prolific tweeter, swiftly responded by writing "How many yrs are in a generation 🤔."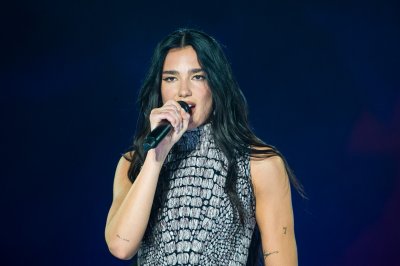 The photo of Dua in the original tweet was from her Grammys look last year where many pundits compared it to Cher's 1974 Grammys outfit.
Last year, the "No Rules" singer wore a butterfly motif Versace dress to the awards show after being named the face of the designer brand just a year before.
Cher also wore a butterfly themed outfit in similar colors to Dua's in 1974 after it was revealed she had herself collaborated with Versace to create her own fashion line dubbed, Chersace.
The internet quickly became divided as some Dua fans slammed Cher for her comment, with others rushing to point out Cher's remarkable career on stage and screen.
"Cher paved the way for so many female artists who came after her. Without Cher, there would have been no Madonna, no Britney Spears, no Lady GaGa. She opened the doors for all of them," tweeted one Cher fan.
Another added: "y'all coming for Cher one of the most influential female acts in music history... over DUA LIPA."
A third wrote: "I hope that response from Cher makes y'all stop putting every current artist in the same category as actual legends."
"People are not really understanding the cultural impact Cher had. Anyone can dress like Cher today, but it's not the same thing as being the first one to break that ground. That was Cher. Also Cher has starred in movies and her own TV show. She is the one and only," and a fourth commented.
Dua Lipa is yet to comment publicly on the debate.
Cher is no stranger to voicing her opinions on Twitter, after recently opening up about her experience with miscarriages for the first time, telling fans that she suffered three, with the first one occurring when she was just 18 years old.
The pop icon took to Twitter in July to reflect on the miscarriages which happened during her marriage to Sonny Bono.
"[sic] When I was young I had 3 miscarriages.1st at 18. I was alone in our house son came home & I was sobbing,& rocking on our floor," she tweeted.
She said one of her miscarriages resulted in her being rushed to the hospital as she hit out at lawmakers who support the recent repeal of Roe v. Wade, questioning what would have happened to her now if she found herself in the same situation.
"when I got 2 dr I was screaming in pain.couldn't even stop in elevator.dr sent me straight 2 hospital,& in2 operating rm.WHAT WOULD HAPPEN 2 ME TODAY" she wrote.
Cher also revealed she never thought she would share her experience with miscarriages after a fan commented that they "never knew."
In a second tweet, the "Believe" hitmaker lashed out at Republicans who have mostly publicly cheered the rollback of abortion legislation.
"These Insane republicans will kill our WOMEN 4 POLITICS‼️" she wrote. "MOTHERS,SISTERS AUNTS,COUSINS,BEST FRIENDS...NO WOMAN IS SAFE IN AMERICA."
Cher's comments come amid a number of strong reactions by celebrities to the Supreme Court overturning Roe v. Wade with Kim Kardashian, Katy Perry, Jessica Chastain and more expressing their anger.
The traumatic abortion experiences of Brigitte Bardot and the late Debbie Reynolds were also highlighted on social media earlier this month.