China Chides U.S. and Japan 'Babbling' After Joe Biden and Fumio Kishida Alignment
Beijing lashed out at the leaders of the United States and Japan this week after President Joe Biden and Prime Minister Fumio Kishida found themselves in close alignment during a 90-minute summit in which China topped the agenda.
During the virtual meeting on January 21, Kishida became only the second Japanese leader this century to join the U.S. in officially declaring concerns over China's policies in Xinjiang and Hong Kong, as well as its intimidation against Taiwan. Biden and Kishida also cautioned against further moves around the disputed Senkaku Islands, currently under Japanese control, with the White House saying both leaders "resolved to push back against [China's] attempts to change the status quo in the East China Sea and South China Sea."
Beijing claims a historic right to the uninhabited islets in the East China Sea. It refers to them as the Diaoyu Islands and has ramped up coast guard and naval patrols in their surrounding waters in the years since the Japanese government "nationalized" the disputed territory in 2012. While the U.S. doesn't take a position on sovereignty over the islands, it does recognize their status as being under Japanese administration. During their talks, Biden reaffirmed American commitments under Article 5 of the U.S.-Japan Security Treaty, which covers the Senkakus.
During a regular press briefing on Monday, China's Foreign Ministry spokesperson Zhao Lijian said Biden and Kishida had "struck up the same old tune" by smearing and attacking China and interfering in its internal affairs. Chinese diplomats in Washington and Tokyo protested their joint statement, he said.
"Taiwan, Xinjiang and Hong Kong matters are purely China's internal affairs," said Zhao. "Diaoyu Island and its affiliated islands have been China's inherent territory since ancient times. No amount of babbling and repetitiveness by the U.S. and Japan can change the objective fact that the Diaoyu Islands belong to China."
Zhao, who said the two countries were "making trouble and sowing discord," said Washington and Tokyo had clung to "Cold War mentality"—among Beijing's favorite phrases, whose usage has peaked in the decade since Chinese leader Xi Jinping took power. China's rivals were "citing ideological antagonism" in the name of democracy and human rights, he said.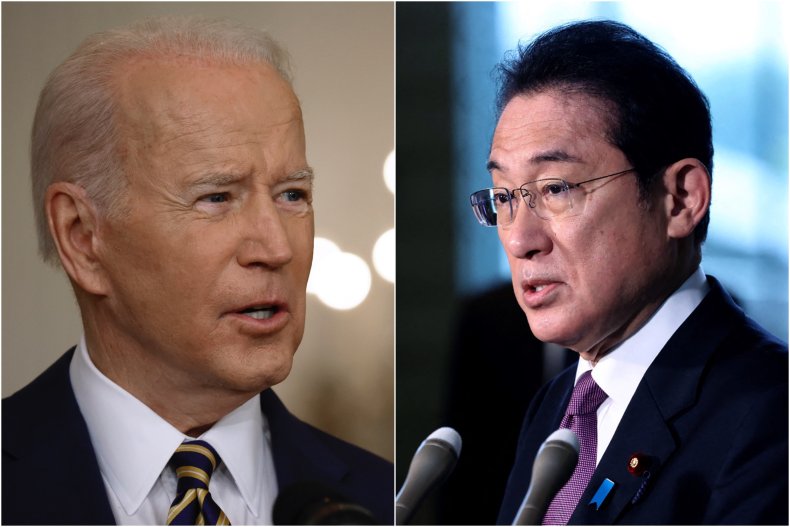 Friday's U.S.-Japan summit was initially billed as Kishida's first trip to America in his capacity as prime minister, but the governments agreed on a virtual format over ongoing public health concerns amid the spread of the Omicron variant of COVID-19. Following the dialogue, a senior Biden administration official told reporters that solitary and close alignment between the two countries was "on full display."
A readout published by Japan's Foreign Ministry said Biden and Kishida "shared the intention to coordinate closely in addressing various issues related to China." After Biden reaffirmed the U.S.'s commitment to the defense of Japan, Kishida, in turn, backed the U.S. in NATO's ongoing standoff against Russia amid a buildup of troops along Ukraine's eastern border.
Biden could make the first visit to Asia of his presidency when he attends the in-person Quad summit hosted in Tokyo this spring.