China Embassy Twitter Still Locked One Year Later for Dehumanizing Uyghurs
The Twitter account run by the Chinese Embassy in the United States has remained suspended for more than one year over its refusal to delete a tweet about Uyghur Muslims that violated the social media company's policy against hateful conduct.
The offending tweet was posted on January 7 last year from the embassy's verified account. It shared a China Daily article that sought to refute charges of extreme population control in China's northwest region of Xinjiang, where research has found a sharp decline in birth rates—said to be the result of forced sterilization, among other repressive policies.
The newspaper, which is published by the Chinese Communist Party's propaganda arm, reported on the findings of a local study that attributed the decrease in births to the government's effective deradicalization of Muslim women. It was framed as a direct rebuttal to German scholar Adrian Zenz.
"Study shows that in the process of eradicating extremism, the minds of Uygur women in Xinjiang were emancipated and gender equality and reproductive health were promoted, making them no longer baby-making machines. They are more confident and independent," tweeted the Chinese Embassy.
Two days later, Twitter hid the tweet and locked the account, pending the removal of the post in question. The tweet had violated the company's "policy against dehumanization," it said at the time.
"We prohibit the dehumanization of a group of people based on their religion, caste, age, disability, serious disease, national origin, race or ethnicity," the policy guidance reads.
On Tuesday, a Twitter spokesperson confirmed to Newsweek that the account's status remained unchanged from this time last year. While the offense was not deemed worthy of a permanent ban, Beijing appeared to have ordered its diplomats in Washington not to take down the violative tweet—perhaps a sign of the sensitive nature of the subject as well as the political costs of backing down after years of consistent denials.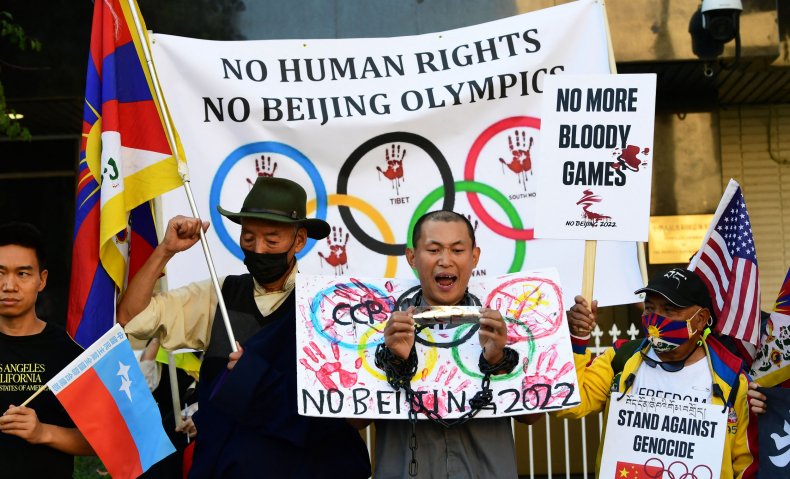 China's treatment of Uyghurs and other minority ethnic groups in Xinjiang has been the subject of in-depth studies and numerous witness testimonies. Research has found Beijing—and Chinese leader Xi Jinping in particular—eager to "optimize" the region's Muslim population, which it views as poorly educated, work-shy and belonging to a primitive culture that will not easily assimilate to Chinese social norms and the country's authoritarian political system.
Anti-government demonstrations in Urumqi, Xinjiang's capital, led the Chinese leadership to order a regionwide counterterrorism campaign in 2014 and a mass reeducation campaign in 2017. Nearly 2 million Uyghur men and women are thought to have been detained as part of the government's deradicalization work, while millions more continue to live under surveillance—by officials and members of their own community alike.
Last year, the administrations of Donald Trump and Joe Biden both determined that human rights abuses amounting to "genocide" and "crimes against humanity" were ongoing in Xinjiang. The assessment has led to multiple rounds of diplomatic and economic sanctions, as well as the passage of a law to ban goods from the region that have been sourced by forced labor.
Beijing's repression of Uyghurs and its poor human rights record in general were also behind the decision by major governments, including the U.S., to boycott the Beijing 2022 Winter Olympics. With the international spectacle set to open in three weeks' time on February 4, China's defense of its Xinjiang policies have only become more robust. It denies all charges and has spent months telling Washington to get its own affairs in order.
At this late stage, any compromise from Beijing would be perceived as unacceptable weakness, especially by sectors of its ultranationalistic domestic audience.
The Chinese Embassy's final tweet before it was served an ongoing temporary suspension was to quoted Uyghurs who had testified on behalf of the Chinese government at a Xinjiang press conference on January 9, 2021. Similar events, meant to debunk foreign studies and press reports, are among the tools Beijing uses to legitimize its policies.
The embassy did not return Newsweek's request for comment before publication.