China Expects More U.S. Compliance After Huawei 'Hostage Diplomacy' Win
China hinted on Wednesday that it expects U.S. acquiescence on its remaining demands, following a diplomatic victory in securing the release of Huawei executive Meng Wanzhou last week.
Chinese Foreign Ministry spokesperson Hua Chunying told reporters in Beijing that "big and small thorns" remaining in the U.S.-China relationship needed to be removed.
Asked whether the resolution of the Meng case—and the simultaneous release of Canadians Michael Kovrig and Michael Spavor—meant Chinese leader Xi Jinping was prepared to meet with President Joe Biden at next month's G20 summit in Italy, Hua said there was no arrangement to announce at this time.
But she recalled outstanding items on two lists of demands given to the U.S. via Deputy Secretary of State Wendy Sherman when she visited Tianjin in July. In separate meetings with China's Vice Foreign Minister Xie Feng and Foreign Minister Wang Yi, Sherman was issued with what Beijing calls its "two lists" and "three bottom lines."
"We raised our 'two lists' at the Tianjin talks," said Hua, "and we hope through joint efforts to resolve every item on them."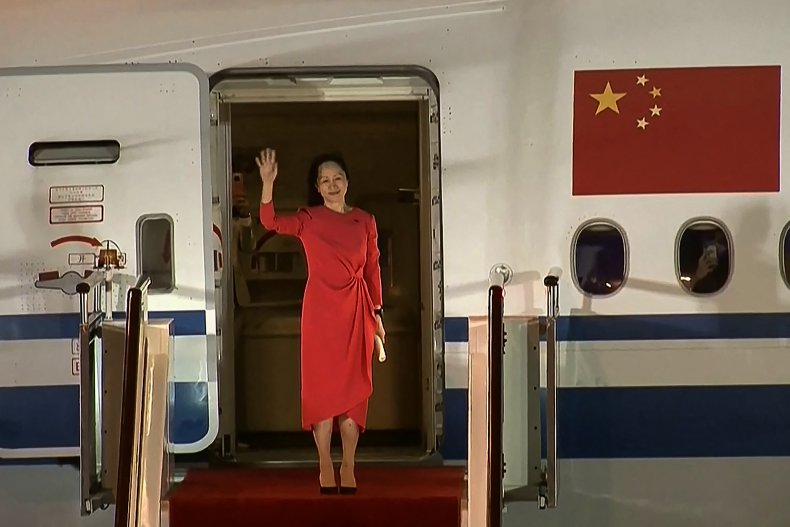 Dubbed the "List of U.S. Wrongdoings that Must Stop" and "List of Key Individual Cases that Concern China," they included specific demands for the Biden administration to reverse a number of Trump-era policies targeting China or Communist Party members.
Among these were the Justice Department's extradition request for Meng from Canada and the designation of U.S.-based Chinese media outlets as "foreign missions." Beijing also wanted the lifting of sanctions on party members, businesses and other officials and entities.
The "three bottom lines" warn the U.S. not to challenge China's political system, not to contain its development and not to interfere in sensitive areas relating to Xinjiang, Tibet, Hong Kong and Taiwan.
The Biden administration has given no indication of its willingness to meet these demands.
A State Department spokesperson told Newsweek: "Our relationship with China will be competitive when it should be, collaborative when it can be, and adversarial when it must be. The common denominator is the need to work alongside our allies and partners to engage China from a position of strength.
"We will conduct practical, results-oriented diplomacy with Beijing and work to reduce the risk of misperception and miscalculation."
The official added: "We will welcome the Chinese government's cooperation on issues such as climate change, global health security, arms control, and nonproliferation where our national fates are intertwined. As we do, we will rally our allies and partners to join us, pooling our negotiating leverage and showing our collective power and resolve."
Hua's comments echoed recent remarks by China's ambassador to Washington, Qin Gang, who said the U.S. needed to act first to mend bilateral relations between the world's largest economies.
Following the return to China of 49-year-old Meng last week, the country's state-owned news media has described her release as a victory for China's national power, despite lingering accusations of "hostage diplomacy"—including from its own citizens.
At a press conference on Tuesday, Hua confirmed that China's Xi pressed President Biden on Meng's case during a phone call earlier this month. Beijing has denied any connection between Meng and the release of Kovrig and Spavor, claiming the Canadian "two Michaels" were bailed on compassionate grounds for health reasons.
Update 10/1/21 5:15 a.m. ET: This article was updated with comments from the State Department. The original version of this article referred to Wendy Sherman by the incorrect job title.