Superior U.S. Forces Could Break China's Blockade of Taiwan: Navy Commander
The U.S. military could overcome a blockade of Taiwan by China if Beijing sought to gain control of the island by isolating it from outside support, the commander of American naval forces in the Pacific recently said.
President Xi Jinping has overseen the rapid modernization of China's military under his watch in order to develop the capabilities to take Taiwan by force if necessary and deny intervention by the United States and its allies in the process.
"They certainly have got the number of vessels and the capability at sea to execute a blockade," Admiral Samuel Paparo, head of the U.S. Pacific Fleet, told the Pentagon press corps last Friday, according to a transcript supplied to Newsweek by the Defense Department.
"The question that follows is: 'Do the allies have the capability to break that blockade?' And the answer to that is a resounding yes," said Paparo, who believed U.S. forces, if called upon, could punch through a Chinese air and naval blockade by themselves.
"I assess that the U.S. alone has every capability to break such a blockade," he said. One reason, according to Paparo, was the ability to bring to bear greater firepower across all domains and services—air, sea and land.
"And U.S. superiority in key domains leads me to be confident in our ability to break a blockade," he said.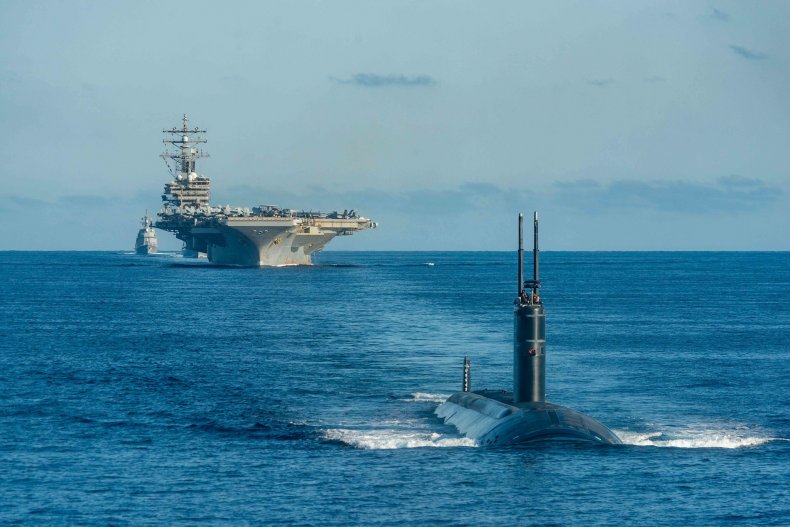 China's intense war games around Taiwan in August included the drawing of half a dozen "closure zones" near its major ports, into which some 11 ballistic missiles were fired. Air and maritime traffic were diverted away from the areas, to many, it was a quasi-blockade that demonstrated Beijing's capacity to isolate Taipei from any would-be allies.
Chiu Kuo-cheng, Taiwan's defense minister, said Wednesday that China had "taken the initiative" and would most likely follow a future blockade with an all-out attack.
"These actions are a preparation for war, of which a blockade is one phase. What happens next depends on how the Chinese Communist Party plans to proceed," he told lawmakers with the island's defense committee.
Taiwan's annual military drills are traditionally geared toward the objective of surviving a major amphibious assault for two weeks, enough time for key partners like the United States to arrive in numbers and rally international support.
The effectiveness of a blockade remains unclear. The Taiwanese public's distrust in China is high, but if it successfully cuts off Taiwan's economic lifetimes, it could "raise pressure on the government in Taipei and induce it to enter into political negotiations on terms amenable to Beijing," former CIA analyst John Culver argued this week.
Local thought leaders have urged the Taiwanese government to increase strategic reserves, including energy, munitions, medicine and food, to account for a potential blockade scenario.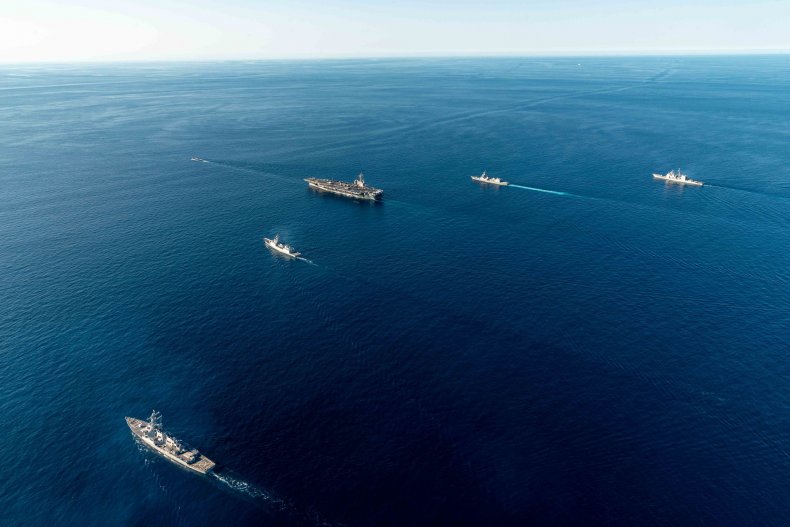 Washington's response to Beijing's drills around Taiwan was purposefully cautious. With the Chinese government already riled by House Speaker Nancy Pelosi's high-profile travel to Taipei, the White House saw no reason to one-up China's show of force with its own military presence in the region.
American aircraft and naval vessels wouldn't return to routine patrols of the Taiwan Strait for around four weeks.
Paparo of the Pacific Fleet said the Chinese military's "slightly elevated posture in the vicinity of Taiwan" was concerning, and that the Pentagon was "still considering its options."
U.S. force posture in the region, however, remained the same. "It is a profound capability that stands ready to impose costs in response to aggression, and that maneuvers dynamically in the theater," he said.
Washington doesn't have official diplomatic relations with Taipei but doesn't endorse Beijing's claim to Taiwan either. The U.S. officially considers the island's postwar status to be undetermined, but to be settled by peaceful means.
The U.S. isn't obligated to defend Taiwan, despite President Joe Biden's recent pledge to do so in the event of a hypothetical attack. However, successive administrations have sold defensive arms to Taipei under the Taiwan Relations Act of 1979.
The TRA makes it policy "to consider any effort to determine the future of Taiwan by other than peaceful means, including by boycotts or embargoes, a threat to the peace and security of the Western Pacific area and of grave concern to the United States."
The law, which Biden supported as a senator, also requires the U.S. to maintain its own capabilities in the region.
U.S. policy, Paparo said, dictates "the absolute importance that cross-Taiwan Strait differences are not resolved by force, and that the principles of human dignity, human rights and self-determination are preserved."
Asked about a potential invasion scenario by 2027, the admiral said the date "looms large on the horizon."
"But every day we're operating to be ready to ensure that today is not the day, and if we're operating at our best, it won't happen," he said.